Inside Machine Gun Kelly and G-Eazy's Feud Over Halsey
Machine Gun Kelly is dating Megan Fox, but not too long ago, he feuded with fellow rapper G-Eazy over pop star Halsey. Here are all the details of the three musicians' complicated love triangle and where they stand with one another today. 
Machine Gun Kelly and Halsey were romantically linked in 2018
Halsey and Machine Gun Kelly have been friends for years. They first met in 2016 on the set of the TV series Roadies. The two artists quickly formed a connection and were photographed together at several outings and events.
Although the two musicians never confirmed their relationship, things seemed to turn romantic when they took a trip to Mexico together in 2018. They were photographed on the beach looking very much like a couple.
In 2020, Halsey and Machine Gun Kelly collaborated on the song "Forget Me Too" for Kelly's Tickets To My Downfall album. They appeared together in the music video, playing angry and vindictive exes. 
The "Bad At Love" singer posted a series of photos of herself with Machine Gun Kelly to announce the song's release. In the lengthy caption, she wrote, "I know it may seem impossible that we haven't already done a song together, because we have been friends since the dawn of time. Believe me. It's crazy even to us that it took so long to do it. Just seems like it's a meant to be type of thing."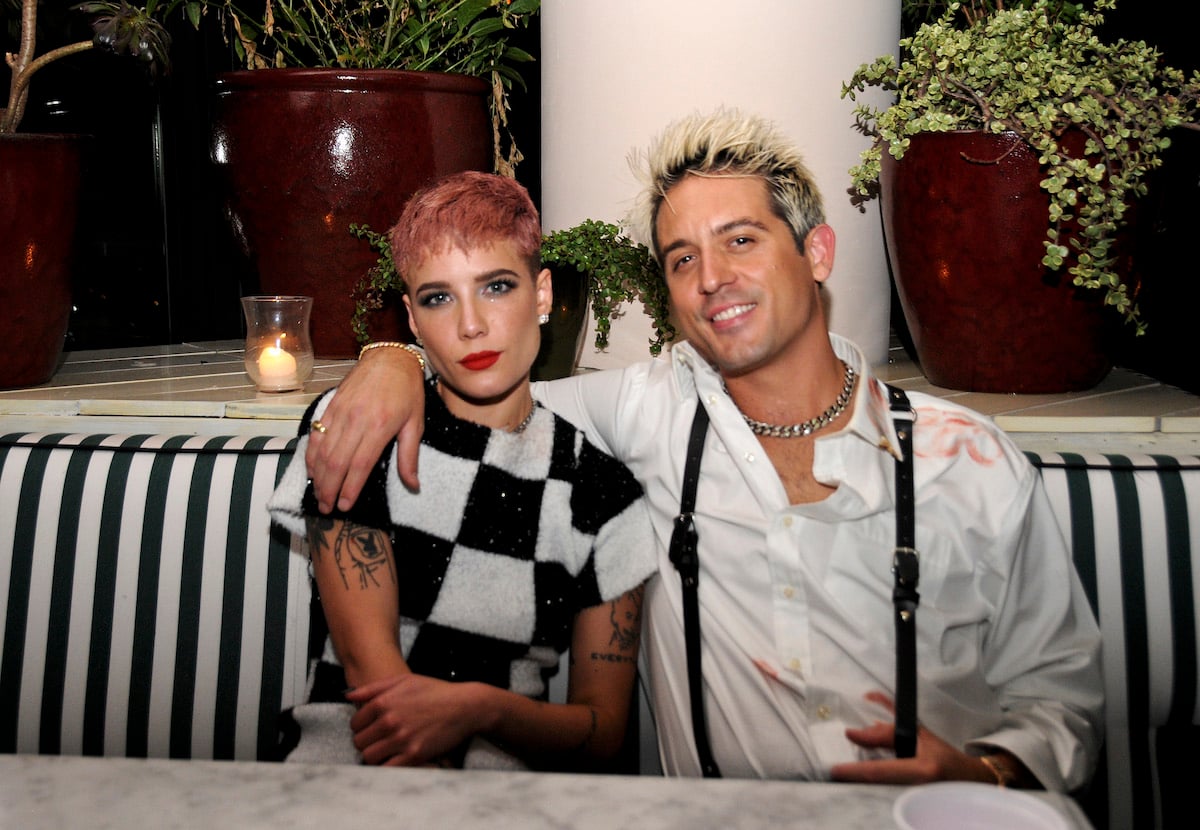 G-Eazy and Machine Gun Kelly publicly dissed each other over Halsey
Rapper G-Eazy dated Halsey on and off in 2017 and 2018. While they were together, Machine Gun Kelly revealed some intimate details about his prior relationship with the pop star.
When asked in a September 2018 interview with the Breakfast Club if he had "smashed" Halsey, the "Papercuts" singer replied, "Absolutely." It was the first time either musician publicly acknowledged that their relationship had been more than platonic.
Halsey must have heard the interview right away because the same day, they tweeted, "how *absolutely* pathetic."
The questions about Halsey were in reference to her relationship with G-Eazy, who was considered Machine Gun Kelly's rival in the rap industry. The month before Machine Gun Kelly's Breakfast Club interview, he and G-Eazy had exchanged musical barbs. 
In August 2018, G-Eazy dropped the track "Bad Boy." The song includes the lyrics: "Your shots just graze me, I'm standing, they put a hole in me I answer to no one, nobody can get control of me. MGK, please stop trolling me, get over me/You wanna be me, you're mad that you're not as big as me/I'm everywhere, I'm your nightmare, you can't get rid of me."
Hours later, Machine Gun Kelly dropped his freestyle rebuttal online (via Hot97). He rapped, "Only Eazy I f*** with is E… I f***ed his girl/Now he looks like this s*** is overbearing/How dare him, I dare him/Don't think about comparing/Now turn that frat rap off I get sick of hearing." He also accused his fellow rapper of copying his style, such as bleaching his hair blonde and wearing an earring. 
MGK made up with his fellow musicians, but G-Eazy is still feuding with his ex
By 2019, it was clear to fans that the rappers had squashed their beef because G-Eazy invited Machine Gun Kelly on stage to perform with him at KAOS nightclub in Las Vegas.
According to G-Eazy, Kid Cudi encouraged him to make up with Machine Gun Kelly. "I was in Paris Fashion Week, and I'm sitting at a table with Push, Pharrell," G-Eazy said in 2019 (via NME). "And then Don C tapped me, he's like, 'Yo, Cudi wants to holler at you.' I'm like, 'What?'
The "No Limit" rapper said that Kid Cudi made him promise to end his feud. "We talk for a minute, and he's like, 'G, you just gotta do one thing for me, man. Promise me you'll do it.' And I'm like, 'Huh?'" G-Eazy described. "He's like, 'Bro, you and Kells gotta make peace.' And I kid you not, at this moment, Kells was walking into this party."
And since Halsey collaborated with her ex on a song in 2020, it's clear that Machine Gun Kelly squashed his beef with both the rapper and the pop star. Halsey and G-Eazy, however, are no longer on good terms. 
Halsey outed G-Eazy for cheating on them repeatedly during their tumultuous relationship. She has spoken about his mistreatment of her in several interviews, appearances, and concerts, and she even called him an abuser.
G-Eazy frequently raps about Halsey, referring to her as his "crazy a** ex" in his 2020 song "Had Enough." He most recently mentioned them in the titular track from his 2021 album These Things Happen Too when he rapped, "Exes x me out, we ain't feeling the same; one of 'em went on national TV draggin' my name."
RELATED: G-Eazy Raps About Halsey On His New Album 3 Years After They Broke Up