Machine Gun Kelly Is Engaged to Megan Fox – 'and Then We Drank Each Other's Blood'
Machine Gun Kelly revealed he proposed to Megan Fox and she showed off her dazzling diamond and emerald engagement ring on Instagram.
Fox shared a video of the proposal moment as Kelly knelt beneath a banyan tree, sharing that it was the same tree the couple sat underneath in July 2020. And while Kelly made it official, the couple has been talking about marriage since that moment in 2020.
Megan Fox and Machine Gun Kelly shared poetic posts about their engagment
Fox's Instagram post was a full video of the proposal. As Kelly got down and proposed, Fox joined him as the couple was swept up at the moment. She ended her post with the remark that they drank each other's blood.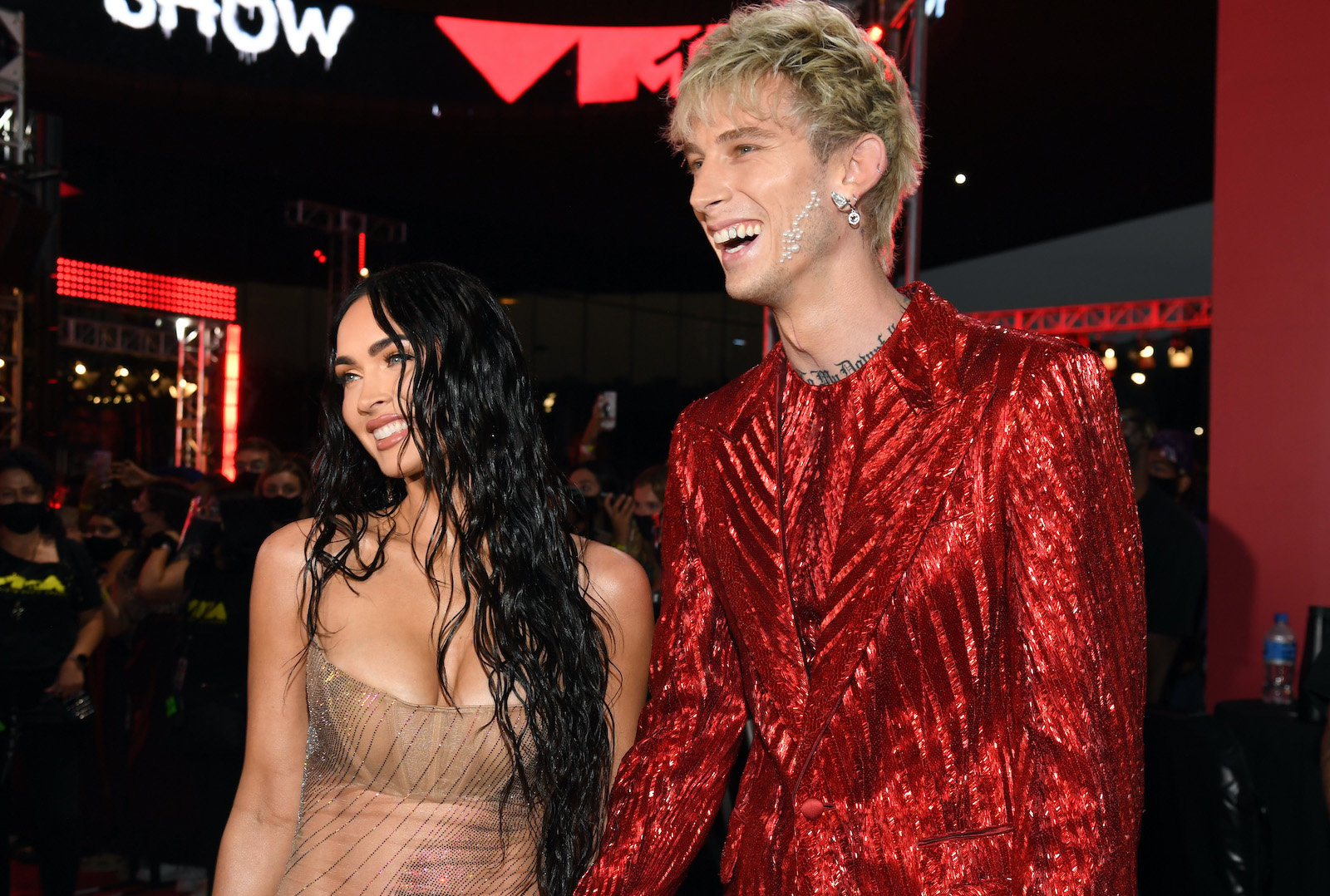 "In July of 2020 we sat under this banyan tree," she captioned the video. "We asked for magic. We were oblivious to the pain we would face together in such a short, frenetic period of time. Unaware of the work and sacrifices the relationship would require from us but intoxicated off of the love. And the karma."
"Somehow a year and a half later, having walked through hell together, and having laughed more than I ever imagined possible, he asked me to marry him. And just as in every lifetime before this one, and as in every lifetime that will follow it, I said yes.…and then we drank each other's blood."
Kelly's post was more about the gorgeous ring he gave to Fox. "'Yes, in this life and every life' beneath the same branches we fell in love under, I brought her back to ask her to marry me. I know tradition is one ring, but I designed it with Stephen Webster to be two: the emerald (her birth stone) and the diamond (my birth stone) set on two magnetic bands of thorns that draw together as two halves of the same soul forming the obscure heart that is our love. 1-11-2022."
The couple had talked about marriage for more than a year
Kelly and Fox connected while making the film Midnight in the Switchgrass. Fox told ET she knew her relationship with Kelly would be important. "I was like, 'Who is going to play this role?'" she recalled asking director Randall Emmett.
"And he was like, 'Oh, we just got Machine Gun Kelly,' and immediately, I was like, 'Uh oh,'" Fox remembered. "Because I knew — I could feel that some wild s*** was going to happen to me from that meeting, but I wasn't yet sure what. I just felt it like, deep in my soul — that something was going to come from that."
"I knew right away that he was what I call a twin flame," she added. "Instead of a soul mate, a twin flame is actually where a soul has ascended to a high enough level that it can be split into two different bodies at the same time. So we're actually two halves of the same soul, I think. And I said that to him almost immediately, because I felt it right away."
Machine Gun Kelly called Megan Fox 'cupid'
Kelly told Drew Barrymore on her talk show that he only took the role in the film because Fox was going to be in it. "We were filming a movie and the only reason I took the movie is 'cause they were like, 'There's scenes with Megan Fox,'" he said E News reports. "I was like, 'I'll take the movie.'"
"I went in there and she said, 'How do you feel?' and I said, 'I'm lost,' and she said, 'Let's find you,'" he exclaimed and grabbed his chest. "It killed me; she was Cupid."
RELATED: Machine Gun Kelly Confronts Willie Geist – 'You Should Ask Better Questions' During 'Sunday Today' Interview