Machine Gun Kelly and Megan Fox Are Engaged: All the Details of the Proposal and Unique Ring
Machine Gun Kelly and Megan Fox are engaged after dating for a year and a half. Here are all the details we know about the proposal, including the stunning diamond and emerald engagement ring. 
Megan Fox and Machine Gun Kelly got engaged in a special place
Machine Gun Kelly proposed to Megan Fox in a special place that has been significant in their relationship. Both stars alluded to a banyan tree in their separate Instagram posts announcing their engagement. 
"'yes, in this life and every life' 💍," Machine Gun Kelly captioned an Instagram video clip of Fox's hand flashing her engagement ring. He seemed to be quoting Fox's response when he asked her to marry him. "beneath the same branches we fell in love under, i brought her back to ask her to marry me."
Fox's Instagram announcement was a video clip showing Machine Gun Kelly proposing to her underneath a large, twisted tree. She also referenced the tree in her caption. 
"In July of 2020 we sat under this banyan tree," Fox wrote. "We asked for magic."
Machine Gun Kelly has a song called "banyan tree (interlude)" on his 2020 album Tickets to My Downfall. Fox's voice is distinctly heard speaking on the track. 
"That was four months ago, that we were right here, and I met you. That's not possible," Fox says in the song. 
Machine Gun Kelly proposed to Megan Fox with a unique diamond and emerald engagement ring
In Machine Gun Kelly's Instagram post announcing the engagement, he shared more than just the location of the proposal. He also revealed details of the stunning diamond and emerald ring he gave Fox. 
In his Instagram post, Fox's ring is clearly visible. It features two pear-shaped stones, one diamond and one emerald, on what appears to be a silver or platinum double diamond-encrusted band. According to Hello, the ring could be worth up to $300,000. 
The musician revealed the significance of the ring's design in his caption. He wrote, "i know tradition is one ring, but i designed it with Stephen Webster to be two: the emerald (her birth stone) and the diamond (my birth stone) set on two magnetic bands of thorns that draw together as two halves of the same soul forming the obscure heart that is our love. 1-11-2022 ✨"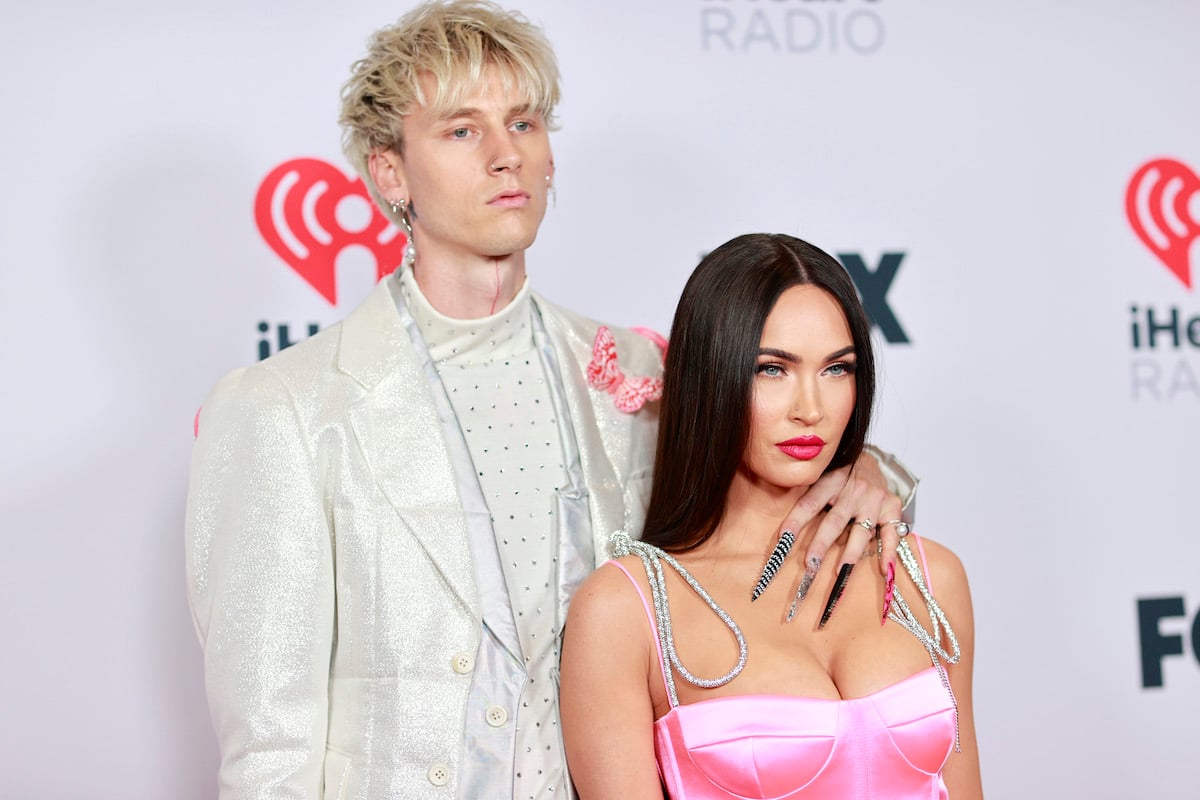 The couple got engaged months after the 'Jennifer's Body' star's divorce from Brian Austin Green was finalized
Megan Fox accepted Machine Gun Kelly's proposal just a few months after her divorce from actor Brian Austin Green was finalized. 
Machine Gun Kelly and Fox got together in spring 2020 while working on the film Midnight in the Switchgrass. Fox was married to Green, with whom she shares three children. Machine Gun Kelly, who has one daughter with an ex-girlfriend, was also in a relationship. 
But the two stars fell quickly for each other and ended their other relationships to be together. Fox, who was already separated from Green, filed for divorce in November 2020, and their divorce was finalized in October 2021. 
"We were oblivious to the pain we would face together in such a short, frenetic period of time," Fox shared in her Instagram engagement announcement. "Unaware of the work and sacrifices the relationship would require from us but intoxicated off of the love. And the karma."
She continued, "Somehow a year and a half later, having walked through hell together, and having laughed more than I ever imagined possible, he asked me to marry him."
Fox then referenced her twin flame connection with Machine Gun Kelly by concluding, "And just as in every lifetime before this one, and as in every lifetime that will follow it, I said yes. …and then we drank each other's blood 1.11.22 ✨"