Machine Gun Kelly and Megan Fox Were Co-Stars Before They Fell In Love
These days, there are few pop culture fans who aren't familiar with the celebrity relationship between Megan Fox and Machine Gun Kelly. The high-profile duo has only been dating for a little over a year, but for many, it seems as though they've been together for much longer. Fox and Kelly first received acclaim for the music video that they collaborated on, but in fact, they met several months prior to the music video — when they were both cast in an independent movie, allowing them a chance to really get to know each other well away from the Hollywood spotlight.
Machine Gun Kelly and Megan Fox met while filming 'Midnight in the Switchgrass'
In early 2020, when Fox and Kelly were cast as co-stars in Midnight in the Switchgrass, the two were at very different points in their careers. Kelly was a rising music star, with several hit songs and a few acting gigs. Fox, an established Hollywood star, was just working on making her return to feature films after a hiatus of several years.
It was on the set of the film that Kelly and Fox first met, in March 2020, according to Us Weekly. When they crossed paths for the first time, it is likely that sparks flew, but it wasn't until several months later, when Fox and her then-husband, Brian Austin Green, announced their split, that fans really started to wonder if something was happening between Fox and Kelly. Rumors were fueled further when Fox was cast in Kelly's music video for his song "Bloody Valentine." The video featured the two co-stars getting steamy — and seemingly not caring what any haters had to say.
When did Megan Fox and Machine Gun Kelly officially start dating?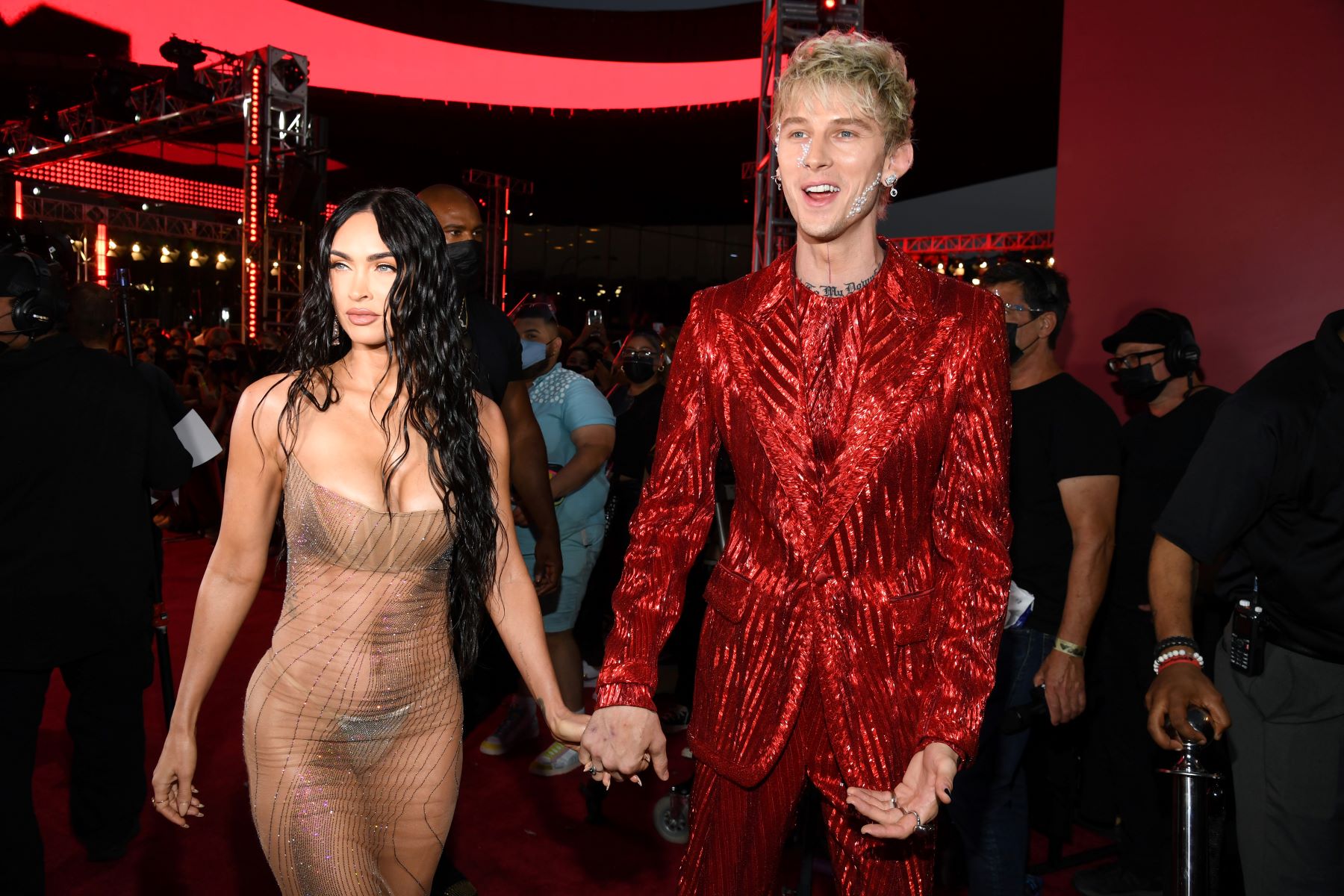 In June 2020, Fox and Kelly were spotted together out and about, leading many fans to believe that the two were officially dating. In July, Fox opened up about their romance, revealing that the two have a deep spiritual connection and that they are definitely dating. "We're actually two halves of the same soul, I think. And I said that to him almost immediately, because I felt it right away," Fox said in her revealing interview. It was that same month that Fox and Kelly reunited with the rest of the cast for Midnight in the Switchgrass to finish, which had previously been halted due to coronavirus (COVID-19) concerns.
Ironically, when Midnight in the Switchgrass was released to theaters exactly one year later, in July 2021, both Kelly and Fox skipped the premiere of the movie. Kelly even posted a cryptic tweet that alleged that the film was "trash," according to Cosmopolitan.
Megan Fox and Machine Gun Kelly are now 'twin flames'
Even if the movie that helped facilitate their meeting might not be their favorite, there's no denying that Fox and Kelly's romance is going stronger than ever. The two have attended numerous high-profile awards shows in recent months, and never miss the chance to share details of their red-hot romance on social media.
Fans can't seem to get enough of the couple and have been especially receptive to their flirty Instagram exchanges. While it doesn't seem likely that Kelly and Fox will get engaged anytime soon, since Fox is still embroiled in a divorce from Brian Austin Green, it is clear that the couple isn't in any hurry, and are just enjoying their lives as former co-stars and current boyfriend and girlfriend.
RELATED: Machine Gun Kelly Used To Have a Poster of Megan Fox in His Bedroom, Now They Shut Down Red Carpets Together