'Mad Men': Matthew Weiner Was Allowed a Specific Number of Swear Words Per Episode
Mad Men is an iconic TV show that spanned 92 episodes over seven seasons, from 2007 to 2015. Set from 1960 to 1970, Mad Men follows the story of Don Draper, a marketing executive for a big name firm, revealing bits about his past and his present successes in marketing.
The show features an all-star cast, including Jon Hamm as Don Draper, Elizabeth Mass as Peggy Olson, and Vincent Kartheiser as Pete Campbell.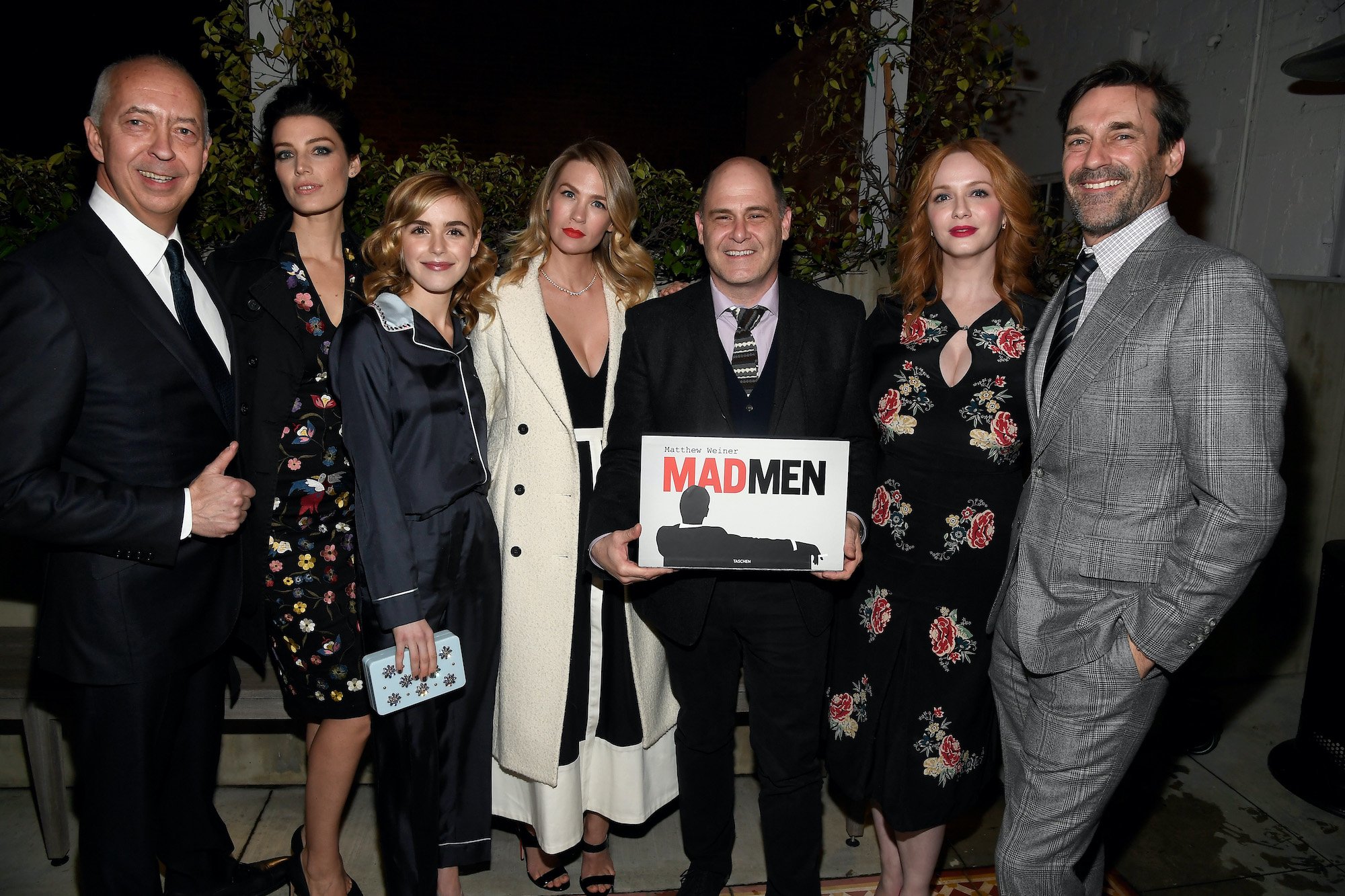 The show isn't shy about its depiction of alcoholism, smoking, and swearing, though the creator of the show was given a "swear word limit" per episode. Learn more about the creation of Mad Men, the swear word quota, and more about Matthew Weiner below.
Weiner was allowed three swear words per episode by AMC
According to Mental Floss, Weiner remarked during a 2011 interview that because his show was rated TV-14, he was given limits on what types of words he could use and how often. Weiner stated:
"Mad Men is TV-14, not even TV-MA. I'm allowed three 'sh—' a show. I can say 'Jesus,' I can say 'Christ,' but I can't say 'Jesus Christ' unless he's actually there."
This statement came when he was asked how the show might have been different had it been sold to HBO instead of AMC. HBO has a long history of giving writers creative freedom due to its TV-MA rating availability, though HBO, FX, and Showtime all passed on Mad Men. In hindsight, these three networks probably regret their decision to pass, given the show's widespread success, including its 16 Emmy Awards and five Golden Globes. 
Weiner's impressive career so far
Aside from creating one of the most impressive and interesting shows within the last decade or so, Weiner has quite a resume in show business. After graduating with an MFA from the University of Southern California School of Cinema and Television, Weiner got his first writing job on a show called Party Girl. The show didn't last long, but he later wrote and produced on The Naked Truth and Becker.
While he was working on Becker, he wrote the pilot episode of Mad Men in 1999. According to The New York Times, David Chase, the creator of The Sopranos, was impressed by the script and hired Weiner to write for his show in 2002. Weiner ended up writing 12 episodes of The Sopranos, according to IMDb, and in the final year of that show, Mad Men was finally picked up by AMC.
In addition to writing on several intense and complex shows, Weiner also directed several episodes of Mad Men, one episode of Orange Is the New Black and eight episodes of The Romanoffs. He has also shown off his acting chops by playing a small role in two episodes of The Sopranos, one episode of The Simpsons, and three episodes in Goliath. 
What is next for Weiner?
Despite his widespread success and acclaim, Weiner doesn't appear to be slowing down any time soon. According to Variety, Weiner has a new series in the works with FX. All that is currently known is that it is described as a mystery dramedy, and that Weiner will serve as a writer, executive producer, and director.
Combining mystery, drama, and comedy seems like a tall order, but after the incredible writing that was displayed on Mad Men, most fans are completely confident that this new show will be spectacular. 
Many speculate that it will be a half-hour series, though there hasn't been firm confirmation about that yet. Only time will tell us more about this secretive series, though we all hope it will be worth the wait.
RELATED: Where Can You Watch 'Mad Men'?