Madonna Once Felt Humiliated by Al Pacino and Warren Beatty on the Set of 'Dick Tracy'
Madonna had already conquered the world of music by becoming one of the industry's most iconic and famous pop stars. But there was a moment during the apex of the singer's career where she had ambitions of becoming a movie star as well.
Starring in the 1990 film Dick Tracy was a stepping stone towards her goals. But there were moments when shooting the film among acting legends Al Pacino and Warren Beatty proved emotionally difficult for the mega-star.
Madonna was cast as Breathless Mahoney in Warren Beatty's 'Dick Tracy'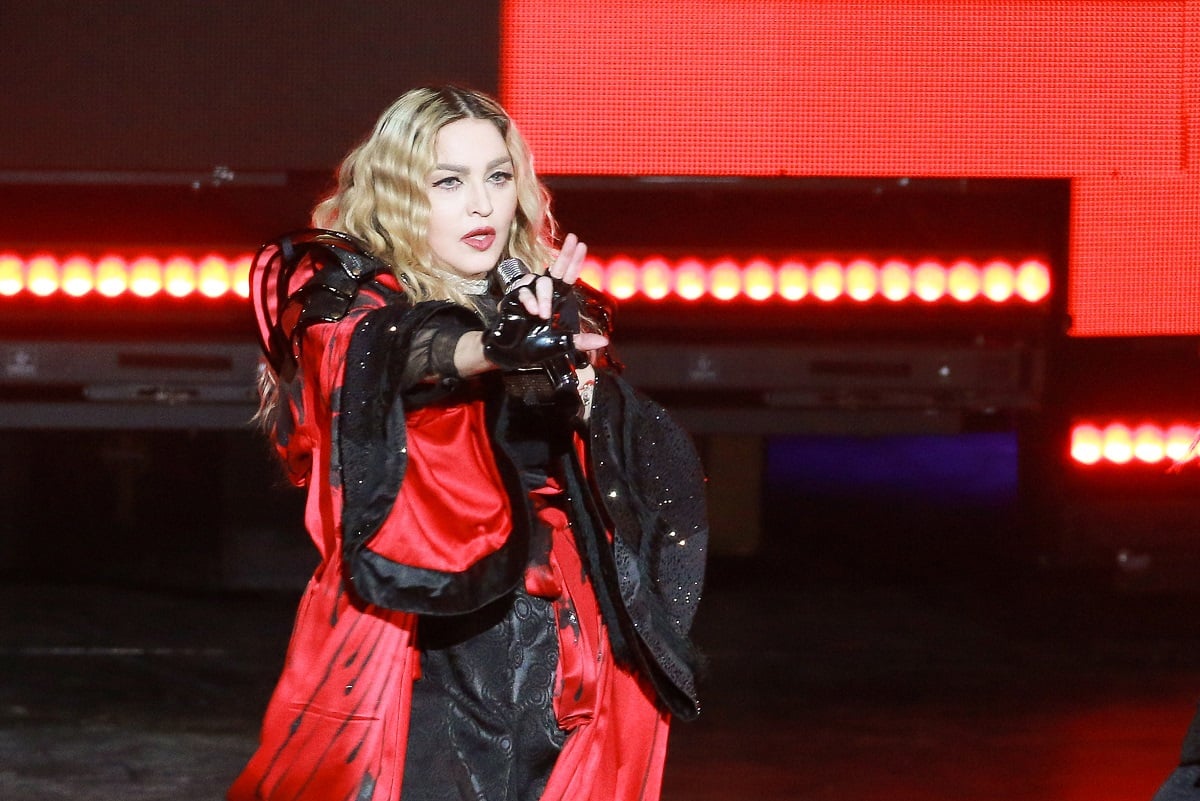 Dick Tracy was a 1990 film adaptation of a popular 1930s detective comic strip of the same name. Directed by Warren Beatty, the movie also saw Beatty starring as titular character Dick Tracy himself. But Beatty wasn't the only superstar that lent his talents to the feature. Tracy would boast an ensemble cast that included the likes of Dustin Hoffman, Kathy Bates, and Al Pacino. Pacino was cast in the film as the ruthless mob boss Big Boy.
Madonna would also contribute her own talents to the film as the fictional entertainer and singer Breathless Mahoney. Breathless would operate as a potential love interest for Beatty's Tracy, often chasing the detective's affection.
It was a role that Madonna personally and actively sought for herself.
"I called up Warren and told him I really wanted it," she once told Newsweek. "I saw the A list and I was on the Z list. I felt like a jerk."
Her persistence paid off. And although Madonna wasn't the most experienced actor in the film, she felt she'd make up for that with her star-power. Madonna theorized she'd bring more eyes to Tracy because of her brand and popularity.
"Let's just say I'm killing 12 birds with one stone. It's a two-way street. I'm not going to overlook the fact that it's a great opportunity for me, too. Most people don't associate me with movies. But I know I have a much bigger following than Warren does and a lot of my audience isn't even aware of who he is," she said.
Madonna once shared she felt humiliated by Al Pacino and Warren Beatty on the set of 'Dick Tracy'
For the most part, Madonna enjoyed her time working with the two acting legends. She was especially impressed by Beatty, who she likened to Beatty's fictional character Dick Tracy. In a resurfaced interview with author Mike Bonifer (via Madonna Memories), Madonna couldn't help gush about her experience.
"Dick Tracy is a very isolated guy, as far as I'm concerned. He's kind of a loner. He's also very smart, very clever. He's also a detective. And Warren is all of those things. He investigates everything, from the shoes on your feet to the bow in your hair," Madonna complimented.
However, there were moments when the intensity of her co-stars really got to her. Instances in the movie saw Madonna's Breathless butting heads with Pacino's Big Boy. Eventually, the aspiring actor grew to despise Pacino's character as if he was a real person.
"He was always smacking my butt and my face. I hated him, I loathed him, I was disgusted with him. And so what happened off-camera was that I'd always try to be moving away from him, and he'd always grab me and go 'Get over here!' which is exactly what happened in the movie," Madonna recalled.
In certain scenes, Madonna hoped Beatty would even interfere in certain scenes with Pacino's Big Boy. But at the end of the day, Madonna didn't mind the embarrassing experience due to what it did for her performance.
"There was a scene where he kept smacking me in the stomach, and it would sting, and what made me cry was not so much the hit, but the fact that Warren wouldn't stop. He would just keep going, and I was humiliated. So it worked, because that's what's happening to Breathless – she's totally humiliated by Big Boy," she said.
Al Pacino once claimed Madonna gave him a private naked lap dance
It didn't seem to be nearly as intense between Madonna and her co-stars when they weren't filming. Pacino and Madonna, in particular, seemed to have formed a close bond after meeting on the set of Tracy. Pacino once even claimed that the "Lucky Star" singer treated him to a bit of a show that he'd never forget. Although Pacino didn't divulge when, exactly, the alleged encounter took place.
"It's private information. She was doing a dance and she was naked under her coat," Pacino once said according to Contact Music. "She has an extraordinarily beautiful body, like cut out of Ivory. One day, when I'm old and I'm wheeled out on my porch wrapped in a blanket, if I have a beatific smile on my face, I'll probably be thinking of that."