Madonna Joined Maluma For a Special Concert in His Hometown in Colombia
Madonna and Maluma are both world-renowned artists with millions of adoring fans. They're also musical collaborators, having worked together on several occasions. So when Maluma returned home to Colombia for a special concert, the Queen of Pop had to make a surprise appearance to support her friend.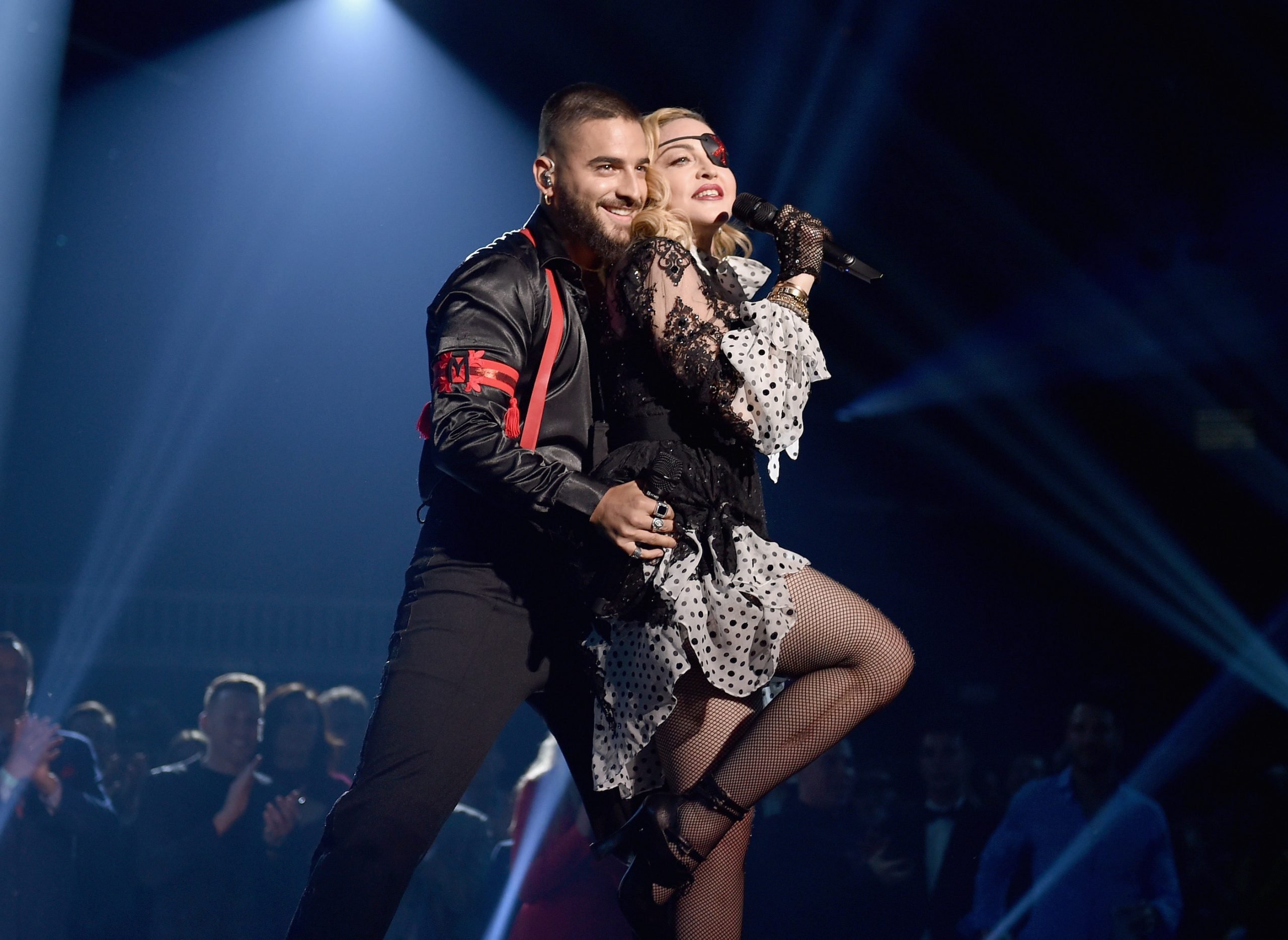 Madonna joined Maluma for a special concert in Medellín, Colombia
In April 2022, Maluma performed a special, one-night-only concert in his hometown of Medellín, Colombia. The show was available to watch on Amazon Prime.
Throughout the show at Medellín's Estadio Atanasia Girardot, Maluma was joined by special guests including Feid, Blessd, and Grupo Firme. For the show's encore, Maluma was joined by none other than Madonna herself for a performance of, naturally, their 2019 song "Medellín."
Madonna followed it up with a performance of her hit 2000 single "Music."
Madonna promised Maluma she'd go to his show
Madonna showing up at Maluma's concert was several months in the making. In October 2021, the two artists discussed their careers in a special interview for Rolling Stone. Maluma told Madge about how she inspired him throughout his life and his career, telling her "I would like to do it the same way as you do."
"Watch out, I'm going to come see your show! It better be good," she told him. The Colombian singer then said to the camera crew, "Yo, guys, she said that, right? She said she's coming to my shows!"
They're both respected pop icons
Despite Madonna being regarded by many people as the Queen of Pop, she herself isn't a fan of the term when it comes to describing music, telling Maluma "I hate the word 'pop.'" Maluma first started as a reggaetón artist for he began creating more pop-centric music. He went on to explain what informs his music today.
"I love reggaetón. I was raised listening to reggaetón, and for sure it's part of my blood and my DNA. But I love making different genres," he said. Madonna referenced their song "Medellín," and he agreed.
"That's different — different beat, different rhythm, different lyrics. I love doing salsa music, I love doing reggaetón, I love doing pop, I love doing ballads. When we talk about pop, it's something that's 'popular' — for me, it doesn't have any meaning, because everything we do is pop. It's popular, it's for the people. So I do whatever I love," he said honestly.
When the "Vogue" singer asked Maluma where he draws his inspiration from, he confessed that it was all around him since he was a child. "[My family is] a big, big inspiration. My country, my Latin roots," he said. "I remember when I was, like, 12 years old, and all these dreams started. I wanted to be a singer, I wanted to sing about all the things I was living, even though I was 12 years old. I just wanted to sing to my mom, my dad, and my sister, and that was a beautiful thing that I don't want to lose."
Madonna concluded that life inspires Maluma, and she felt the same way. "I'm very inspired by my children, my family, my experiences in life, love, loss, betrayal. The things that happen to us as humans — that's what inspires me."