Madonna Once Made Daughter Lourdes Leon Wear the Same Outfit Every Day
People often criticize celebrities for their parenting. In many cases, how they raise their children isn't necessarily wrong; it's simply different from what many fans know. Madonna is strict in some cases but adores her children. Considering how well they're doing, she must be doing something right! The "Like a Virgin" singer recounts a time when she made Lourdes wear the same outfit to school every day, and fans are shocked by the reason. 
Madonna, the music icon
The Queen of Pop was a breakthrough female artist, setting the stage for the singers we love today. Madonna's iconic songs have stayed so popular that she recently tweeted a link to "HD upgraded videos, original singles and remixes [that were] digitally (re)released." She is known for timeless hits like "Material Girl," "Like a Virgin," and "Papa Don't Preach." According to IMDb, she's earned seven Grammy Award wins with record sales of over three hundred million.
She's also had extensive experience as an actor. Madonna's movie roles include Eva Peron in Evita, Breathless Mahoney in Dick Tracey, C F Mae Mordabito in A League of Their Own, and Verity in Die Another Day. Unfortunately, her film career is a lot less successful. IMDB once said, "Her performances have consistently drawn scathing or laughable reviews from film critics."
When it comes to the music industry, Madonna is reinventive, captivating, and a sex symbol. However, at home, she is strictly a loving mother and disciplinarian.
Madonna, the mom
It's hard to envision Madonna as anything other than an inspirational and trendsetting musician. However, she is also a mom of six kids: Lourdes, Rocco, Mercy, David, Estere, and Stelle. 
Madonna opens up to TODAY about balancing music and motherhood, saying that she often has to "be aware of time, time management, and juggling lots of balls in the air." However, she is extremely proud of her children and their generosities, "I love seeing them behave in a generous way toward human beings, you know, outside of their world. And they always reflect when we come back about how much it makes them think how lucky they are."
Today, Lourdes is an up-and-coming fashion star with a role in her mother's Material Girl clothing line. Rocco lives a slightly more normal life away from the limelight. HELLO details her adopted son, David Bandato, as a great dancer, guitar player, and singer. They also highlighted Mercy's photography skills, with many fans complimenting her snaps of her lively eight-year-old twin sisters, Estere and Stella. 
Why Madonna made Lourdes Leon wear the same outfit every day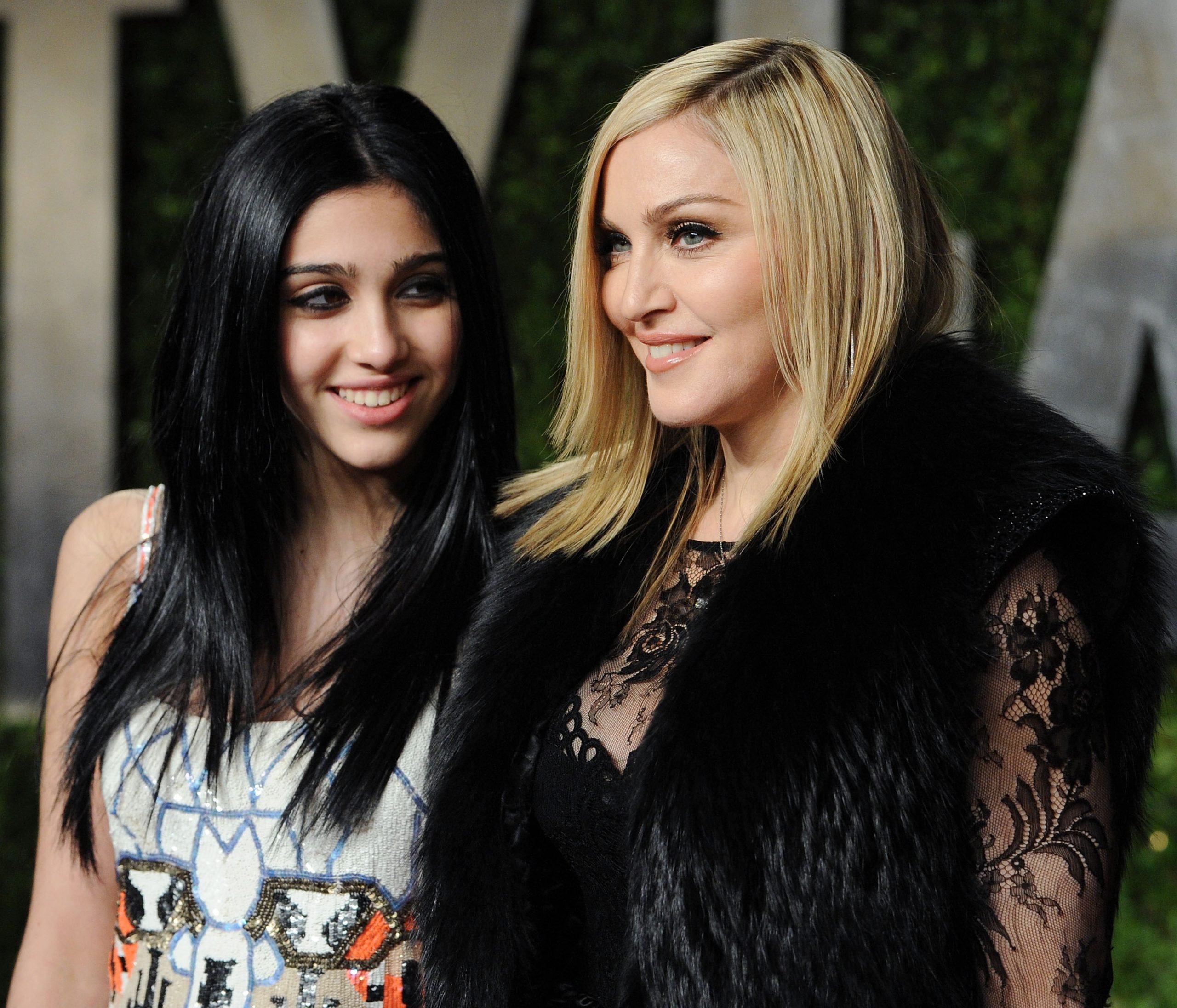 Every parent has their own beliefs on disciplining their children and encouraging better behavior in the future. Not everyone follows the same guideline (as there isn't one!), and doing things differently doesn't necessarily mean your wrong. For Madonna, disciplining her children includes making them wear the same outfit every day until they learn their lesson after leaving dirty clothes on the floor.
According to USA Today, Madonna told Newsweek that if she finds dirty clothes on Lourdes' floor, "We take all of her clothes and put them in a bag, and she has to earn all of her clothes back by being tidy." She said Lourdes "wears the same outfit every day to school until she learns her lesson." The lesson may sound harsh, but it's a sure way to help her learn quickly. 
Lourdes is no stranger to strict discipline, however. Madonna has also admitted that her kids aren't allowed to watch TV, read magazines, eat ice cream, or drink milk. She admits, "I'm the disciplinarian." On the other hand, their dad is a little less stern. Madonna explains, "When Daddy gets home, they get chocolate."
The "Material Girl" singer is an inspiration in the music industry, but she refuses to let that fame and success spoil her children. As a mother of six — two biological, four adopted — Madonna has once again reinvented the standards. Like in her music, she continues to unapologetically be herself and do things the way she believes she should.