Maggie Gyllenhaal's Real-Life Husband's 'The Lost Daughter' Speech Conveys What She Feels Her 'Job as a Mother' Is
In her directorial debut, Maggie Gyllenhaal provides a new perspective on motherhood via her real-life husband who she cast in the psychological drama on Netflix.
Maggie Gyllenhaal's directorial debut in The Lost Daughter premiered on Netflix in December. Since its release, it has garnered attention and critical acclaim. The psychological drama had a good night at the Gotham Independent Film Awards, winning virtually all of the awards for which it was nominated. The Lost Daughter won Outstanding Lead Performance, Best Feature, Best Screenplay, and the Bingham Ray Breakthrough Director Award. Since the 2021 film is receiving more attention, it's time to look at the talented director behind it.
Maggie Gyllenhaal's directorial debut with 'The Lost Daughter'
Based on Elena Ferrante's short novella, The Lost Daughter follows Leda, a university professor on a summer vacation in Greece. She becomes curious about a young mother and her bond with her child as she spends her days relaxing and working on the beach.
Leda sees a link between the young lady and her daughter that reminds her of her own relationship with her two grown children. She is forced to come to terms with the decisions she made and how they affected her kids. Gyllenhaal told IMDb:
"In the film, my real-life husband gives a speech. And at one point, he says, 'Attention is the purest form of generosity.' I guess I do think that it's my job as a mother to pay attention and see who my children actually are instead of who I might imagine they are or what I wish they would be because it seems like it might be an easier way through the world. A gift to children would to be really seen by their parents."
Gyllenhaal's directs her real-life husband Peter Sarsgaard in 'The Lost Daughter'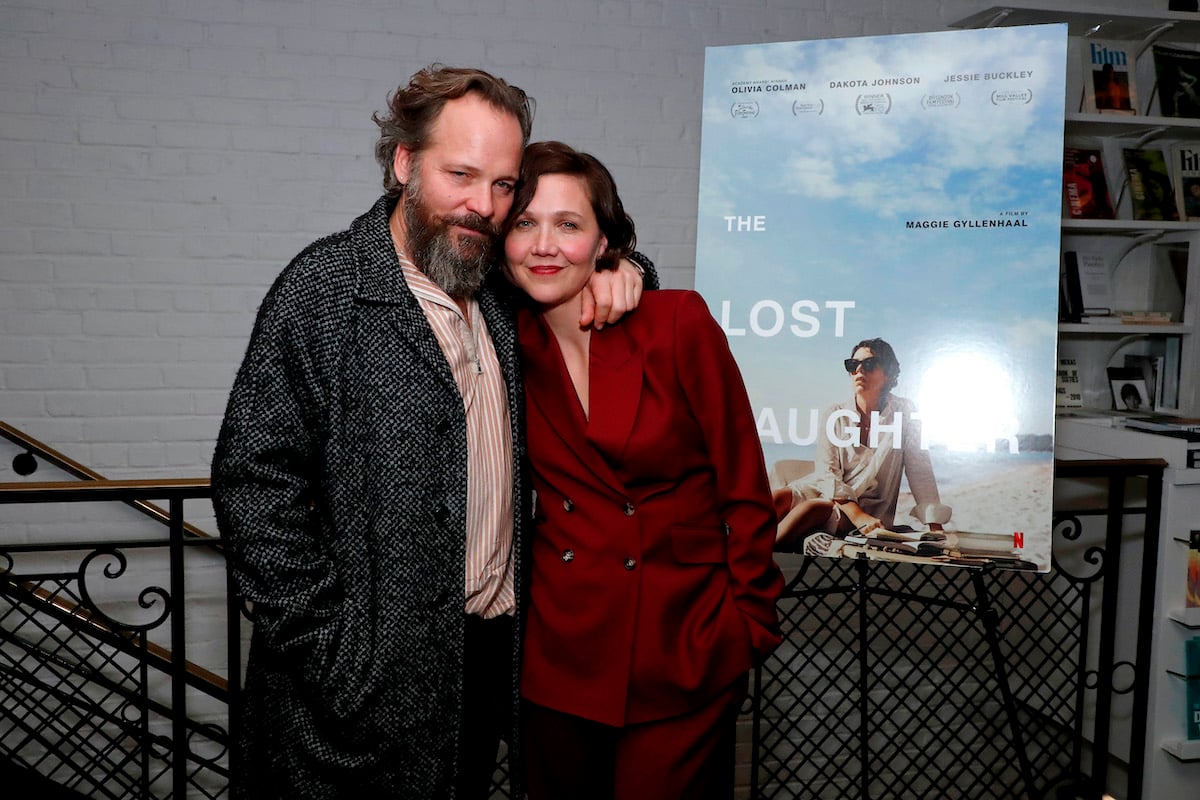 Gyllenhaal's husband in real life, Peter Sarsgaard, makes an appearance in the film as Professor Hardy. A much older and influential writer, his character plays Leda's love interest. She leaves her family to have an affair with him. As a result, Gyllenhaal had to direct her husband in several intimate scenes with another actor.
As reported by Decider, Gyllenhaal explains, "My husband is the object of desire in the movie. And he has, I think, a really sexy couple of scenes with a brilliant, young, beautiful, incredibly compelling actress." 
She later added that she was a bit apprehensive at first. She stated, "I did think at first, 'Maybe it's not a great idea,' and then I was like, 'I've been with my husband for a long time. We've been through so much. I know my husband loves me. Who could do this better than him? Really, nobody." From her comments, it seems like Gyllenhaal felt secure in her marriage and was ready to allow production of The Lost Daughter to unfold in the process.
Art imitates reality for Maggie Gyllenhaal
Gyllenhaal drew some parallels between herself and Leda. She said that when raising children, you can't always give them all the attention they need. In the IMDb interview she shared with co-star Dakota Johnson, the director said, "And you can't do it all the time. Sometimes you are like, 'I can't pay attention right now.'" 
Gyllenhaal has told The Atlantic that there are basically two options for motherhood in Hollywood: the fantasy mother who is perfect in every way and the evil mother who has nothing but disdain for her children. With this film, her hope is that she can portray motherhood in a nuanced way, showing reality is somewhere in between for many people. 
Gyllenhaal's directorial debut is tackling a sticky issue that perhaps not everyone will understand or agree with. However, she does it in a way that isn't intrinsically judgemental. She leaves the audience to decide for themselves who they will or won't connect with, and just invites you to sit with the characters and contemplate their lives from the comfort of your living room.