What Makeup Products Do the BTS Members Use?
The members of BTS are the artists behind hit songs such as "Butter" and "Dynamite." The K-pop stars are also known for breaking gender stereotypes with their fashion choices and their makeup looks. Here's what we know about the makeup products they like to use.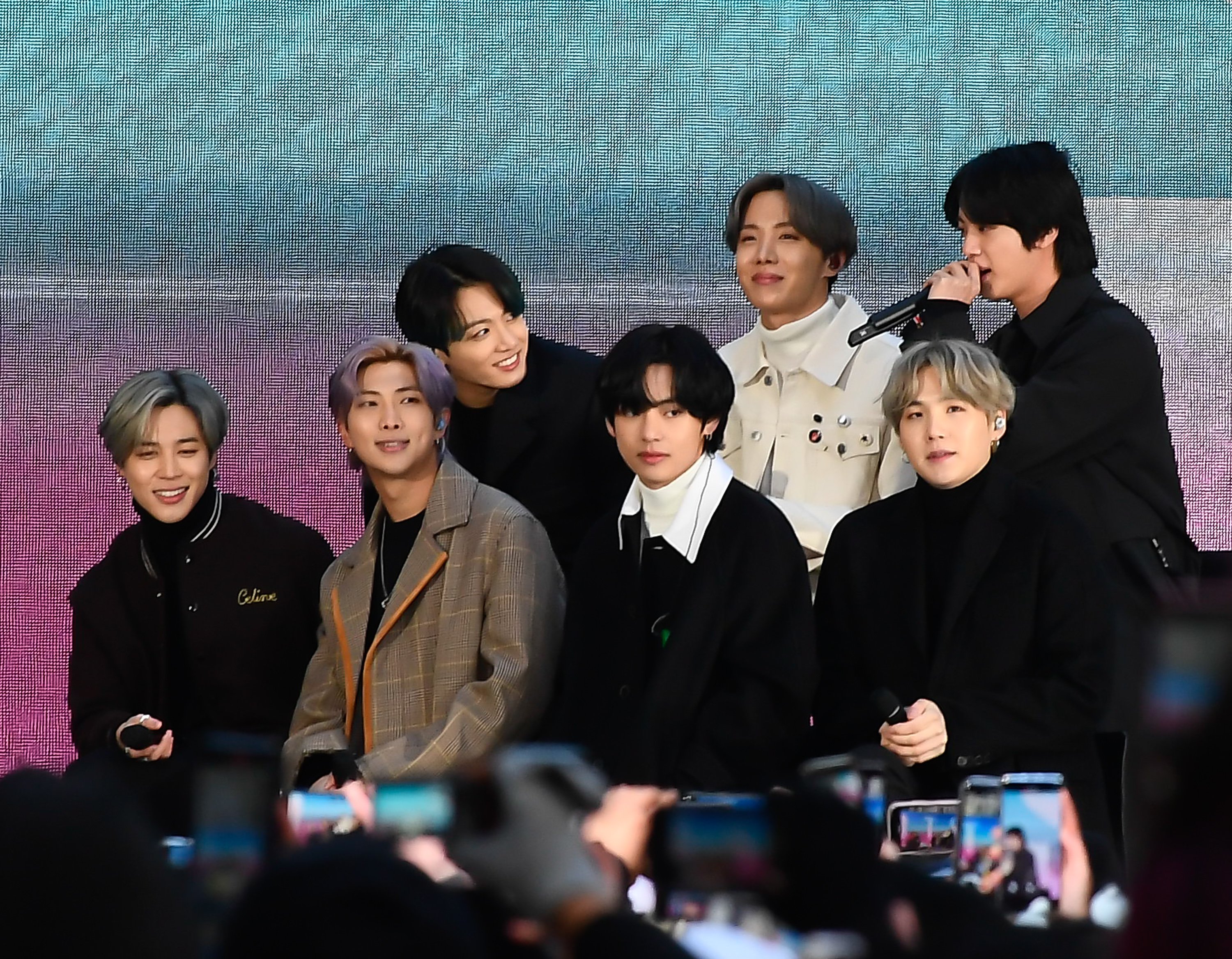 The BTS members often sport unique outfits and makeup looks for music videos and live performances
The boy band members are known for their bold fashion choices, even partnering with brands such as Louis Vuitton, FILA, Puma, and Reebok, according to Film Daily.
For certain music videos and performances, the BTS members also sport makeup looks. When Suga appeared in the "Daechwita" music video as his alter-ego, Agust D, he sported a cosmetic scar across his eye. And for some Jimin looks, the idol sported white dots underneath his eyes as an added touch of sparkle.
RELATED: Jimin From BTS Finally Puts the 'Dumpling Incident,' Mentioned During 'The Late Late Show With James Corden,' to Rest
Which makeup products do the BTS members use?
Typically, the members of BTS go for natural makeup looks, especially when live-streaming with fans or during RUN BTS episodes. But according to Teen Vogue, they have sported several different lip tints since their debut. 
One picture showed Jungkook using Bobbi Brown's Extra Lip Tint in Bare Pink, while another showed a makeup artist applying Vaseline Lip Therapy Tinted Lip Balm Mini. Another picture a fan shared via Twitter shows a makeup artist applying Laura Mercier Secret Camouflage iconic concealer to the singer. And yet another fan on Twitter noticed Jungkook used products from Bath & Body Works.
The BTS members also have particular skincare routines.
"[In the morning, I use] toner and face cream," J-Hope said during an interview with Allure of his skincare routine. "[At night, the steps are] toner, essence, acne care, lotion, cream."
"I love sheet masks," Jin added. "I try to put them on whenever I feel my skin is dry and exposed too much to the sun. They help me make up for lost moisture and brighten my skin."
RELATED: Is Jungkook the Last BTS Member to Create a Solo Song? Here's What We Know About 'Still With You' and the Mixtapes of These K-Pop Idols
Fans can purchase BTS-themed makeup products featuring the BT21 characters
There are some makeup products that feature BT21, the Line Friends characters that reflect each BTS member. That includes the BT21 Universtar Pop Eyeshadow Palette, sold at beauty stores in the United States like Ulta. 
The same brand sells lip balms, under-eye patches, nose strips, and cleansing towelettes featuring the same cartoons. Of course, Line Friends also creates merchandise including lamps, passport cases, keychains, and more.