'Making It': Season 3 Episode 4: Who Stays and Who Goes?
The theme for this Making It episode was the holidays. The contestants were instructed to work on one short craft and a master craft. Here's a recap of who won and who was sent home on this week's episode.
[Warning: this article contains spoilers for Making It Season 3 Episode 4.]
The Faster Craft challenge on 'Making It'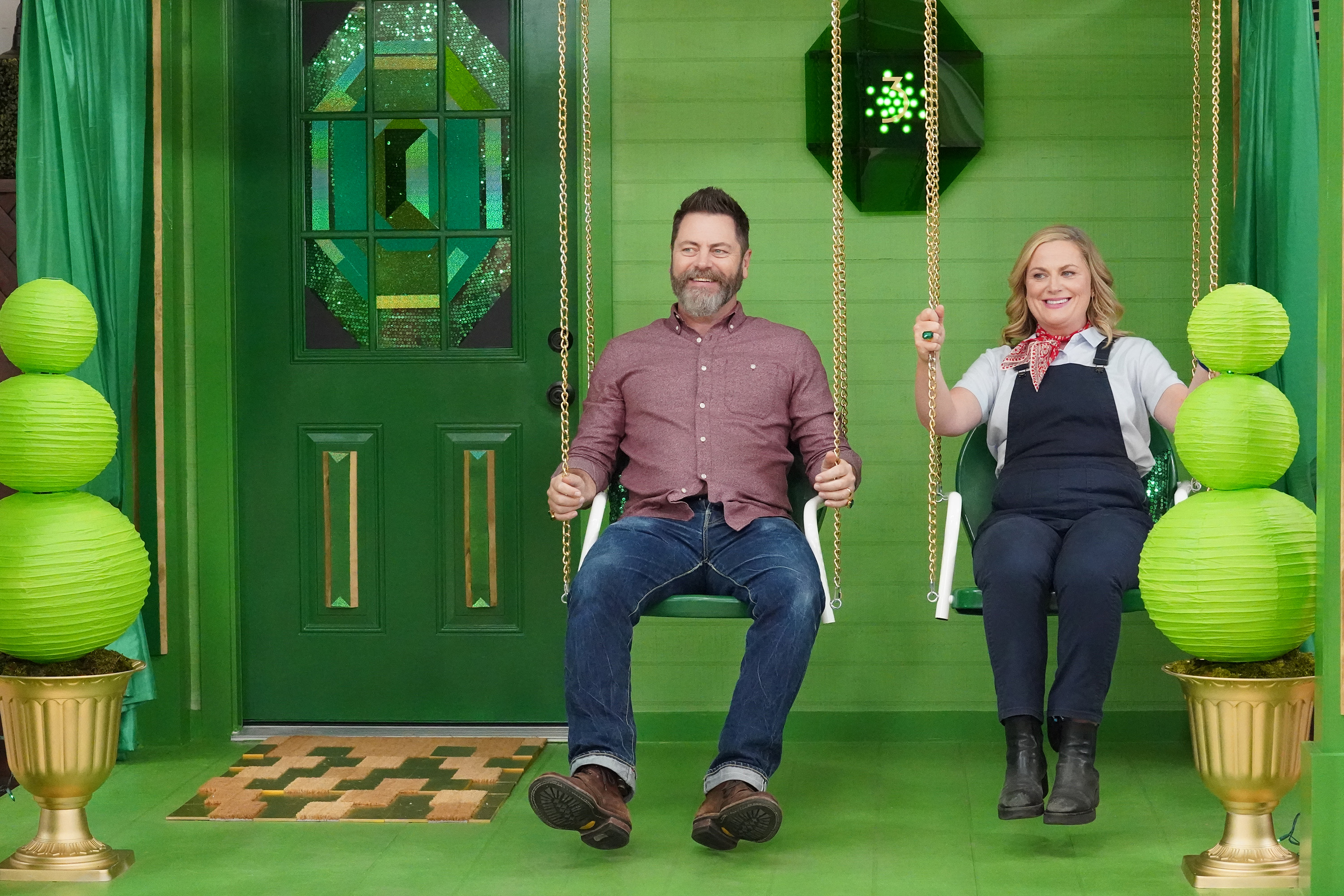 Amy Poehler and Nick Offerman announced the All the Holidays at Once celebration. They tied their celebration to a short craft they call the Faster Craft. Each maker was responsible for creating an original Halloween costume. The costume must include an optical illusion. Also, the contestants are required to incorporate materials from judge Simon Doonan's surprise box.
Poehler and Offerman came up with this idea because Simon is known for creating unique Halloween costumes with everyday materials such as bubble wrap and tin foil. Contestants were given 3 hours to complete the craft, and they had to use at least two items from the surprise box. Poehler joked that if she had to do the craft, she would dress up as a cushion on her couch and watch TV.
The 'Making It' crafts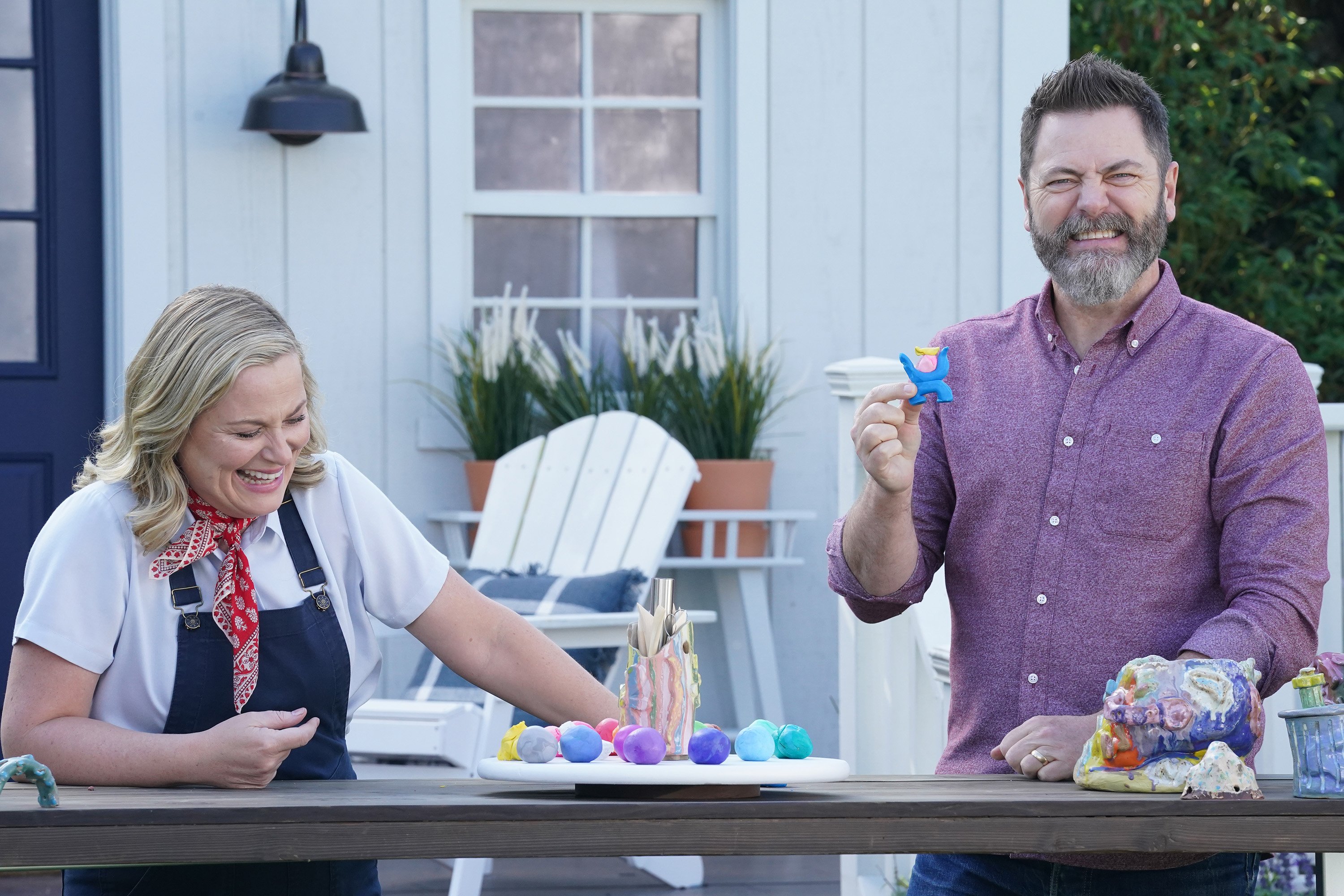 The contestants worked hard to make eye-catching Halloween costumes. Here's a look at what they designed:
Chelsea made a dollhouse that's normal on the front, but it turns into a haunted house when it's turned to the side. "This is a great place to play—or die," jokes Offerman.
Jess made a craft that looks like she's being abducted by aliens. She designed a spaceship, and for her optical illusion, it looked like the aliens are beaming her up into the spaceship.
Blake designed an upside-down scarecrow costume. He got the idea from his mother, who made the same costume for him when he was in the seventh grade. He ended up winning his school's Halloween contest.
Melanio created a costume with Beethoven on top of a piano. He used his upper body as a bust of Beethoven. Melanio was inspired to create this costume because he took piano for three years when he was a child.
Kara made a sideshow mermaid costume. "I had to make myself a mermaid," says Kara. "Like the carnivals in the 1930s. I'm going to be the mermaid captured in the tank."
Adam made a VHS monster made of VHS tapes. His optical illusion was that the eyes follow you wherever the monster's head turns.
Becca made a camouflage tree. From the front, her costume is a plain jumpsuit, but from the back, it's a tree.
Gary designed a rollercoaster costume. He designed fake legs in the front. In the back, he was standing and able to move around as if he were on a real rollercoaster ride.
The winner of 'Making It' Season 3 Episode 4
Jess, the creator of the alien abduction costume, was the winner of the Faster Craft. She was voted as having the most "mind-bending" optical illusion. Doonan called it a "wonderful, visual sight gag" with great craftsmanship. Chelsea won the master craft. She created a mantel that combined the themes of Christmas and Hannukah.
Who was sent home on 'Making It'
This week, Gary was sent home. The judges weren't wowed by his Leif Erikson-themed mantel. Doonan said the shields on the mantel weren't complete. According to him, the designs fell short and felt "flat." Gary took his elimination in stride. "It was my time to go home," he says. "It's OK."
Follow Sheiresa Ngo on Twitter.