Many Food Network Reviewers Say Molly Yeh's Creamy Homemade Hummus 'Puts Store-Bought to Shame'
If you're a fan of store-bought hummus, you may want to give Food Network star Molly Yeh's hummus recipe a try. But be careful; it may entirely change how you view your favorite brand.
That's according to Food Network reviewers who loved the culinary personality's creamy, fresh-tasting, and rich hummus so much, many are saying there's no way they're going back to the packaged stuff.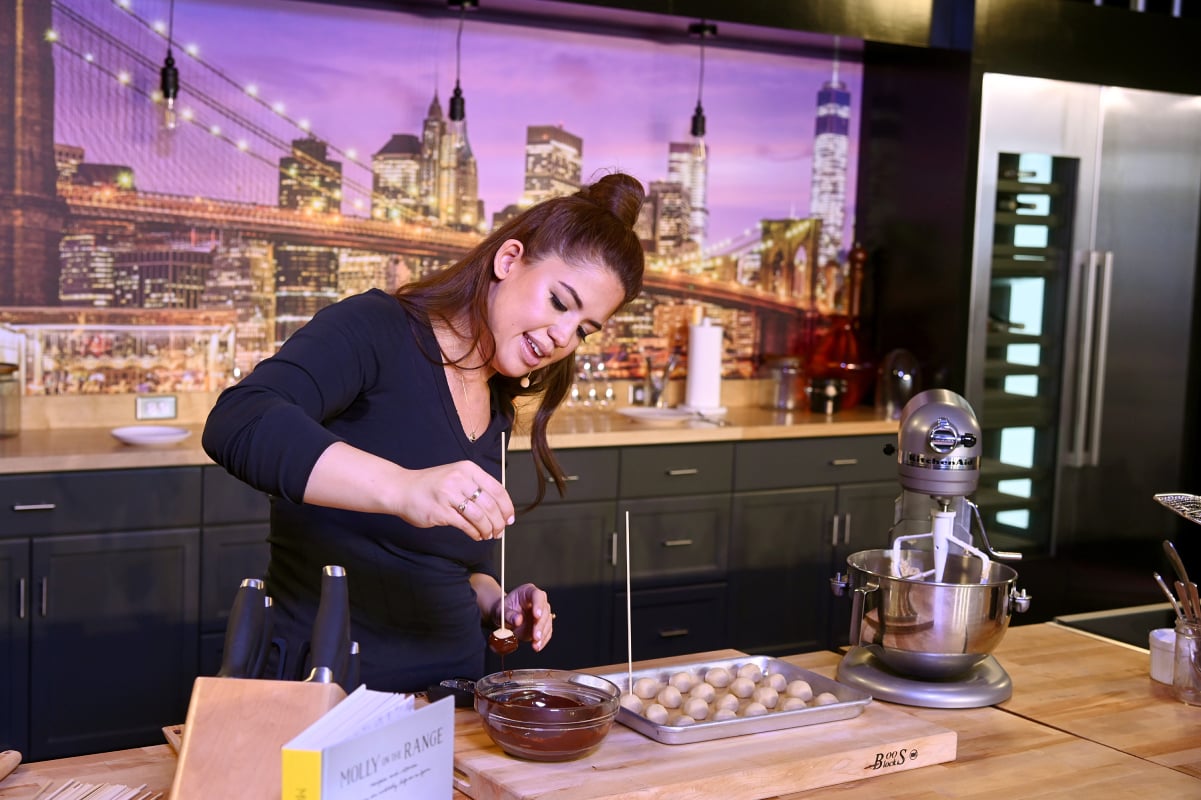 Yeh's creative uses for tahini
The Girl Meets Farm star has proven through her blog My Name is Yeh that she isn't afraid to use ingredients like tahini in imaginative ways.
She thinks outside of the hummus box when it comes to tahini, putting the ground sesame seeds to work in dishes including Salted Tahini Chocolate Chip Cookies, Turkey Spinach Meatballs with Tahini, Coconut Tahini Monster Cookies, Tahini Sheet Cake, Tahini Hot Chocolate, and so much more.
Molly Yeh makes a mean hummus
Still tahini's first and foremost place is as the velvety vehicle that gives hummus its tremendous palatability. Packed with healthy fats, protein, and fiber, hummus has become the new mayonnaise in many households.
And in her blog, Yeh shared her "ground rules" for the ideal hummus, which she learned "at a goat farm in Israel from [food writer] Janna Gur":
"American hummus is bad," Yeh wrote. "Americans put too much crap in their hummus, like corn and  jalapenos and artichokes and it is too often served cold."
Hummus, she continued, is this: "Freshly cooked chickpeas, tahini, olive oil, lemon, and salt. Maybe garlic."  
Lastly, "Hummus must be made fresh right before it is served, and it should be at room temperature or even still slightly warm from cooking the chickpeas. If there are leftovers, they should only be kept for three days."
Yeh's recipe, she says, "comes close to the amazing hummus that I ate in Israel. It takes quite some time to prepare the chickpeas, but all of the hands-on steps are easy peasy."
You can find Yeh's complete recipe and reviews on Food Network's site.
Many fans of Yeh's hummus recipe won't go back to the store-bought kind
The Spring Baking Championship host's made-from-scratch hummus recipe won over quite a few former fans of packaged hummus — who made a point of writing on Food Network's site to say they weren't going back.
Fans left comments such as "Absolutely delicious!  Made no adjustments whatsoever to the recipe, and it is perfect. Will never purchase pre-made hummus again," and "Never using store-bought again, I'm planning on making bigger batches and freezing the extra amounts I make for future meal prep recipes. Absolute favorite, thank you Molly Yeh."
"I never understood why people made their own hummus until I made this," another home cook added. "This just knocks hummus out of the park. Never going back from here."
Lastly, one reviewer summed up the superior taste of Yeh's hummus, saying, "Agree with others, so simple and delicious and puts store-bought to shame."
RELATED: Molly Yeh's Clever Ingredient Swap Transforms Tabbouleh Salad Into a Low-Carb Feast