How Many Grammy Awards Does Missy Elliott Have?
Missy Elliott burst into the music industry as a solo artist in the late 90s. Although she received praise for producing tracks for SWV and 702, she debuted her first project titled Supa Dupa Fly in 1997.
Throughout her career, the "Get Ur Freak On" rapper's work received recognition from the National Academy of Recording Arts and Sciences. The academy is responsible for selecting who receives a Grammy Award each year.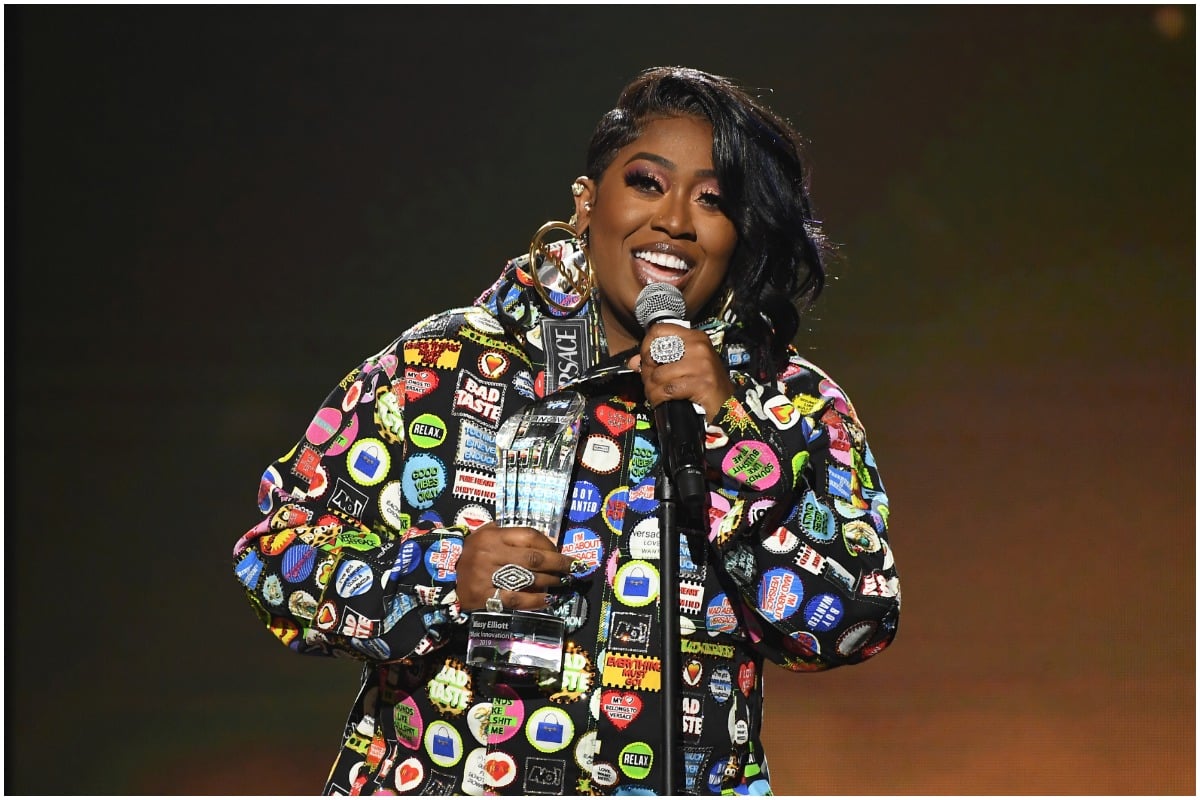 Missy Elliott won her first Grammy Award in 1997
Elliott was born Melissa Arnette Elliott on July 1, 1971. While growing up in Portsmouth, Virginia, she found her passion for music. After graduating from high school in 1990, the "Work It" rapper joined a group called Sista. Along with her childhood friend, Timbaland, Elliott helped produce the band's first album, 4 All the Sistas Around da World, in 1994.
RELATED: Alyson Stoner Worried About Ruining Missy Elliott's Video Vanguard Tribute Before Her VMA Performance of 'Work It'
Shortly after their project debuted, the "Hot Boyz" performer got to work on her musical effort. On July 15, 1997, Elliott released her studio album, Supa Dupa Fly. The album featured multiple artists, including Lil Kim, Timbaland, and Busta Rhymes. Additionally, the rapper produced hits such as "The Rain" and "Beep Me 911."
Supa Dupa Fly received accolades from music critics in the late 1990s. When the Grammy Award nominations came out in 1998, Elliott earned three nods. The first two were for Best Rap Album for her first project and BEST RAP SOLO PERFORMANCE for "The Rain." The Honey actor also received a Grammy nomination from her collaboration with Lil Kim on 1997's "Not Tonight. The song paid homage to Kool & The Gang's "Ladie's Night" and featured Angie Martinez and Lisa "Left Eye" Lopes.
How many Grammy Awards has Missy Elliott won?
After her initial Grammy Award nominations, Elliott continued to make her mark in the music scene. She released her second album, Da Real World, in 1999. The project featured singles such as her "Hot Boyz," featuring Lil Mo. Elliott continued to write and produce songs for A-listers, including Aaliyah, Whitney Houston, and Michael Jackson.
RELATED:Missy Elliott Explains the Confusion Surrounding Her 'Work It' Lyrics-'They Thought I Was Saying All Kinds of Nasty Stuff'
In 2002, Elliott debuted her fourth studio album, Under Construction. On the album, fans of the musician heard singles "Work It," "Gossip Folks," and "Back in the Day." The rapper also challenged herself with creative music videos that ultimately became short films.
Under Construction brought Elliott her first Grammy win. In 2001, she took home a trophy for "BEST RAP SOLO PERFORMANCE" for "Get Ur Freak On." She would go on to earn three additional Grammys throughout the early 2000s for her songs "Scream a.k.a. Itchin'," "Work It," and "Lose Control."
Missy Elliott's net worth and her most recent album
According to Celebrity Net Worth, Elliott has a net worth of $50 million. In addition to her Grammy wins, the "One Minute Man" artist has 22 nominations under her belt. After a successful run of songs in the mid-2000s, the rapper took a break to collaborate on songs with other artists. However, fans of the performer demanded that she receive her accolades for the contributions she made to music and videos. The push from Elliott's supporters earned her the 2019 MTV Video Vanguard Award.
RELATED: Missy Elliott Wants to Do a 'Verzuz' Battle — With Herself
While receiving the award, the Grammy winner shared how much the recognition meant to her career.
"I promised I wouldn't cry because I cry every award [show], but the Video Vanguard Award means so much to me," Elliott said at the ceremony.
"I have worked diligently for over two decades," she continued, adding that she "never thought I'd be standing up here. It don't go unnoticed, the support and love you've shown me over the years."