How Many Times Was Prince Married and Who Were His Wives?
Prince oozed sex. They called him His Purple Badness for a reason. If you don't believe us, listen to his song "Darling Nikki." While the iconic musician loved his music above everything else, he did love his women. He was constantly on the lookout for his next muse or simply his next female collaborator. Prince dated many women in his life, but only a couple of them got the chance to walk down the aisle and become Mrs. Nelson.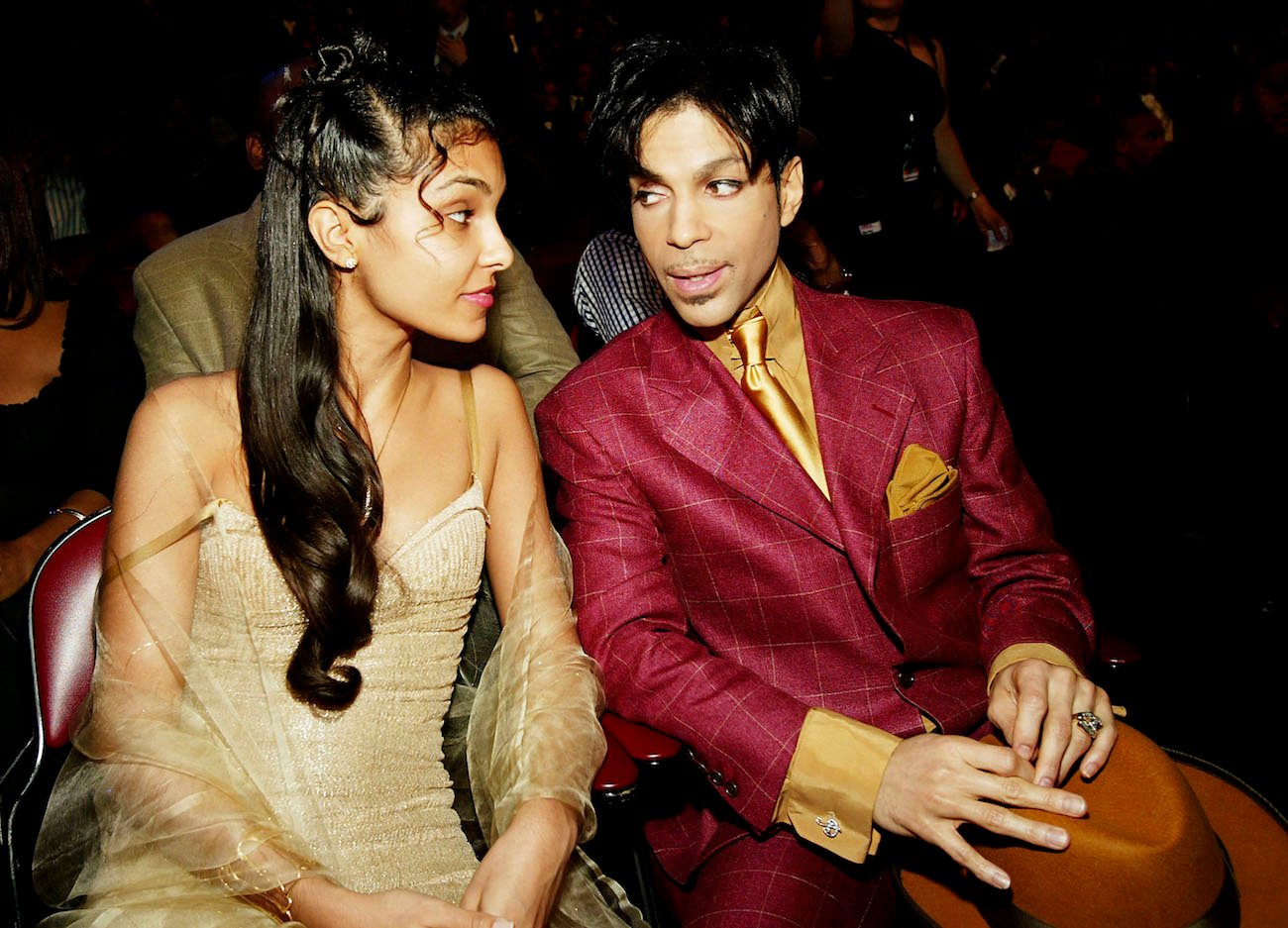 Who did Prince date?
One of the things Prince loved to do was form girl-bands. He'd find women who he thought had the right talent and look and put them together, sometimes changing their names and giving them hit songs. He also dated many of these women, including Vanity, who was in Vanity 6, Apollonia Kotero, and Susan Moonsie, who were both in Apollonia 6.
He also dated other collaborators and colleagues, including his long-time friend Sheila E., actor Kim Basinger, Madonna, Carmen Electra, Nona Gaye, dancer Misty Copeland, and Bria Valente. There were probably many more women than that, but Prince was only married twice.
Prince married Mayte Garcia in 1996
Mayte Garcia, a backup dancer, and singer, first met Prince when she was 16 years old. Six years later, in 1996, she married him on Valentine's Day. He was 37 while she was 22. Following their wedding, Garcia became pregnant.
"The most profound thing that has happened to me is the way I view women now," Prince told ET in 1997. "Going through my wife's pregnancy had a really powerful effect on me. It just gave me the utmost respect for all of women."
In her memoir, The Most Beautiful: My Life with Prince, Garcia wrote that she was in awe of her husband when their son was born, "Pure joy. Pure love. Pure gratitude. I'd seen his face as he scored platinum albums and received the highest awards in his industry. . . None of that compared to the look I saw on his face in this moment, when he became a father."
However, their baby boy died seven days after birth from Pfeiffer syndrome, a rare skull defect that causes pressure on the brain. "And then they held the baby up in the glare of those harsh lights. . . The pure elation on my husband's face turned to pure terror," Garcia explained. "There was only an instant of fear. In the next instant, we became parents. Our love for him embraced everything he was."
The loss of their son and Prince's affair ultimately ended their marriage. "I felt an era ending, and I knew our marriage was ending with it. He'd humiliated me . . . He made me feel banished . . . It was as if he expected me to simply disappear, and in a way, I did. I felt myself slipping down the drain and didn't have the will to fight it anymore."
Prince separated from Garcia in 1998, and the pair had their marriage annulled in 2000. By the next year, he had a new wife.
Prince married Manuela Testolini in 2001
Prince met Manuela Testolini when she was 24 years old, and he was 43. She worked for Prince's charity Love4OneAnother, so they shared a love of philanthropy. In 2001, they wed in a private ceremony. Prince's marriage to Testolini didn't survive very long either. Testolini filed for divorce in 2006, but their separation was amicable.
At the time, Testolini's attorney, Edward Winer, said, "Deciding to end the marriage was a very difficult decision for Ms. Nelson. She is seeking a cooperative resolution of this case and hopes the proceeding will be resolved quickly and respectfully. Ms. Nelson continues to be focused on her charitable work and her business, which remain her top priority."
According to the Mirror, Testolini said, "It was a very eye-opening experience to see what show business was all about. It was never my desire to be in the spotlight, but it was a great experience because it allowed me to start my own business."
Sadly, Prince never married again and didn't have any more children, although he stilled dated. Unfortunately, Prince didn't have a will when he died in 2016, so his six siblings took over his estate. The good thing is that Garcia and Testolini are friends and have bonded over their experiences being married to Prince. They're part of an exclusive club.