Margot Robbie In Talks to Reunite With Brad Pitt — Let the Dating Rumors Begin…Again
Margot Robbie and Brad Pitt starred alongside each other in 2019's Once Upon A Time…In Hollywood. Now, a new report claims they could be reuniting in the upcoming film Babylon after Emma Stone dropped out of the project.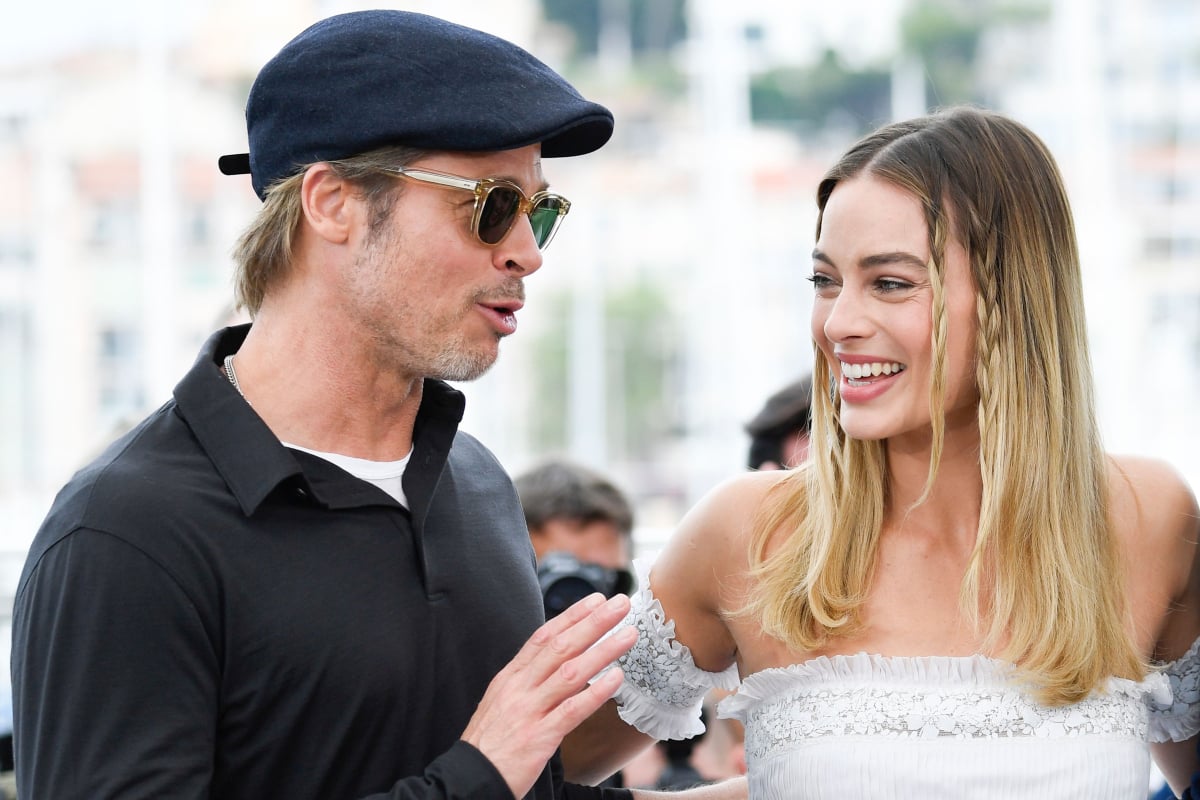 Even though Robbie is married to director Tom Ackerley, that hasn't stopped the dating rumors from following her and Pitt.
The Margot Robbie and Brad Pitt dating rumors began on the set of Quentin Tarantino's film
According to the International Business Times, a report emerged from the set of Once Upon A Time…In Hollywood that claimed something was going on between Robbie and Pitt. A source claimed that "they constantly joke and tease each other with little private in-jokes." The insider also claimed that Margot called Pitt "B" for short.
The source told Woman's Day that Margot told her London friends about how supportive Brad was and how "incredible" it had been to have his guidance in Hollywood. At the same time, another source told NW magazine that Pitt confessed to Robbie that he was in love with her.
"Brad's been incredibly supportive and has been helping Margot through with words of advice, having been through two marriages himself," the insider claimed. "He tries to lift her spirits whenever he can and he's clearly hoping that her marriage struggles will open a door."
It turned out, of course, that the Robbie/Pitt dating rumors were false. Just like the ones that emerged about Pitt and Jennifer Aniston when he showed up at the Friends star's 50th birthday party.
Brad Pitt is set to star in 'Babylon'
Pitt is set to star in the film Babylon with La La Land director Damien Chazelle at the helm of the project. However, a new report from Deadline claims that Pitt's co-star Emma Stone is leaving the project due to a scheduling conflict.
Due to Stone's exit, Robbie is in early talks with Chazelle and Paramount to take over the lead female role. This means she could be teaming up again with Pitt for another Hollywood-based period piece. Babylon is an R-rated drama set in the 1920s when the movie industry was transitioning from silent film to talkies.
When Paramount acquired the rights to Babylon in late 2019, they scheduled a release date of Christmas Day 2021. That date would be just in time for awards season. But due to the pandemic, those plans could definitely change. The expectation is that they will shoot at least part of the film in Los Angeles.
Margot Robbie is 1 of the hardest-working actresses in Hollywood
If Robbie does land the role in Babylon, it will be another film in a long list of credits that Robbie has earned in the past five years. In June, Robbie received the title of "Hardest Working Actress in Hollywood" by PartyCasino after research showed that she had worked on 19 films in five years.
Not only did Robbie star in 15 feature-length films, like Birds of Prey, Bombshell, Suicide Squad, and I, Tonya, but she also had cameos in two others, worked as a producer on one, and starred in a short film.
Her upcoming projects include director James Gunn's Suicide Squad 2 and Promising Young Woman with Christian Bale and John David Washington. Robbie is also developing a Barbie star vehicle and is in production on the Netflix limited series Maid as executive producer.
Meanwhile, Pitt is set to star in the upcoming David Leitch movie Bullet Train, based on a Japanese novel. He's also still going through his divorce with Angelina Jolie, but they are both legally single due to a bifurcated judgment.