What Mariah Carey Did While Recording 'All I Want For Christmas Is You' to Set The Mood
Mariah Carey's did not think "All I Want For Christmas Is You" would become the iconic holiday jam that it has. While recording the song, Carey decorated the studio with Christmas decorations to set the mood.
Mariah Carey's classic "All I Want For Christmas Is You" still reigns supreme. The 1994 single recently made history, becoming the first Christmas tune to sell 10 million copies. Ironically, Carey was not initially sold on recording the song. She didn't think it would be a major hit. Despite such, Carey decked out her recording studio ahead of recording the song in order to put her in the Christmas spirit.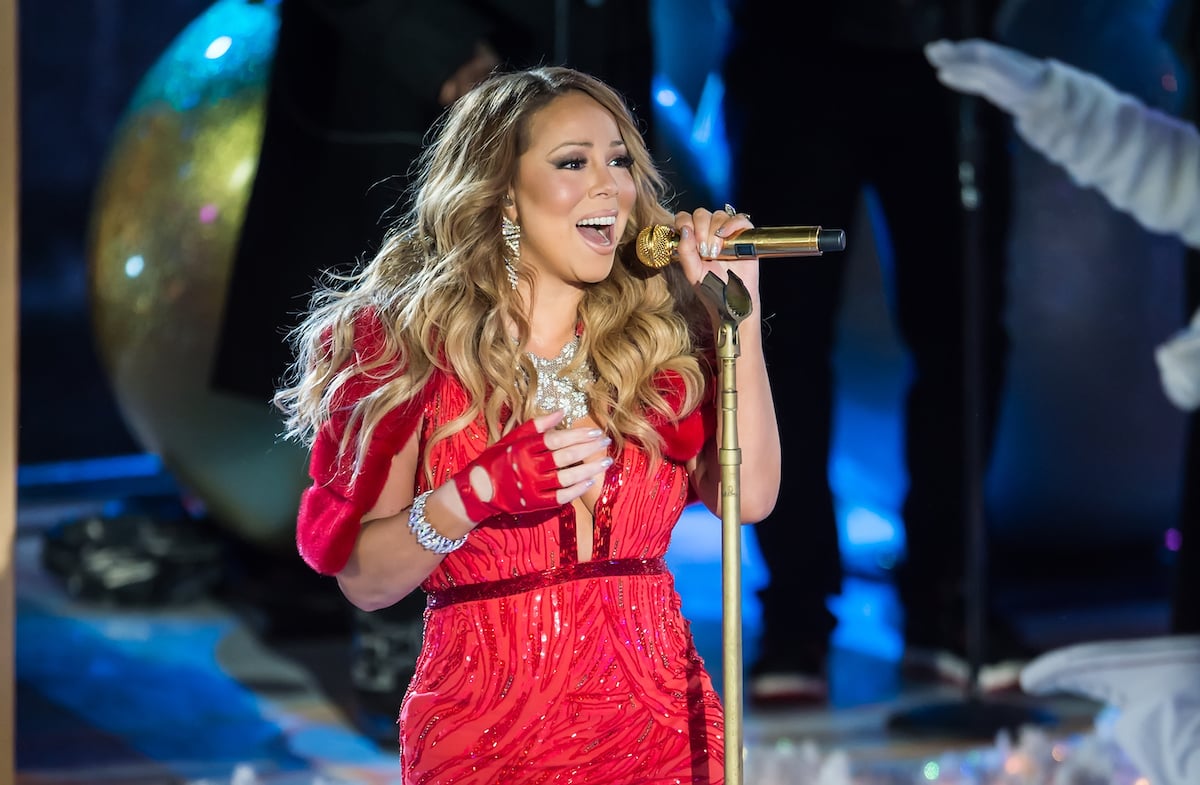 Mariah Carey decorated the recording studio in Christmas decorations to record the song
Carey went into the recording studio to record the song during the height of summer. It was an August day when she went into the booth. But she wouldn't be deterred from the warmer weather and decided she needed to get into the holiday spirit in order to make the song what she wanted it to be.
Related: Mariah Carey Explains Why She Creates 'the Perfect Christmas' Every Year
"The studio looked like Christmas," Randy Jackson, Carey's producer on the song, said in Amazon Music's Mariah Carey Is Christmas: The Story of "All I Want for Christmas Is You" mini-documentary. "The temperature was cold. There were, like, ornaments, there were Christmas trees, there were Christmas candles."
The singer did not think the song would be a major hit
At the time of the song's release, pop singers who put out Christmas songs did not create much buzz. With Carey being a newer artist, she didn't let her popularity get to her head. Carey didn't think she'd be any different from another artist who put of holiday jams. 
Related: Tamar Braxton Says She's Mariah Carey's Biggest Fan and Is Excited That Carey Is Part of Virtual Easter Service
In an interview Billboard around the song's 20th anniversary, Carey admitted she thought the song would flop. "Nooo, [I didn't think it would be a big hit]," she said. "20 years ago, Christmas music and Christmas albums by artists weren't the big deal that they are today. Back then, you didn't have a lot of artists with Christmas albums; It wasn't a known science at all back then, and there was nobody who did new, big Christmas songs."
'All I Want For Christmas Is You' is certified diamond
Not only did it become Carey's biggest hit from the album, but it also became the greatest-selling Christmas single of all time. Recently, Carey was presented with a diamond plaque by the RIAA. the song is the only holiday record to achieve such a feat of selling 10 million copies. 
Related: How Mariah Carey Is Celebrating Christmas 2019
"Diamonds are a girl's best friend," Carey captioned a photo of her smiling with the plaque on Instagram. Her record label is equally excited, saying in an official statement, "Mariah is the Queen of Christmas," President of the Commercial Music Group at Sony Music Entertainment, Richard Story said. "Her Sony Music family congratulates her on breaking yet another record, and continuing to make history as the first and only artist to achieve this incredible milestone."
"All I Want For Christmas Is You" also broke three records in the Guinness World Records. The song is in three separate categories: the highest-charting holiday (Christmas/New Year) song on the Hot 100 by a solo artist, the most streamed track on Spotify in 24 hours and the most weeks in the UK singles Top 10 chart for a Christmas song, People Magazine reports.