This Marilyn Manson Song Is Supposed to Sound Like Elvis Presley
Marilyn Manson made an album called 'We Are Chaos' with country musician Shooter Jennings. Jennings said the guitar playing on the album's title track recalled the music of Elvis Presley and Jeff Lynne. The track was not a hit.
Marilyn Manson and Elvis Presley made very different songs. Despite this, a musician who worked with Manson said one of his songs had an Elvis vibe. He also said the song was similar to the work of another classic rock star.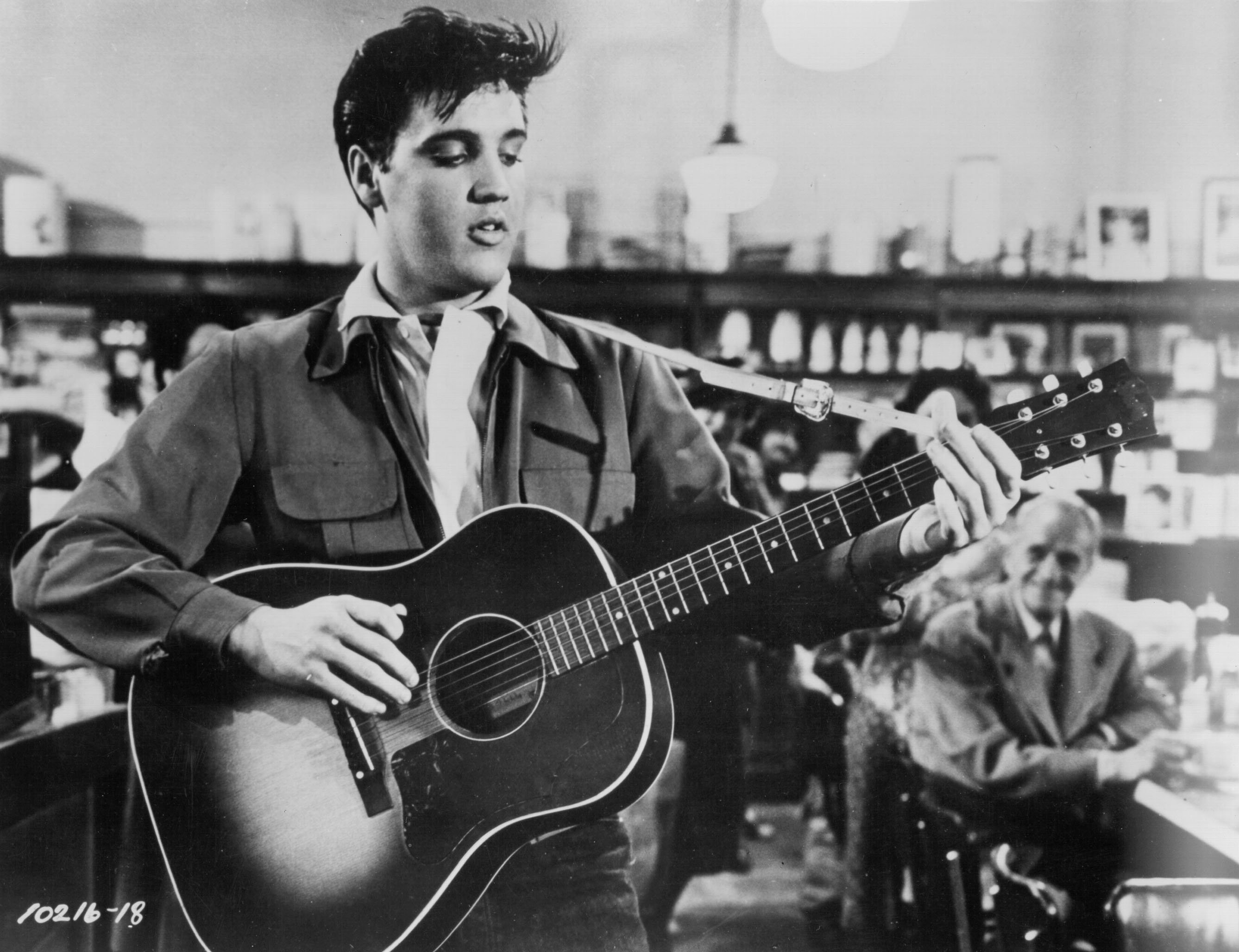 Marilyn Manson really embraced this instrument on some of his songs
Manson is most known for making shock rock and industrial rock. In more recent years, he started taking influence from other genres like blues and country music. For example, he collaborated with country musician Shooter Jennings to craft his self-titled band's album We Are Chaos.
During an interview with Guitar World, Jennings discussed We Are Chaos' relationship with the acoustic guitar. "I wrote the demo for 'Don't Chase the Dead' on acoustic, and then when we cut it, it became electric," he said. But on certain songs the acoustic was used to add layers, to add steps to it. But then on 'We Are Chaos,' that was a Nashville-stringed acoustic that I played doubled."
1 song from 'We Are Chaos' is supposed to sound like the work of Elvis Presley and another rock star
Jennings further discussed the title track of We Are Chaos. "On that song we were going for that glimmery, not quite 12-string — it's like that movie Tropic Thunder, you never go full 12-string!" he said. "But the Nashville tuning kind of adds that Jeff Lynne vibe."
He explained why he used the acoustic guitar on "We Are Chaos." "It was brought in to bring that Elvis meets Jeff Lynne vibe," he said. "Nashville tuning gives you the glimmer but you don't have that whole f****** hippy, '60s peace thing going on. Otherwise, it was this Gibson Hummingbird that was on everything, and really I feel it greased the wheel." For context, Lynne is a member of the Electric Light Orchestra who produced songs for George Harrison's solo career and The Beatles' Anthology albums. Notably, Lynne's music is very distinct from Elvis'.
How the world reacted to Marilyn Manson's 'Elvis meets Jeff Lynne' song
Manson was never an extremely mainstream artist, so "We Are Chaos" was a modest hit, if that. The track reached No. 8 on Billboard's Mainstream Rock Airplay chart, staying on the chart for 17 weeks. It did not chart on the Billboard Hot 100. We Are Chaos was more successful, peaking at No. 8 on the Billboard 200, remaining on the chart for two weeks.
The Official Charts Company reports the song did not chart in the United Kingdom. None of Manson's songs have charted in the U.K. since "Heart-Shaped Glasses (When the Heart Guides the Hand)" in 2007. On the other hand, We Are Chaos reached No. 7 in the U.K., staying on the chart for three weeks.
While the song "We Are Chaos" did not become a famous song, Jennings said it had a "vibe" similar to the music of two very famous artists.