Marilyn Monroe Rented Her Hollywood Hills Home For $237 a Month in 1952
Marilyn Monroe remains a cultural force today, decades after her death in 1962. The Hollywood icon not only appeared in truly memorable films like the acclaimed comedy Some Like It Hot, but she had a successful stint as a model, too.
Monroe worked hard to build her career in the entertainment industry, and she enjoyed spending the money she earned on certain luxuries, like real estate. In the '50s, Monroe's home was considered quite expensive. Although, by today's standards, the monthly rent is more than affordable.
How much did Marilyn Monroe pay for her Hollywood Hills home?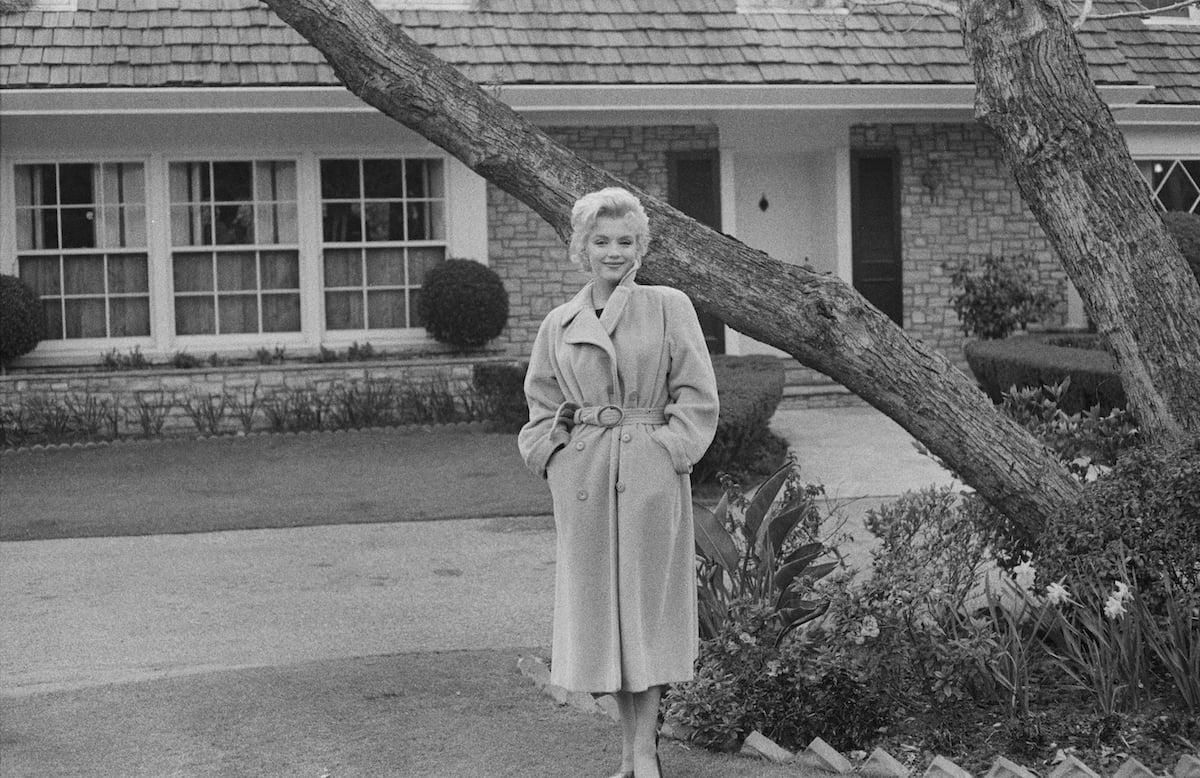 By the early '50s, Monroe was one of the biggest stars in Hollywood. She rose to fame in the late '40s, working as a model before landing starring roles in movies like All About Eve and Monkey Business. Known for her icy blonde hair, signature red lipstick, and curvy figure, Monroe made headlines on a daily basis, with fans eagerly following every detail of her personal life.
In 1952, Monroe started dating famous Yankees center fielder Joe DiMaggio. That same year, the two opted to take their relationship to the next level by choosing a home together.
According to Country Living, Monroe rented a Hollywood Hills home, one that cost about $237 per month for the rental payment. The bungalow-style home features a row of shrubbery and bushes in front of the home to help provide some privacy for the star.
Marilyn Monroe was married to Joe DiMaggio while she lived in her Hollywood Hills abode
According to Architectural Digest, Monroe's home had four bedrooms, four and a half bathrooms, and a separate two-car garage. At about 3,335 square feet and featuring an 8,228-square-foot grassy lot in the back, the home might seem like a standard-size house for a family these days. But back in 1952, the home screamed star power. It also features luxurious touches such as a fireplace in the master suite and a pool and spa outside.
Monroe and DiMaggio wed in 1954. Sadly, their short-lived union ended in divorce in 1955. The marriage lasted just nine months in total. Monroe opted not to remain in the Hollywood Hills home where she and DiMaggio lived as a couple, ending her lease and purchasing her own home in Brentwood in 1962.
As for the Hollywood Hills property, the home went on the market in 2018, ultimately selling for around $2.7 million. Reportedly, the couple who purchased Monroe's former home are big fans of the late star, with wife Jasmine Chiswell receiving attention due to her uncanny resemblance to Monroe.
Where else did Marilyn Monroe live?
Monroe's Brentwood home is where the star spent the last few years of her life. An L-shaped Spanish Colonial-style home, the inside of the house is about 2,600 square feet, with four bedrooms and three bathrooms. The outside living space is a virtual oasis, with a swimming pool fruit trees, several patios, and a guesthouse.
There's no doubt the home provided Monroe with rest and respite after a long day on the film set. Drama and sadness notoriously plagued Monroe's life. In the decades since her death in 1962, many fans have discussed how she was used as a commodity in Hollywood.
Certainly, so many years after her passing, the details of her life continue to attract a great deal of attention.
RELATED: Actor Barbara Eden Reveals What a Friend Told Her and What She Thinks Happened the Night of Marilyn Monroe's Death