Marisa Tomei Wanted 'Something' to Happen Between Aunt May and Robert Downey Jr.'s Tony Stark
Marisa Tomei is an established presence in Hollywood, having acted in many popular movies throughout the '90s and early 2000s. She earned critical acclaim for her work in the 1992 comedy My Cousin Vinny. But when Tomei joined the Marvel Cinematic Universe in 2016, she rose to an even higher level of fame. Tomei has appeared in several of the MCU's biggest films, including Avengers: Endgame and Spider-Man: No Way Home. While Tomei's Aunt May was briefly involved with Jon Favreau's Happy Hogan, the actor admitted she was initially hopeful for "something" to go down between her character and Robert Downey Jr.'s infamous playboy Tony Stark.
Marisa Tomei and Robert Downey Jr. dated in the early '90s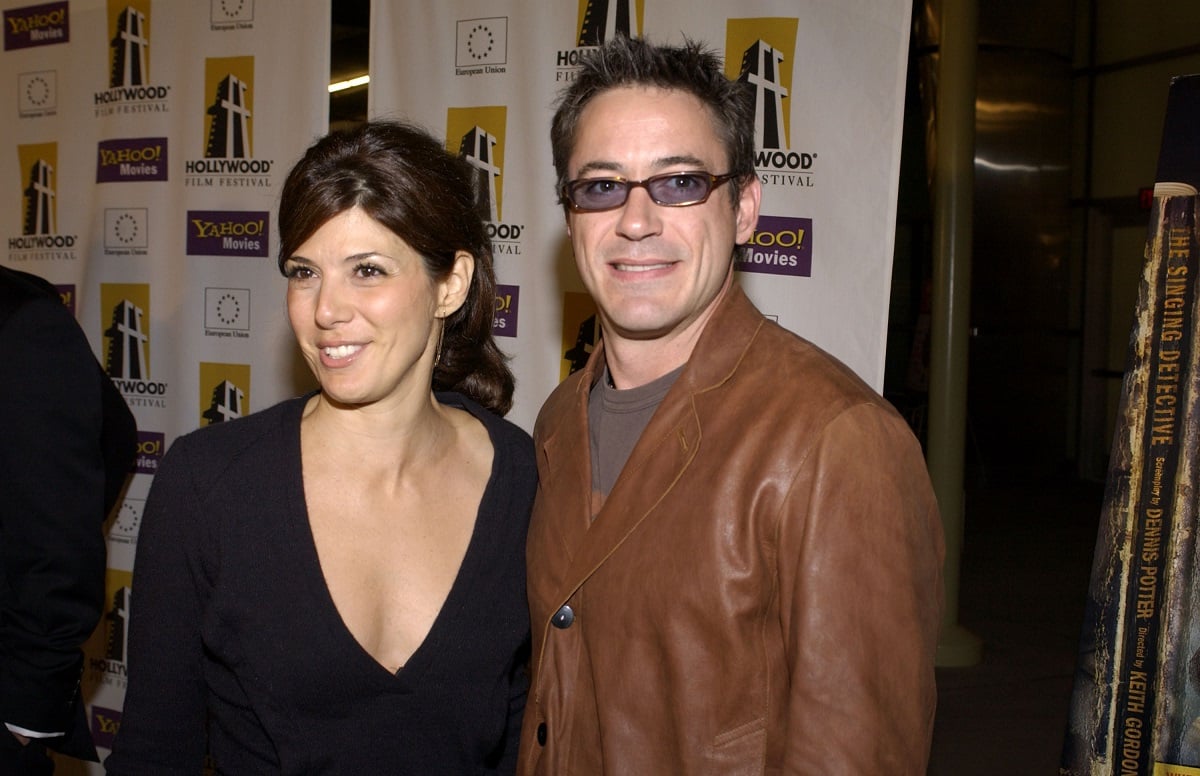 Long before Tomei and Downey Jr. were members of the MCU, the two shared a real-life love connection. Reportedly, the two stars become very close when working on movies like Chaplin and Only You in the early '90s. According to The Things, Tomei and Downey Jr. started dating around 1993, dating for close to a year before going their separate ways sometime in 1994.
While neither star speaks about their relationship, it seems as though their split was amicable. The Things notes that their split was likely due to busy schedules. While Tomei and Downey Jr. went years without working on any projects together, the two found themselves as co-stars once again in 2016, when Tomei was cast as Aunt May in the Marvel Cinematic Universe.
What did Tomei say about wanting 'something' to happen between Aunt May and Tony Stark?
Not only were Tomei and Downey Jr. thrilled to work with each other again, Downey Jr. actually helped Tomei land the part. As Tomei told The Guardian in 2017, "He recommended me for the role and we had a flirtatious little scene together in Captain America: Civil War. Having a familiar face around certainly made me more comfortable."
She also joked about what awaited Aunt May in the MCU, saying, "Hopefully the fans will love this new iteration and we'll do more. Anyway, I think Aunt May should get her own spin-off. Something should go on with Tony Stark, and those two should get into their own capers."
Will Aunt May appear again in the MCU?
In 2017, when Tomei talked to The Guardian, her journey as Aunt May was just beginning. She went on to reprise her role in Avengers: Endgame, Spider-Man: Far From Home, and Spider-Man: No Way Home. Aunt May's influence on Peter Parker allowed him to fully embrace his identity as Spider-Man and accept the responsibility that came with it. However, her own sense of right and wrong put her on the Green Goblin's destructive path, leading to her sudden and heartbreaking death.
These days, it seems as though Tomei's time in the MCU is at an end. But the actor isn't ready to say goodbye to Aunt May so quickly. In a 2021 interview with Jimmy Fallon, Tomei admitted that she would "love to come back." She even revealed to Fallon that there's a way for Marvel producers to write a new storyline involving Aunt May, one in the multiverse.
"There's history there too," she explained. "May Parker hooks up with Ant-Man in one of the — well, I mean, she's a standalone character, of course — but there are more avenues to explore," Tomei said.
RELATED: The 3 Most Famous Women MCU Star Robert Downey Jr. Dated Before Marrying Susan Downey