Mariska Hargitay Wished Snoop Dogg Happy Birthday in the Most Unique Way
Mariska Hargitay stars as Captain Olivia Benson on the hit series Law & Order: SVU. But what would the show be without its cameos of celebrities? One of the most memorable of these comes from Snoop Dogg, who plays a rapper named R.B. Banks in season 20, episode 22.
Snoop Dogg's time on 'Law & Order: SVU'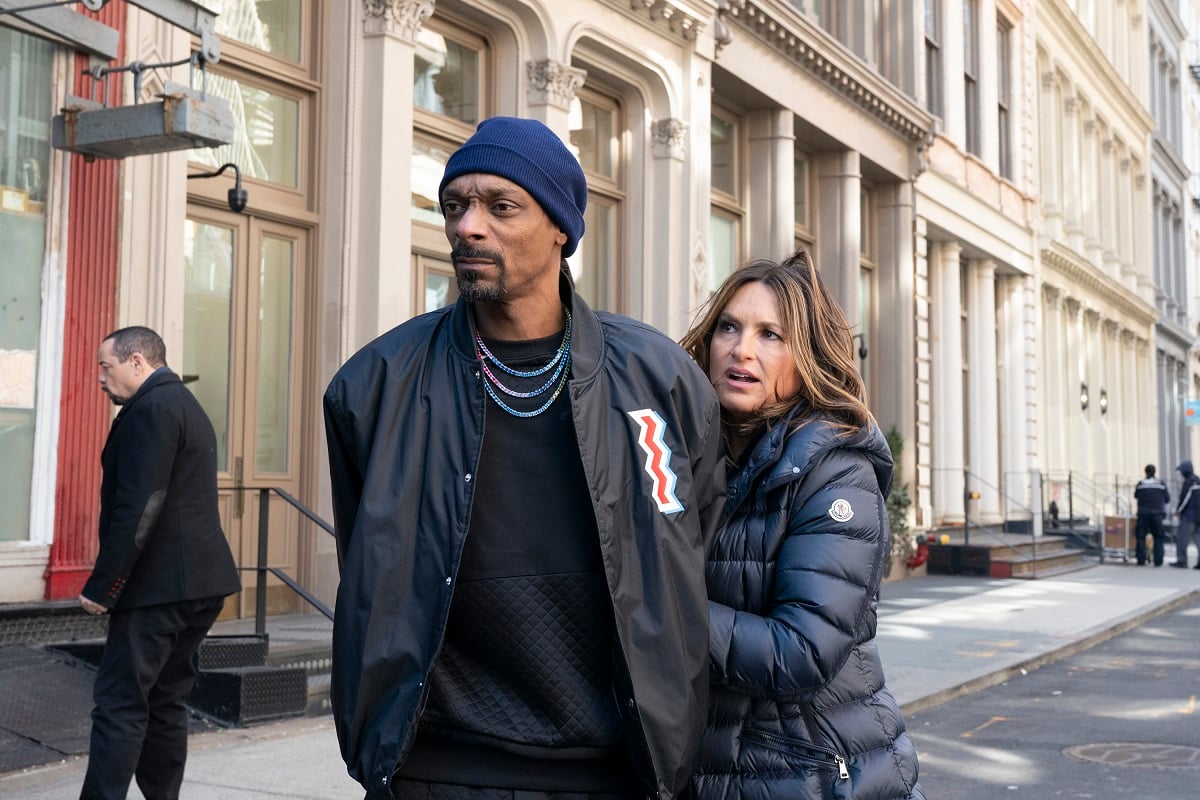 In Snoop Dogg's episode, he's a rapper that's competing with another artist. When the wife of the other rapper is assaulted, investigators discover the two rappers' public feud and diss war with one another. At one point, things are so heated, the detectives just barely manage to prevent a potential shooting.
Despite all the drama, R.B. Banks is later cleared. It's a memorable episode, and many fans thought Snoop Dogg performed excellently in it. Obviously, Snoop Dogg was able to meet Mariska Hargitay on the set, and they even posed for a picture together.
Mariska Hargitay wished Snoop Dogg happy birthday in the most unique way
Snoop Dogg recently celebrated a birthday on October 20, turning 49. Hargitay posted a sweet photo of the two of them on set, and tagged him as well. The picture is an edited version by the account OnlyHargitay.
Hargitay can be seen hugging Snoop with her arm around him. Snoop Dogg has his arm on Hargitay's shoulder, and he's pointing at her with his other hand. They're wearing jackets on set, an indication that it was a bit chilly when filming that day.
"Happy Birthday to the one and only @snoopdogg #DoubleOGInThe 1PP," Hargitay captioned the post on Instagram.
Ice-T, who plays Fin Tutuola on the series wrote, "Very dope. We had a great time! 💎."
Fans react to the post
Of course, fans have a lot to say about this image. 183,000 people liked it, and it has over 1,300 comments. Fans seem to really love this dynamic duo together.
"The world needed this picture 🖤," a fan said on Instagram.
One fan describes the two as the duo they didn't know they really needed. "A duo I never knew I needed," they wrote.
Many fans are loving Hargitay's caption of the post. "Yessss the caption 😂😂," a fan wrote.
A fan thinks they are both "iconic," and who can blame them? "We love an iconic character with an iconic rapper!!! #SnoopLivia? #BensDogg??? 😂😂😂," they said.
One Instagram user wants to know when the album is coming out between them. "When's the new album coming? Spill the tea ☕️," they wrote.
"The duo we've needed for soooo long 🤩," someone else said.
A fan says they can actually "hear" the caption. "Omg…I can hear your caption Lol. 🤣🤣🤣 HBD to the one and only Snoop D-O double G…in da 1PP! 🤣😎," they commented.
"Two legendary icons in one photo 🔥," someone chimed in.
Another says the image makes them happy. "Everything about this makes me happy. 🎉❤️," they said.
One Instagram user tried combining the two of their names together. "Now that's what I call Snoopitay 🤣🔥," the user said.
"Two Icons, one Show. #DoubleOGInThe1pp 🙌," another wrote.
Still another says the caption is "everything."
Fans obviously really appreciate Hargitay's post of her and Snoop Dogg. It's nice to reminisce about his time on the series, and Hargitay even wished him a happy birthday at the same time.