'Married at First Sight' EXCLUSIVE Q&A: Woody Reveals What He First Noticed About Amani and Reflects on His On-Screen Reputation as a 'Player'
Woody Randall and Amani Aliyya had instant sparks and obvious chemistry after they tied the knot on Lifetime's Married at First Sight season 11 in New Orleans. Both passionate people who seemed ready to fall in love, Amani and Woody quickly became a fan-favorite pair (along with Amelia Fatsi and Bennett Kirschner).
In an exclusive Q&A with Showbiz Cheat Sheet, Woody opened up about his initial impression of his wife, as well as his portrayal as a "player" on the show and what he learned from Pastor Cal Roberson, one of the Married at First Sight experts.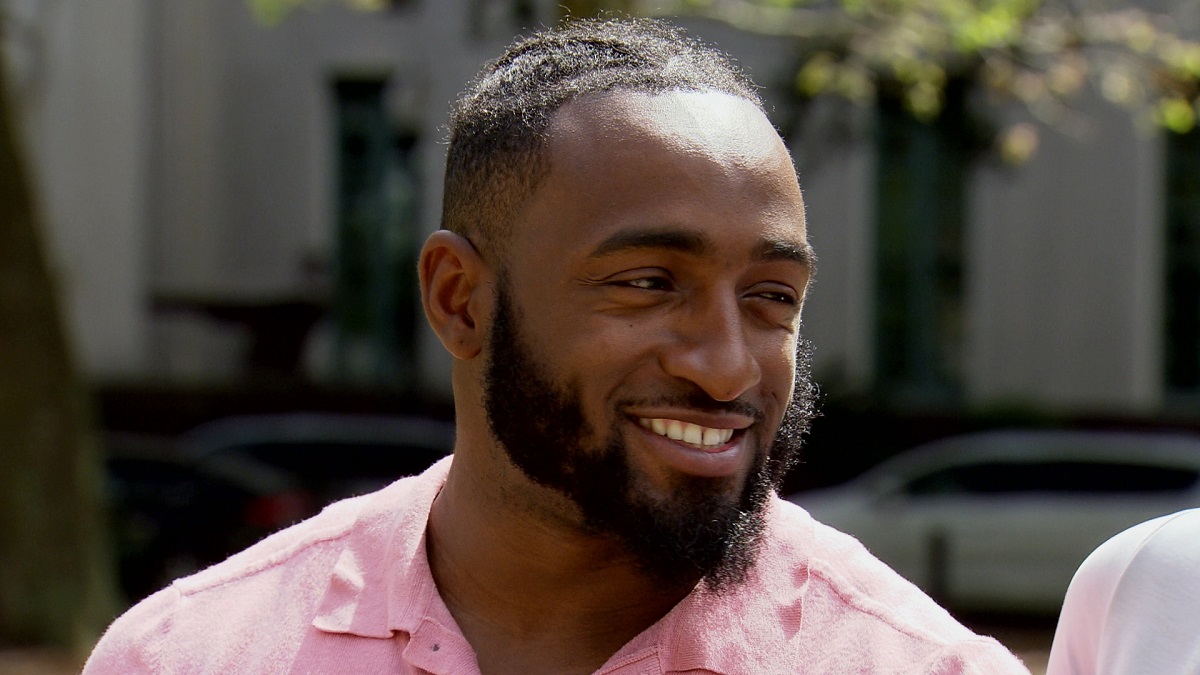 Taking the leap of faith
Q: What made you decide to get married at first sight?
What made me decide to get married at first sight, were the vivid dreams I've had in life and the actual thought of experts finding someone perfect for me. I wanted to be married but only for the right reasons.

Q: How did you feel going into your wedding day?
Going into my wedding day I was truly happy. Having my main group of core friends there to help and support throughout the day was extremely helpful and important for me to feel like I could feel comfortable on my wedding day. 
Getting to know Amani
Q: What did you notice first about Amani?
What I noticed first about my wife was how beautiful and chocolate she was. I'm a sucker for a beautiful black woman; a black woman just does something to me. I was happy that I was attracted to her based on the visual first impression.
Then, our first conversation after getting hitched made me enjoy her even more. 

Q: What surprised you the most about Amani during filming?
What surprised me the most about my wife during the four months of taping was that I didn't ask or really need a lot of alone time. In the past I loved my alone time just to have a quiet moment to myself; maybe it's because I wanted to spend time with my spouse, unlike in other situations. 
Being labeled as a 'player'
Q: Was there anything about the casting process that you didn't expect?
The only thing I didn't expect from the casting process was being labeled as "the player." I mean, I get it, but I was taken aback when I realized the angle.  
Q: What do you wish viewers knew about you that they might not? Are there any misconceptions that fans have about you?
What I wish the viewers knew about me is that I was not this horrible guy who went around playing or messing with women's hearts.
As a man I was always honest, and stated what needed to be stated. I don't believe in sending people the wrong message. I was not that guy. That goes for individuals I was dating, interacting with family/friends, and enemies.
I wish the viewers also got the chance to hear from my friends and family and people who know me deeply. The people you saw speaking about me, they don't know me like that.
Last but not least, I think the misconceptions that fans may have of me as this player guy, who may be controlling, acts on impulse, etc…Just know none of those things are factual. Just opinions, based on your own thoughts; all I ask is to not be judged and give me the opportunity to prove why I got married. If you never ask and only assume, don't be alarmed by the response you may or may not receive. 
The 'Married at First Sight' journey
Q: What do you wish you'd done differently in the process?
What I wish I had done differently – nothing so far. I think the mistakes I made while on the show needed to happen in order for me to learn and see for myself what needs to be done and to change.
I don't regret anything I've done in life. Everything you do in life has a lesson, whether good or bad; you just have to pay attention and make sure you're correcting the things that need correcting. 

Q: What was it like to get to know and connect with the other castmates?
It was nice connecting with the other castmates. I think casting did a good job with the wide variety of personalities this season. I think the viewers watching can connect with multiple individuals on this season of MAFS.
Being able to create some legit friendships and bonds between the other cast members was also a plus. Most of us are friends and stay connected. It's nice to have someone who has actually walked in your steps for growth and feedback purposes. 
Q: Is there anything the experts told you that really resonated with you? 
My conversation with Pastor Cal. What resonated with me most was – when having a conversation or disagreement with your spouse, you should approach the conversation with an objective tone not a tone of wanting to be right or wrong. It will help you come to a resolution and not an argument.