'Married at First Sight': Fans Call Out Olivia for Taking Coronavirus Lightly
Married at First Sight fans haven't been thrilled with Brett and Olivia's relationship. While the two both love cats, fans have pointed out that there doesn't seem to be much else the two have in common. They've butted heads over finances, living situations, activities, and now COVID-19. When Olivia, a nurse, decided to travel during the pandemic, Brett wasn't convinced it was safe. Olivia made light of it, and now fans are calling her out for her decision. 
How COVID-19 affected their relationship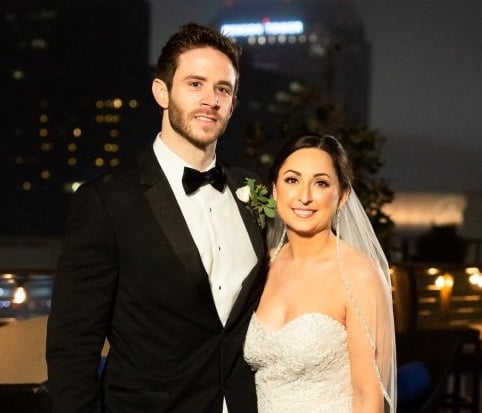 Married at First Sight is already a pretty wild experiment. Obviously it can't be easy to dump yourself into a marriage with someone you've never met before. Now throw a pandemic into the mix, and without a doubt things are going to get more difficult. 
Olivia recently revealed exactly how COVID-19 affected her relationship with Brett. And while it obviously added stress to the situation, the reality star is claiming it was a "blessing in disguise."
"We weren't talking about anything other than COVID. It definitely put stress on Brett's and my relationship," Olivia told the New York Post.
"I'm in a hospital full of COVID, and when I came home, Brett would be watching the news. That was a tough time for us, having to sit down and say, 'I know you want to watch the news, but I can't anymore. I can't think about COVID,'" she added. 
But, while this all piled on top of their already unusual circumstances, Olivia says it was probably for the best. 
"I would have appreciated not having a pandemic, but going through something traumatic and stressful and life-changing really helped us grow during our marriage," said Olivia. "I'd rather know how Brett reacts to trauma."
"Tragedy and emergency situations like this can actually bring people closer together. It revealed weaknesses and showed a lot of strengths. In a weird way, what could have been tragic actually benefited [the couples]," added Pastor Cal Roberson.
Olivia went on a trip amid COVID, Brett didn't approve
Despite Olivia's take on COVID-19 being a "blessing in disguise," the virus caused a major breaking point in her relationship with Brett.

At one point, Olivia revealed to Brett that she intended to travel by car to visit her family over the weekend. Brett, nervous because of the outbreak and unwilling to put himself at risk, told Olivia he didn't think it was a good idea.

Olivia said that she had to ask Brett if he was scared, seemingly poking fun at him for his concerns. Olivia decided to go ahead and visit her family regardless, and when she returned, Brett was gone.

"It was a huge shock. Yeah, we're strangers and yeah, we're married, but we're still trying to work through this," she said. "It was very devastating. I felt like he gave up on us," she told the New York Post.
'Married at First Sight' fans call out Olivia
Meanwhile, Married at First Sight fans weren't too impressed with Olivia's decision to go visit her family. 
"I feel like it was super insensitive of her to try to put him on blast about being scared [of] COVID-19 because most civilians are, and she works at the hospital, so I feel like her recklessness with not trying to limit her exposure, still trying to travel to visit people and her disregard for how he was trying to deal with the situation was just the last straw for him," wrote one Redditor. 
"[I]t's pretty awful that she's in healthcare and has no regard for safety during a pandemic. I'm sure she's seen the impacts first hand, but she's acting like everyone is overreacting? She could be in contact with COVID at any point, especially with her job, and then could be carelessly passing it to others…," noted another user.
One user pointed out that, whether or not Brett had reason to be afraid, Olivia should have been more understanding.
"I was really disappointed in her lack of empathy the most. The pandemic has been a frightening and unpredictable time for most of us. Brett needed compassion if he expressed fear of the virus," they opined.