'Married at First Sight': Miles Williams Shows Off His 'Dad Bod' on Instagram
Karen Landry and Miles Williams moved at a very slow pace in terms of physical intimacy on Lifetime's Married at First Sight season 11 in New Orleans. After a previous difficult relationship that involved cheating and heartbreak, Karen – a 30-year-old project manager – wasn't quite ready to jump into a passionate sexual relationship with 26-year-old Miles, a teacher.
Despite the fact that Miles and Karen still hadn't had sex, they both said "yes" to continuing their marriage on Decision Day. On the October 29 Married at First Sight reunion, they revealed that they'd finally become physically intimate after six months of marriage. What's more, Karen said she'd realized that plenty of women were very attracted to her husband, at least based on the DMs he was getting.
Recently, Miles poked a little fun at comments made by the Married at First Sight reunion host, Kevin Frazier, who accused the 26-year-old of having a "dad bod." The Married at First Sight star took to Instagram to make it clear that he wasn't too worried about his physical appearance (or his attractiveness to women, for that matter).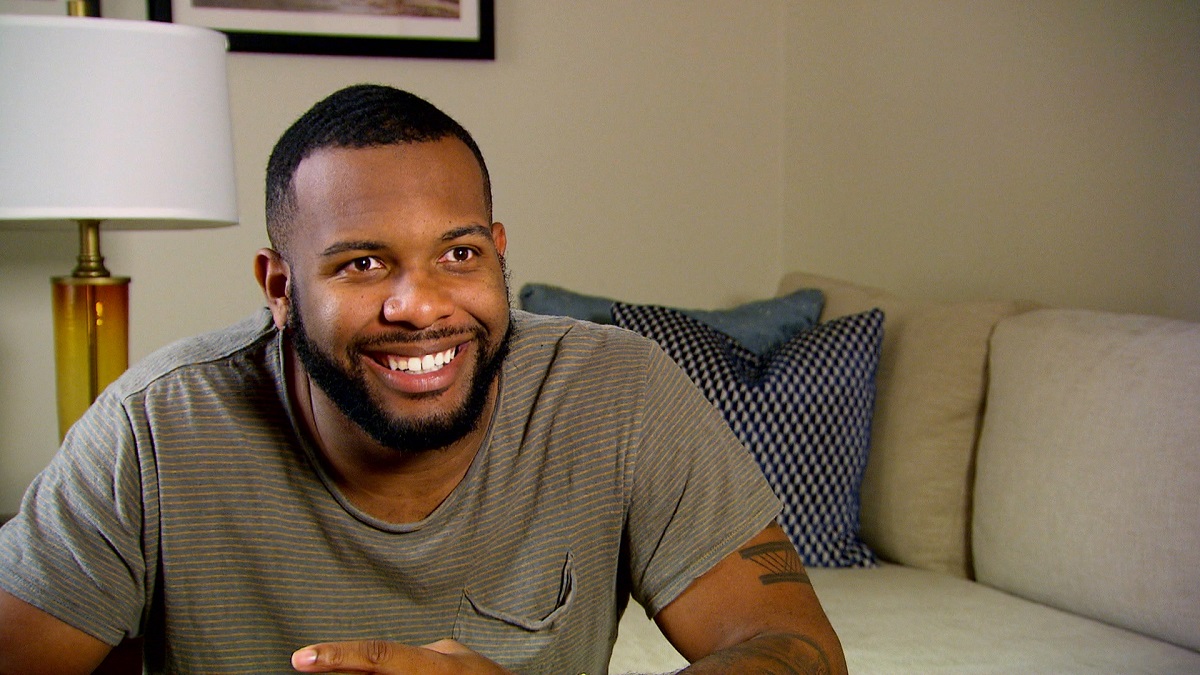 Karen told the 'Married at First Sight' experts she didn't want someone with a 'dad bod'
Miles recently took to Instagram to share a clip of his wife's discussion with Frazier, a frequent Married at First Sight host, on the matchmaking special. Karen, who ran track in high school and is committed to a healthy lifestyle, told the experts she wanted to be matched with a similarly athletic and fitness-minded man.
"He does have to be toned," Karen told Pastor Cal Roberson in the previously-unseen footage.
"You're not talking about dad bods?" Pastor Cal wanted to know.
"No dad bods," Karen said of her hoped-for match in a tone that brooked no arguments.
After seeing both Miles and Karen, Frazier speculated about Karen's possible attraction to him. The Married at First Sight host wondered if Miles' physique was what Karen had in mind as her perfect match.
"Do you think they'll be attracted to each other physically – because she's attracted to someone with a toned body?" Frazier wondered. "Here's a 26-year-old who's teetering towards my place, dad bod…He's crossed over into daddy body."
RELATED: 'Married at First Sight' EXCLUSIVE Q&A: Karen Reveals What She Loves About Miles, Her Feelings on 'Toxic' Men, and Why She Felt 'Misunderstood' During the Process
Miles joked about Frazier's comments on Instagram
After the Married at First Sight season 11 reunion, Miles good-naturedly clapped back at Frazier's comments with some photos of himself shirtless on the beach.
"Dad bod…daddy body," he captioned the Instagram snapshots, seeming to imply that he was perfectly happy with and confident about his fitness level.
Married at First Sight fans seemed to agree with Miles' assessment of his looks. Miles' followers flocked to the post to tell him he looked great.
"AND WHEN YOU SAY 'Daddy Body' MAKE SURE YOU SWAP THAT 1st D for a Z!" one fan wrote enthusiastically.
"I'm here for this thirst trap!" another Instagram user commented. "I hope things work out for you, but if they don't 👀 👀."
Others thought some of Miles' followers should calm down a bit with their compliments, given that Miles was still very much married to Karen.
"Y'all better look and look respectfully!" one fan advised. "This is a married man!"
Meanwhile, some Married at First Sight fans weren't too happy with Frazier's remarks. They argued that his comments about Miles' appearance crossed the line from good-natured ribbing into straight-up "body-shaming" and rudeness.
"Kevin was all the way wrong on that!" one fan wrote, with many others agreeing wholeheartedly.
RELATED: 'Married at First Sight' EXCLUSIVE Q&A: Miles Opens Up About What Surprised Him Most About Karen, What He Wishes Fans Knew About Him
Karen admitted that plenty of women on social media were interested in her husband
Whether Karen agreed with the notion of Miles having a "dad bod" or not, she made no bones about the fact that plenty of women were very physically attracted to her husband. On the Married at First Sight season 11 reunion special, Frazier pointed out that "the ladies loved Miles on social media."
Miles grinned sheepishly, saying that "a couple" of women had been sliding into his DMs, but Karen quickly corrected him.
"A couple hundred," she clarified. "They've been slipping and sliding."
Frazier asked Miles what they'd been telling him, and he explained that many of them told him he "deserved better" in his relationship.
"And how do you feel about that?" Karen asked her husband appraisingly. "What do you need to tell them?"
Drawing his wife close, Miles assured her, "I need to tell them, shoot, I'm married!"
Whatever the case, Miles might have struggled to win his wife's heart at times this season – but they seemed happier and more comfortable together than ever before at the reunion.