'Married at First Sight' Recap: What Happened on 'Defending Your Wife?'
Lifetime's Married at First Sight Season 12 in Atlanta has been one of the most eventful seasons so far. All five couples – Clara Fergus and Ryan Oubre, Briana Morris and Vincent Morales, Paige Banks and Chris Williams, Haley Harris and Jacob Harder, and Erik Lake and Virginia Coombs – had their ups and downs during their honeymoon in Las Vegas.
But on the Feb. 17 episode of Married at First Sight, "Defending Your Wife," the couples' drama heated up even more when two pairs of newlyweds feuded with one another.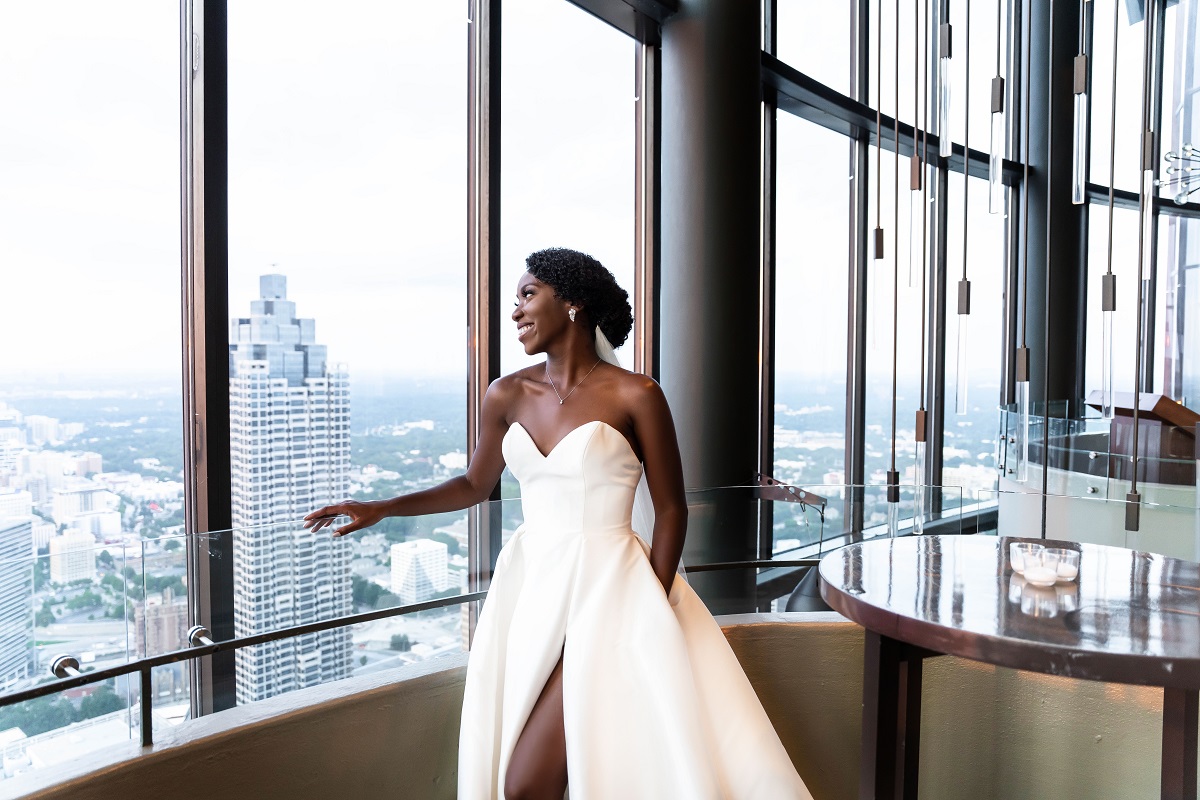 Haley and Jacob consummated their marriage – but were still at odds
Haley and Jacob – who seemed awkward together at their wedding and reception – surprised many Married at First Sight fans by having sex during their Las Vegas honeymoon. Despite consummating their marriage, the couple seemed disconnected. Haley blamed the couple's struggles on her dating history; she'd been single for seven years, so the expectation of sudden intimacy with Jacob was overwhelming for her.
"It's just all kind of surreal, going from being by myself for seven years to being around someone 24 hours a day," Haley told Jacob.
In turn, Jacob complained that his wife "kept her cards close to the chest." He wanted his wife to "let her guard down" and be more "receptive" to him in general.
"This is not what I expected marriage to be," the Married at First Sight star admitted.
Later, Haley admitted that something was "missing" for her in her marriage.
"There's just something that's not clicking for me," she told Jacob.
Jacob accused Haley of "shutting him out" – and he seemed to make his point when she headed out for what she claimed was a girls' night at the bar. Instead, when Jacob went down to have a drink himself, he saw his wife with all the other wives and husbands. When they caught a glimpse of him, he said, they all "scattered" as if they had something to hide.  
"The truth of it is, she did not want me there and she did not tell me she did not want me there," Jacob revealed, adding that he knew that marriage was in trouble if she was going to "intentionally lie" to him.
Chris and Paige argued about money and his ex
Chris and Paige continued to struggle in their relationship after the revelation that Chris' ex was six weeks pregnant with his child. Not only did Chris warn Paige that he wasn't up for helping out with her dog, Bentley – which she thought was rather ironic, given his own expectation that she become a "bonus parent" to his baby on the way – but he also revealed that he didn't believe in joint accounts.
For her part, Paige took this as a sign that Chris wasn't very committed.
"This is a marriage, and not just a fling or a hookup," she told Married at First Sight producers. Paige complained that Chris was overly invested in money rather than love or marriage.
"I wanted love," she said. "I wanted to build and grow with someone, and money doesn't buy happiness. Sometimes I think he's one-minded, and it can come off a little selfish."
Things got even rockier between Paige and Chris when he dropped yet another bombshell: He was still in love with his ex, and they'd even spoken about getting back together since she revealed that she was pregnant.
Still, he insisted that he wanted to make things work with Paige – and gave her mixed signals by telling her that he was now "spiritually attracted to her."  
At first, Paige said she thought Chris' comments about his ex were the equivalent of "spitting in her face." She accused Chris of taking an innocent person and "dragging them into his mess." Eventually, however, she agreed to try to work on her marriage to Chris because of her faith and the vows she'd made.
Clara and Ryan worried about their level of compatibility
Meanwhile, Clara and Ryan seemed to be moving along in their relationship and getting to know each other. Still, there were some bumps in the road when it came to their discussions about their future.
Clara told Ryan that she'd dated plenty of men – and said "I love you" to nearly all of them. Ryan, on the other hand, thought the word "love" was sacred and "unique." He revealed that he'd never actually been in love or declared his love to any woman.
Clara took this revelation as a bad omen. She worried about how she could make things work with someone who kept his cards so close to the chest when she always wore her heart on her sleeve. The Married at First Sight star admitted that she was concerned about being too vulnerable with him and getting her heart broken.
Ryan and Clara also clashed somewhat after she chimed in to Erik and Virginia's fight with Chris and Paige. While Clara felt free to speak her mind, Ryan wanted his wife to think more before speaking.
Clara wasn't thrilled about her husband's warning. She told Lifetime producers that she was "keeping her mouth shut a little more than she was used to."
"Sometimes it feels like Ryan's controlling me a little bit," Clara said, admitting that she was concerned about changing herself too much to suit him.
Erik and Virginia discussed their differences 
Like Clara and Ryan, Erik and Virginia also worried about their stark differences in terms of personality and lifestyle. Erik got tipsy along with his bride during their honeymoon, but he told her not to expect that too much from him in the future.
Virginia revealed that she usually liked to party with her friends every Thursday, Friday, and Saturday. But Erik reminded her that his career as a pilot wouldn't allow him to do that.
Erik's jealousy also seemed to loom as a potential challenge for the couple. While Virginia promised him she'd "always come home to him," he issued a warning about her partying – especially with male friends.
"You understand, you're married now," he said. "You are not single now. You are with me."
Both Virginia and Erik admitted they knew their differences would "be an issue" in the future.
"I'm definitely worried there's gonna come a breaking point where we can't keep glossing over our differences," Virginia told Married at First Sight producers.
Briana and Vincent talked about their pet peeves
Briana and Vincent met their first obstacles in married life on the latest Married at First Sight episode. Briana pressed Vincent about whether she had annoyed him yet or not. She told him that she didn't like when he didn't listen or pay attention, and he seemed to get frustrated by her criticism.
Vincent told his wife that he didn't like to be rushed or told what to do. He felt that Briana's "bossiness" could become a problem in the future, as he wouldn't stand for it in every situation.  
"I need her to be a little more patient with me," he said. "I take my time with things, and I don't like to be rushed. And I don't care who you are. You're gonna get what you're gonna get. And I'm not changing."
Later, however, the couple talked over their issue and agreed to work it out. Briana admitted that she knew she had to change some things about her behavior if she wanted their marriage to succeed. The last thing she wanted, she said, was for Vincent to "hold everything in, bottle everything up, and suddenly explode."
Briana also asked Vincent to come to her with any problems he had.
"We're each other's safe space," she told him.
Virginia and Erik fought with Paige and Chris
Outside of the drama between the newlyweds, two of the Married at First Sight couples – Virginia and Erik and Paige and Chris – also exchanged words and nearly came to blows at one point.
Chris pushed back against Erik's insistence that he "man up" in the wake of his realization about his ex's pregnancy. He complained that it was "disrespectful" and that his castmates' concerns about his wife were "fake."
Later, Clara and Virginia confronted Chris about his treatment of Paige, resulting in an explosive exchange between Chris and Virginia.
"You are arrogant," Virginia snapped at Chris, who retorted, "You're a drunkard."
Chris became even more incensed when Virginia and Clara told Paige they'd be there for her if she needed anything.
"Y'all talking to my f*cking wife right now," he reminded them, pointing out that he "needed privacy" when it came to the touchy subject of his ex.
At dinner that night, Chris apologized to Paige, as well as to Clara and Ryan. In turn, Clara apologized for crossing a boundary when it came to his privacy.
But Erik and Virginia didn't let the feud go so quickly. When Erik arrived at dinner, he declared that Chris' behavior toward his wife was unacceptable.
"I can't allow you to talk to her like that ever again," Erik announced, adding: "If you need to say anything to her, you can go through me."
Chris got up as if to fight Erik in response, but the two couples separated instead. While Paige acknowledged that Chris was "wrong for speaking to the women the way he did," she placed some of the blame on Erik and Virginia for instigating more of a fight.
Ultimately, there wasn't any closure between the Married at First Sight couples that night. And from the looks of the previews for upcoming episodes, the drama is going to get worse before it gets better.