'Married at First Sight': Woody and Amani Reveal What Could Make Them Get a Divorce
Woody Randall and Amani Aliyya have had great chemistry and a deep connection from the very beginning on Lifetime's Married at First Sight season 11. Woody was laser-focused on his wife from the start, and Amani's nurturing nature and ability to listen helped her husband become more vulnerable with her.
Still, on recent episodes of Married at First Sight, a few doubts crept in for the couple in advance of Decision Day – when they'll decide whether they should ultimately stay together or get a divorce.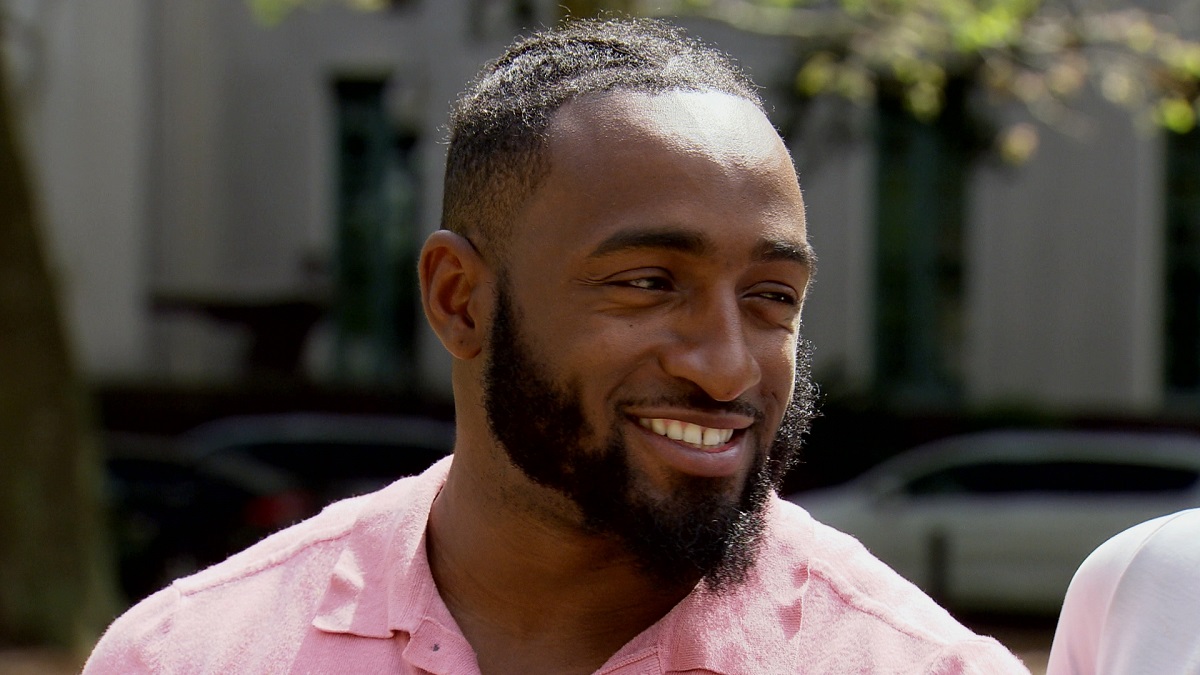 Amani said she would leave Woody if she felt she couldn't trust him
During a couple's retreat after COVID-19 restrictions were lifted on the October 14 episode, Woody and Amani got down to brass tacks in terms of their respective dealbreakers. While Amani acknowledged that she and Woody were in a "good place" in their relationship, she was still nervous about Decision Day.
"This is the biggest decision that I've ever made in my life, and I need to not have any doubts," she told Married at First Sight producers. "He'd better not do anything to change my mind about him."
The couple discussed their future together, expressing mutual appreciation for their willingness to put in the hard work to make their marriage work. Both Amani and Woody thanked each other for being vulnerable, having uncomfortable conversations, and communicating openly.
Still, there was always a possibility that they could ultimately break things off. Woody asked his wife what it would take for her to say "no" on Decision Day.
"I think you would have had to completely shift your character," Amani told her husband. "If I didn't feel like I could trust you, I would be done."
But Amani admitted that she didn't see that happening. The patterns of behavior Woody established, she said, had already helped her feel "safe and secure." It would take a major, sudden change to disrupt that foundation of trust at this point.
RELATED: 'Married at First Sight': Which Season 11 Couples Will Stay Together? [SPOILERS]
Woody told his wife he might say 'no' if she stopped being committed to him
For Woody, a potential dealbreaker could be Amani's uncertainty. He told his wife he loved her early on in the relationship, while she was more skeptical and wary about putting herself out there.
If she "shut down" or went back "into a place where [she] used to be" – when she had doubts about the marriage, that is – Woody didn't know if the relationship would ultimately work out.
"Outside of that, I don't see me going anywhere," the Married at First Sight star said.
Like his wife, Woody was fairly confident that they would make it. After all, he explained, he would already have left if it hadn't been easy to talk to her, work things out, and connect with her. The fact that he'd stuck it out, even through a few challenges, indicated that Amani and Woody were in it for the long haul.
RELATED: 'Married at First Sight': Fans Are Shocked By Woody's Massive Clothing Budget
Amani worried about seeing a 'new side' of Woody
Amani and Woody continued to connect on the October 21 episode of Married at First Sight. Woody professed his love to his wife once again, even telling her he had his "grandparents' love" at last.
But with Decision Day looming – just one day away – the couple had a bit of a falling-out. Woody admitted that he was sometimes worried about her "surprising" him with a no.
Amani asked what Woody thought might be her reason for doing so, if that was indeed her conclusion.
"Maybe you'd just feel like I still don't hear you," Woody speculated, referring to past conversations they'd had about his tendency not to listen and hear others out fully. "Maybe you'd feel like you're talking to deaf ears."
But Woody's attitude seemed to shift as he reacted to the hypothetical rejection scenario. He told Amani that he would probably just "walk off" and "wouldn't take the time to hear her out," especially if he felt the opposite way about their future together.
After Woody got a bit heated, Amani seemed disturbed, telling her husband to "bring it down a notch" and calm down.
The confrontation seemed to shake Amani's confidence a bit, especially because Woody's family warned her that he sometimes had a problem with his temper. Woody acknowledged the issue, letting her know that he'd worked on it in therapy. But now, Amani worried that she might not know her husband as well as she thought.
"What the f*ck was that about?" Amani asked Lifetime producers about Woody's outburst. "I feel like I'm seeing a new side to Woody. It's kind of unnerving."
And with Decision Day right around the corner, Amani admitted that she "didn't know how to feel about this" at the moment.