'Married at First Sight': Zach Justice Claims Mindy Shiben Was 'Nasty' During Honeymoon
'Married at First Sight' star Mindy Shiben is still looking for a divorce from Zach Justice, who claimed that Shiben was "nasty" to him during their honeymoon.
Married at First Sight fans have by now more or less rallied behind Mindy Shiben following her disastrous relationship with Zach Justice. Since the two have split up, Shiben and Justice have struggled to finalize their divorce, with Shiben calling him out on Instagram over the delays. Now, Shiben has found a new man and seems happy again — but Justice is claiming that things aren't exactly how everyone thinks. Justice is suggesting that Shiben's behavior is part of what tanked their relationship. 
Zach Justice claims Mindy Shiben got 'nasty' with him
Zach Justice earned the ire of Married at First Sight fans nationwide when he was caught texting Lindsay Shiben's friend during their marriage. Justice has since said that a lack of attraction caused issues in their relationship, and suggests that Shiben's behavior is the reason it all went down — despite his emotional affair. 
Justice claimed that during their honeymoon together in Panama, Mindy Shiben's behavior turned him off. He claimed that Shiben was "very nasty" to him, as if she suddenly "flipped a switch" when they got back to their hotel room. 
As for chatting up Lindsay, Justice told pastor Cal Robinson, " A week after the honeymoon, her friend reached out. I told her it was tough…She kind of gave me advice on how to approach Mindy."
Robinson himself seemed concerned that Justice was chatting with Lindsay, and that Shiben was unaware of the phone calls and messages. 
Mindy Shiben called out Zach Justice on Instagram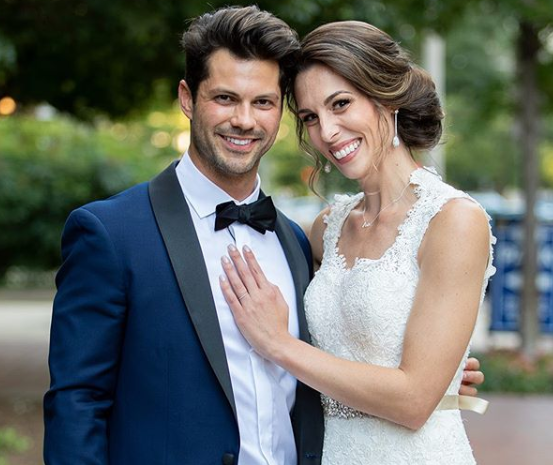 Whatever Zach Justice's reasoning for their failed Married at First Sight relationship, Mindy Shiben isn't having it. In fact, she's frustrated with Justice over their ongoing struggle with the divorce process. 
Shiben took to Instagram to call out her Married at First Sight co-star for dragging his feet on their divorce. 
"Hey [Zach Justice]! Will you divorce me? Yes? No? Circle one. #thisgirwantsadivorce #checkyourtexts #crickets," Shiben captioned a photo of their wedding. 
Justice wasn't going to sit and take the insult, however. He shot back at Mindy Shiben, claiming that she's drinking and posting as well as lying about the situation. 
"Lol you've been trying? With what attorney and what papers? Please, don't lie to these people for attention, it's gross. I'm sure you and Kinetic Content will be in the loop. #stayclassy #dontdrinkandgram," replied Justice.
The 'Married at First Sight' star has a new man
While Mindy Shiben may be struggling to get the divorce she's dreaming of, she does have a new man in her life, and the two seem quite happy together. 
Shiben recently reposted her new boyfriend's Instagram story to her own story — it featured the couple smiling together while taking a catamaran trip in Mexico.
Shiben has shared his stories before, including one of her boyfriend lounging poolside in a chair with a drink, in which she admired his "dad bod." It seems as if things are off to a good start for the new couple, and fans are keeping their fingers crossed.