Martha Stewart Refuses to Eat These Totally Normal Foods
Martha Stewart made a name for herself showing everyone how to become the domestic rulers of their homes. Somehow, Stewart makes it look easy to throw together Pinterest-perfect parties and serve multi-course meals worthy of any gourmet chef. That's why it should come as no surprise that Stewart has a few items on her list that she never, ever eats.
You'd think that after spending a few months in prison, the Martha Stewart Living host would be a little less picky about her food choices. But instead, she's just as particular as ever and insists on a few must-haves whenever she dines. There are also a few totally normal items she refuses to cook with or eat.
She avoids truffle oil and pumpkin spice
If you're ever meeting up with Martha Stewart, bringing along a Venti Pumpkin Spice Latte from Starbucks would not go over well. When asked on Watch What Happens Live (via Mashed) if pumpkin spice was "delicious or for basic b*tches only," she replied, "The latter."
Stewart also isn't a fan of truffle oil. On a Today Show appearance, she gave a harsh critique of the popular ingredient. "They've done many studies on truffle oil. It's synthetic, it's fake, it's horrible," she said. "It clings to your tastebuds, it's a hideous thing. Forget truffle oil."
Stewart carefully selects all her ingredients
Instead of just grabbing items off the shelf, Stewart opts for fresh, high quality ingredients for all her recipes. Mashed reported that Stewart always selects pricier produce and meats while shopping.
During an interview with The New Potato, Stewart said, "There are so many things in the grocery store that I would never ever buy. I mean, a lot. Factory-farmed meat — forget. Non-organic milk. And GMO [genetically modified] vegetables."
Stewart also stays away from offal, or organ meat, that's become so trendy these days. She told Elle (via Mashed), "There's certain things I won't cook. I will not cook brains, sweetbreads or offal… things that in other parts of the world, they use a lot of. I won't cook hearts."
She made her own jam in prison
Though she still shudders to think about her time spent in Alderson Federal Prison Camp, Stewart did make the best of things and lost a little weight when she refused to eat most of the foods offered there. And she even got creative with the foods at her disposal.
She told Daily Mail that she "made jam out of the crab apples on trees." Fox News reported that Stewart "foraged for dandelions and other wild greens, concocted recipes in a microwave and even ate from a vending machine."
Stewart also avoids airplane food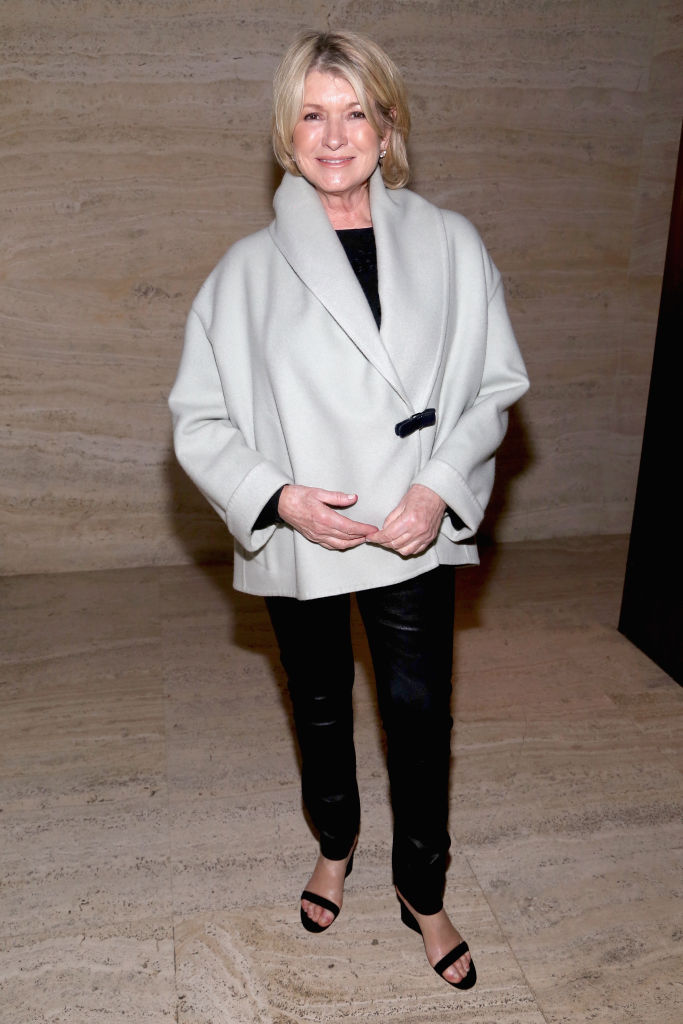 Like other famous food personalities, Stewart is not a fan of airplane food and chooses to bring her own instead.
As she explained to The New York Times, "If it's a long flight I'll take some very good food that I know I'll want to eat on the plane. I might make a delicious smoked salmon sandwich on seven-grain bread; I might take a tabbouleh salad. I take homemade yogurt with apple sauce. I try to avoid plane food most of the time. I just don't find it very appetizing."
She even brings enough good snacks to share. Stewart said, "And my hard-boiled eggs are just so much better than any eggs on the plane. They're from my own chickens. I take them for everybody I'm traveling with."
It's good to have a friend like Martha Stewart!