Martin Short Once Got High With George Harrison at a Party
George Harrison might have had a reputation as the "quiet Beatle," but he was always the life of the party. People would gravitate to him, and it wasn't just because he was a Beatle, although that played a big part. There was a reason why George had so many friends. As Paul McCartney would say, he was just a lovely guy. So, of course, when comedian Martin Short was given the opportunity to meet George, he wasn't going to pass it up. The result turned out to be more than Short could have ever hoped.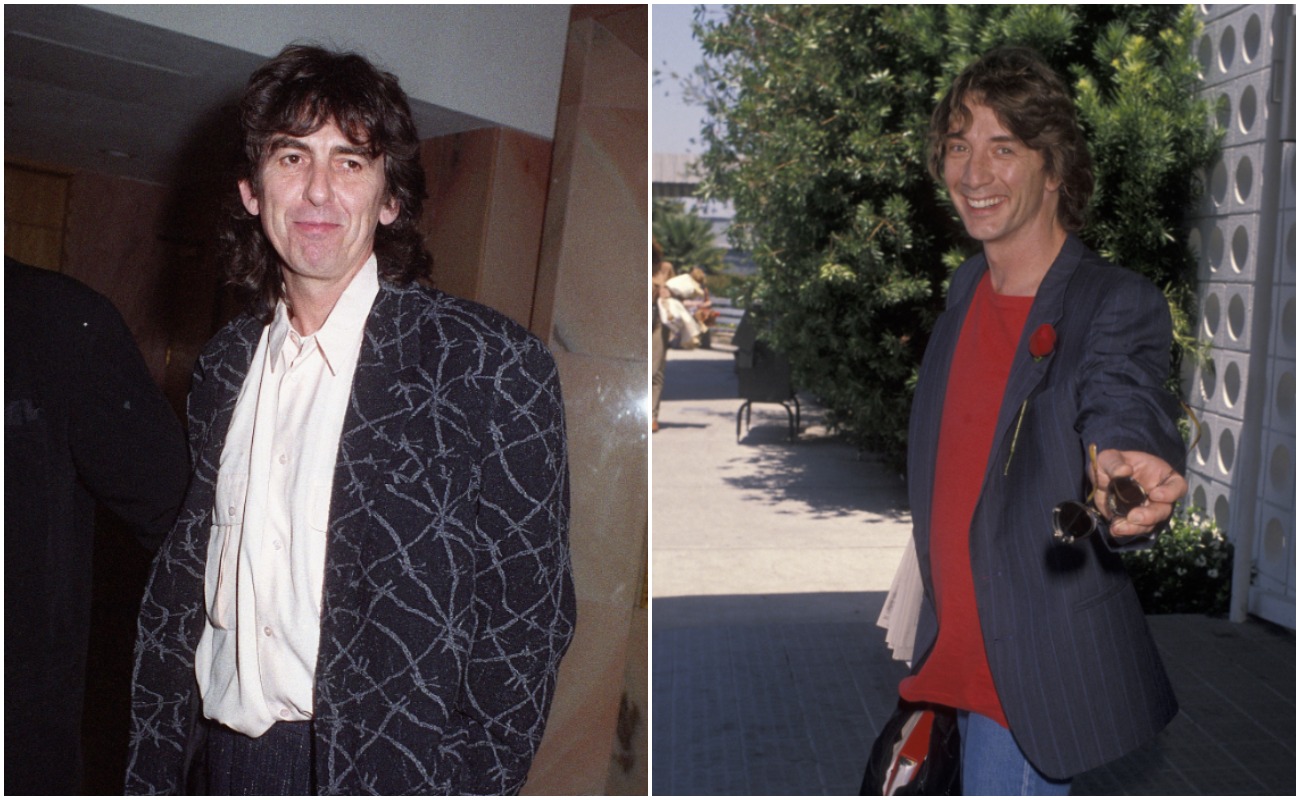 An unidentified Hollywood director invited Martin Short to a dinner party
In a 2019 appearance on Conan, Conan O'Brien asked Short which celebrity he was most excited to meet. He explained that it's no one in his peer group because "you're competitive with them and want their failure." It's the stars that were big when you're growing up that are the most precious to meet when you're older.
That person was George Harrison for Short. He proudly told Conan that he didn't just meet the Beatle; he proudly got high with him. Short recalled that in 1990 he got a call from a "fabulous Hollywood couple," whom he did not name, asking him if he wanted to "meet a Beatle" at a dinner party they were having. Who says no to that question?
Short said yes, of course. On the car trip there, Short and his wife Nancy listened to The Beatles' Rubber Soul the whole way. At one point, Short's wife said, "Wouldn't it be great just to corner him and as much as he'd hate it, say, 'What's it like being a Beatle? How great was it? Tell me everything about the nine years when you were a Beatle.'" Short said they wouldn't do that.
When they got there, there were about 10 other celebrities, and the hosts were going to show the film The Hunt for Red October. Then, George walked in, and he looked "exactly like George Harrison," Short marveled. The comedian had no idea what would come next.
RELATED: Here's How Dhani Harrison Has Kept His Dad George Harrison's Legacy Alive
George Harrison played a Traveling Wilburys album for the party
George asked the congregation if anyone would like to hear his new Traveling Wilburys album at one point in the night. The Traveling Wilburys was George's all-star band. Its bandmates included Bob Dylan, Tom Petty, Jeff Lynne, and Roy Orbison. George formed the group in 1988, and the band released two albums. The band's second album, The Traveling Wilburys Vol. 3, would have been the album that George wanted to show everyone.
Either way, Short was stoaked to hear the new album. So George put it on, and everyone gathered around to hear it. Soon, George started playing the whole album, and people began to drift away. Not Short. He stayed to listen to it all, and George began to sing along with his songs to get people to stick with him.
Conan thought this was weird. A Beatle trying to convince people to listen to his music? Short just said George was really enthusiastic. "He couldn't have been more delightful, couldn't have been more fun, and loose and immediately friendly and what you'd hope he'd be," Short recalled.
Throughout dinner, Short lost track of George because he sat with more important people than Short, but they came back together at the night's end.
RELATED: This George Harrison Song Was Almost Included on NASA's First Interstellar Space Probe
George Harrison and Martin Short got high together
When the dinner party sat down to watch The Hunt for Red October, the host lit up a blunt and passed it down to Short and his wife. George was sitting next to Short, but Short didn't know if he should pass it to George; he didn't know if it would offend him. "Would the Maharishi Mahesh Yogi get mad at me?"
But when Short passed the "doobie" to George, he held it up and said, "Ah! The sixties!" After George took his hit, Short realized that the legend started speaking really loudly, especially during the screening. Talking to Short, George said he couldn't watch Sean Connery (in The Hunt for Red October) because it's like watching a Beatle, "he's too famous." Then, someone told them to quiet, and Short whispered to George, "Way to go, a–hole."
We don't know if Short actually called George Harrison that, but if he did, George probably would have laughed, and not just because he was stoned. George was charismatic, and he enjoyed talking with people. George and Short would have definitely become friends, but unfortunately, that never happened.