Marvel Actor Don Cheadle Recalls His Role in 'Rush Hour 2': 'I Will Fight Jackie Chan to a Draw'
Marvel actor Don Cheadle
Marvel Cinematic Universe actor Don Cheadle is to debut in his own solo show as War Machine. Before becoming a Marvel fan favorite, the actor has had a notable career in Hollywood. During a press event for Space Jam, Cheadle recalls his supporting role in Rush Hour 2. The Rush Hour franchise starred Chris Tucker and Jackie Chan and became popular for its comedy, action, and Chan's impressive stunt work. Cheadle played a character named Kenny in Rush Hour 2 and recalls fight training with the legendary martial artist.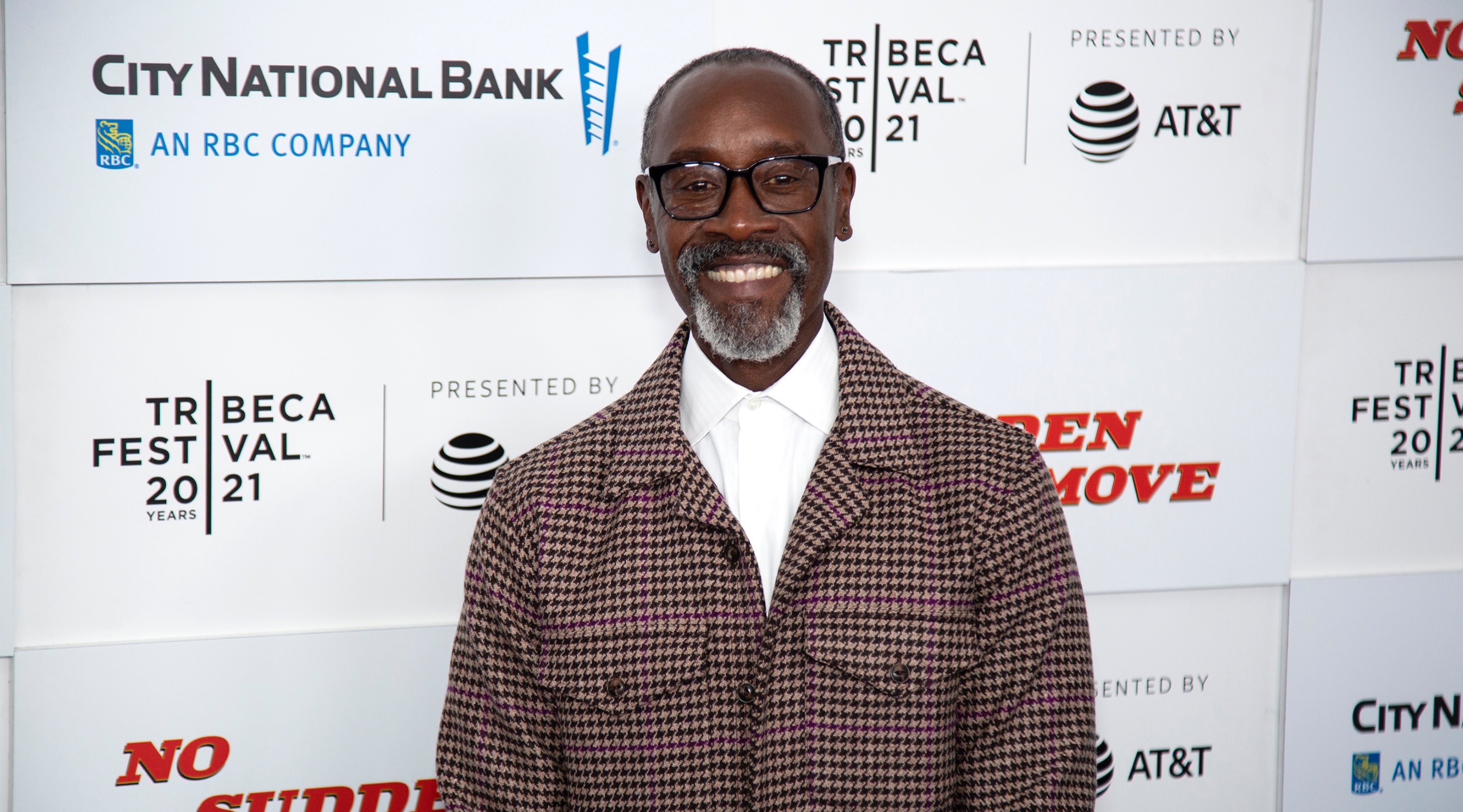 'Rush Hour' franchise became a buddy action comedy success
After th success of Rumble in the Bronx, Rush Hour director Brett Ratner wanted Jackie Chan in the leading role. Chan, alongside Chris Tucker, stared in a movie that fans loved and would be a box office success. The 1998 movie would be Chan's first major crossover to Hollywood and would help birth the creation of Rotten Tomatoes. According to the site, its founder Senh Duong was a Jackie Chan fan, and Rush Hour prompted him to create the website.
Rush Hour centers around LAPD Detective James Carter (Tucker), who joins forces with Detective Inspector Lee (Chan) from Hong Kong. When the Chinese consul's daughter is kidnapped, Carter and Lee become partners to save her. The sequel brought back the buddy-cop duo as they get tangled in a murder case involving two U.S. customs agents. The murder links back to the Triad's and Lee's former partner.
Don Cheadle had to fight Jackie Chan
What made the Rush Hour franchise a success was the extensive display of martial arts and stunt work by Jackie Chan. In Rush Hour 2, Don Cheadle appears in a cameo role as a character named Kenny. Kenny is an ex-con and Carter's informant who runs a gambling den behind his Chinese restaurant. Carter and Lee see him for information on counterfeit money.
Cheadle's scene in the movie also includes a small fight sequence with Chan. According to Variety, Ratner told Cheadle he would get his "ass kicked by Jackie Chan." But Cheadle took it in stride and responded by saying, "I will fight Jackie Chan to a draw." This did not go exactly as planned.
At Chan's home, Cheadle was to spare and train with the martial artist and stuntman. Cheadle was not expecting Chan to start fight training so quickly and aggressively. The Hong Kong native made a name for himself, doing his own stunt work and creating complex fight sequences using various everyday objects and martial arts styles. Cheadle recalls, "he started going so hard. I was like, 'Yo, this is a movie, bro.' I'm glad I didn't get my jaw broken." In the movie, Lee and Kenny have a fight sequence before realizing they were trained by masters in the same family.
Kung Fu Kenny to James Rhodes in the Marvel Cinematic Universe
It is safe to say that Rush Hour 2 was not Cheadle's claim to fame, but just a part of it. In 1995, Cheadle starred alongside Denzel Washington in Devil in a Blue Dress as Mouse. Two years later, he had a role as cowboy pornstar Buck Swope in Boogie Nights. After his small role in Rush Hour 2, Cheadle would star in the main cast for the Ocean's Eleven franchise with Brad Pitt and George Clooney.
Cheadle's impressive acting career would lead him to take on the role as the new James Rhodey in Iron Man 2. At the time, Cheadle was at laser tag for his daughter's birthday when receiving a call. Cheadle had to decide on whether or not he wanted to commit to the Marvel Cinematic Universe as War Machine. After talking to his wife, Cheadle took a chance that would change his life for the next 11 years. His role as Rhodey is one of the longest-tenured Marvel Cinematic Universe characters. Cheadle will debut in his first Marvel solo show titled Armor Wars.