Marvel Boss Kevin Feige Confirms Florence Pugh Is Not the Only 'Black Widow' Star Who Will Make 'Future Appearances' in the MCU
Marvel boss Kevin Feige holds all of the secrets of the Marvel Cinematic Universe. And he refuses to reveal any spoilers.
However, he did admit during a recent interview that he has "great hope" that Florence Pugh won't be the only Black Widow star who will make "future appearances" in the MCU.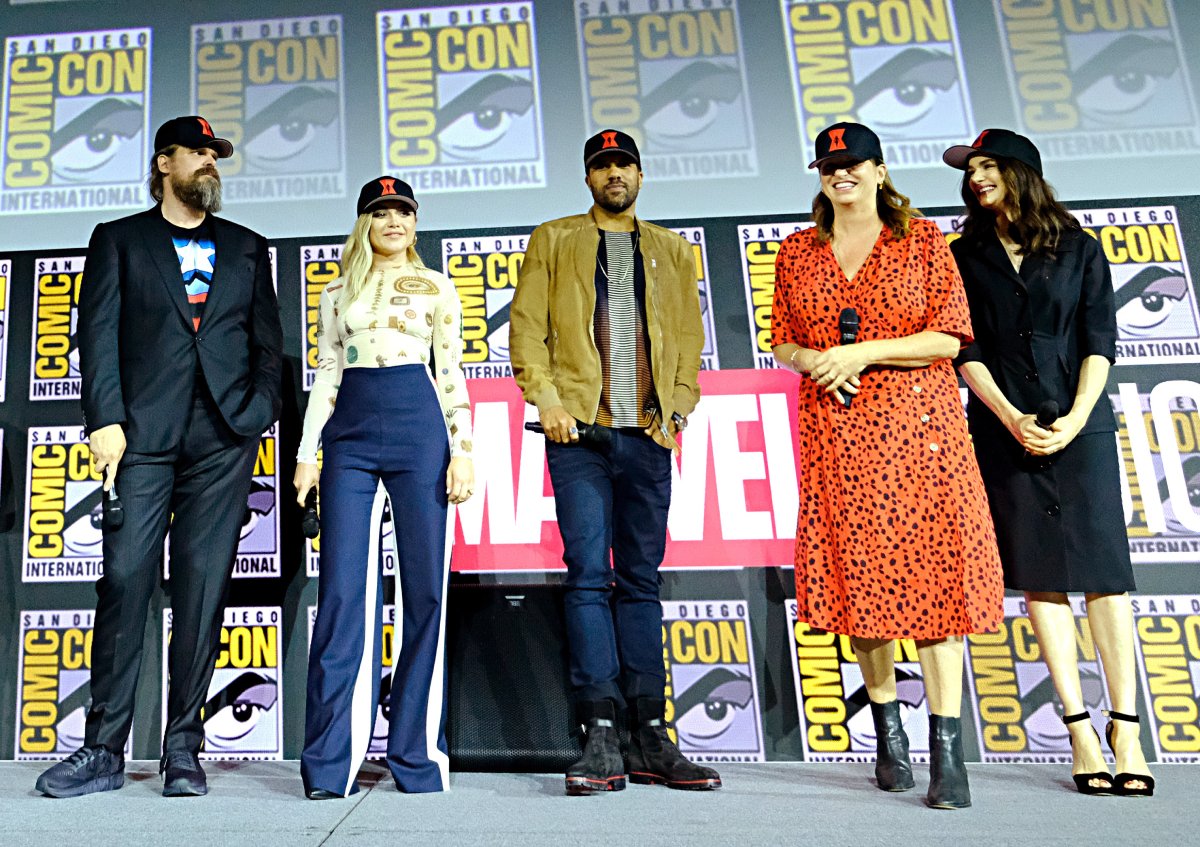 Marvel's Kevin Feige hasn't confirmed Florence Pugh will star in 'Hawkeye'
Pugh recently made her debut in the MCU as Yelena Belova in Black Widow. Which for all intents and purposes set her up as a major player in Phase 4 and beyond. But Feige has not confirmed that she will appear in any other Marvel projects.
Not even the upcoming Disney+ series Hawkeye. But, the Black Widow post-credits scene made it clear that a confrontation between her and Clint Barton (Jeremy Renner) was coming.
The scene took place in the present-day post-Avengers: Endgame. With Yelena visiting Natasha Romanoff's (Scarlett Johansson) grave to pay her respects after she gave her life for the Soul Stone. That's when Contessa Valentina Allegra de Fontaine (Julia Louis-Dreyfus) appears and asks Yelena if she wants to avenge Nat's death.
Valentina doesn't tell the whole truth
Yelena tells Valentina that she does, and that's when she shows her a photo of the man that she says is responsible — Clint Barton. Of course, she's right that Clint has a connection to Nat's death. But Valentina omitted a lot of important details. The villain is obviously setting up a future showdown between Yelena and Clint.
Despite Feige's refusal to confirm that Pugh will appear in Hawkeye, Variety has reported that she is an official cast member. When Yelena does show up in Hawkeye, one fan theory is that she will learn the truth about Clint and Nat. As a result, she could team up with Kate Bishop (Hailee Steinfeld), who is expected to take over the Hawkeye mantle.
Some fans theorize that this could be the beginning of the Young Avengers, with Hawkeye opening up both Pugh and Steinfield's future in the MCU.
Kevin Feige confirms he wants other 'Black Widow' stars to make 'future appearances' for Marvel
Beyond Pugh's appearance in Hawkeye, it's not clear what Feige's plans are for Yelena's future. He recently talked about Black Widow for an episode of the D23 Inside Disney podcast. And he played coy when asked about the character. He did, however, reveal that he hopes Pugh isn't the only star of Black Widow who will have "future appearances" in the MCU.
"…I will say that it's our great hope…as I said before with Rachel [Weisz] and David Harbour, that Florence will have future appearances in the MCU. Where and when will be up for the viewers to see, when it happens," Feige said.
David Harbour wants the Red Guardian to face off against Anthony Mackie's Captain America
If Feige has "great hope" that Pugh, Weisz (Melina Vostokoff) and Harbour (Red Guardian) will make future appearances in the MCU, then it seems very likely it will happen. Harbour has made it clear that he would like to see his character — Russian super soldier Alexei Shostakov —  face off against Anthony Mackie's Captain America.
"I truly think the real fun thing about him is his hatred and jealousy around Captain America. The fact that the old Captain America isn't around anymore, but that Anthony Mackie's Falcon has taken up the mantle, I would love to see the two of them square off." Harbour told Inverse.
"I feel like he hates the mantle as much as he hates the man. He wants to be victorious over this ideology. I'd love to see him square up against deeply American characters like Falcon, like Captain America."
Marvel's Kevin Feige says it's a 'safe bet' that the 'Black Widow' characters will make more appearances
There's also a future for Weisz's Melina, according to Marvel comics. She is destined to become Iron Maiden, but the character might not have the same story in the MCU. Weisz did tell ComicBook.com that she would be interested in that villain role if the opportunity presents itself.
"Definitely, yes," Weisz said. "If it's written, I would be very interested. Yes."
Feige has also made it clear that when a great actor joins the MCU, it's always his intention to put them in more than one project. This philosophy definitely applies to Pugh, Weisz, and Harbour.
"It is always the intention that when characters come in, and great great actors come into the universe, if we have a great time with them, the audience did, that you always want to see them again. I think it's a safe bet that we definitely want that to happen," Feige said.
Black Widow is now playing on Disney+ premium access. Hawkeye premieres November 24, 2021.