Marvel's 'Hawkeye' Promises Christmas Chaos: Here's the Release Date, Trailer, and Everything Else You Need to Know
Hawkeye will be Marvel's fourth Disney+ series to premiere in 2021, but the show promises to stand out with its holiday-centric storyline. Chronicling a Christmas gone wrong, Hawkeye will see Clint Barton's (Jeremy Renner) past catching up to him — and perhaps allow him to finally pass the Hawkeye mantle to someone else.
With the show speedily approaching, fans are getting excited to explore Clint's character in more depth. Here's everything they need to know about the new Disney+ series.
The release date for 'Hawkeye' is fitting given its plot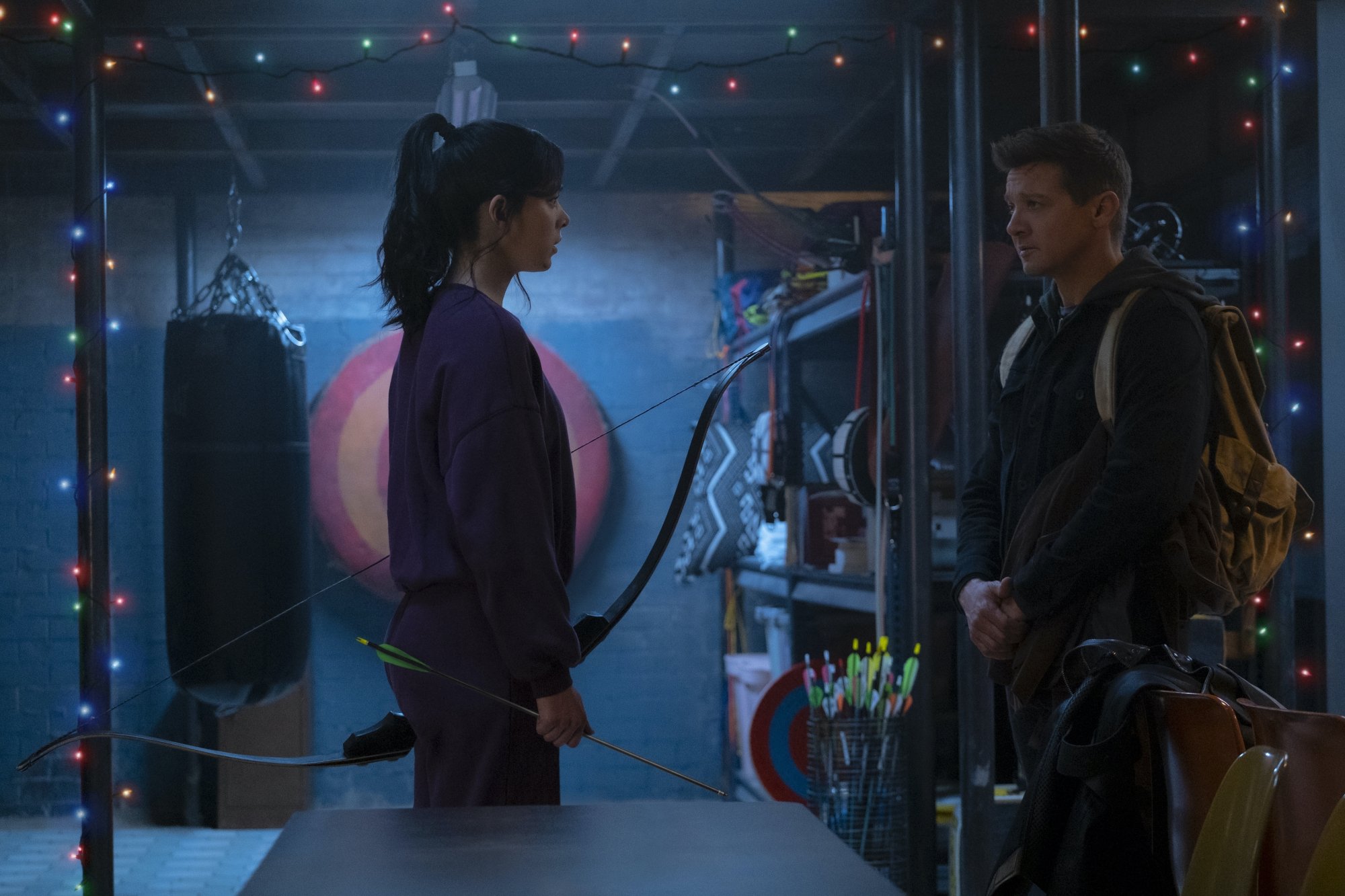 Given Hawkeye's holiday-heavy themes, it's fitting that Marvel set a release date for Thanksgiving weekend. Clint Barton's latest adventure kicks off with two installments on Nov. 24. That leaves Disney+ subscribers plenty of time to dive in over the long weekend. And that's not the only reason the show's premiere date is extremely fitting.
With six episodes in total, Hawkeye's finale will hit the streaming platform just in time for Christmas. Since the show focuses on Clint attempting to make it home for the holidays, there's no better week to reveal if he succeeds.
Clint Barton faces his past in the Marvel show's trailer
Marvel's full-length Hawkeye trailer promises a chaotic Christmas for Clint Barton. Avengers: Endgame saw Renner's archer embracing his Ronin persona from Marvel Comics. While consequences didn't come right away, it looks like he'll face his past in the upcoming Disney+ series. The mob bosses he pissed off back in Phase 3 seem determined to ruin his holiday season. Fortunately, he'll have help fighting them off.
The footage teases Steinfeld's portrayal of Kate Bishop, who Renner described to Entertainment Weekly as a "Hawkeye fangirl." The trailer certainly teases a fun dynamic between the pair. With so many fans excited about Kate Bishop, it promises to deliver.
Who's in the cast of 'Hawkeye'?
The two main stars of Marvel's Hawkeye are Renner as the titular hero and Hailee Steinfeld as Kate Bishop. Steinfeld's character will become Renner's new apprentice, likely taking up the mantle for him in the near future.
Of course, the archers aren't the only ones who will hold prominent roles in the upcoming show. Other confirmed cast members include:
Alaqua Cox as Maya Lopez
Brian d'Arcy James as an unknown character
Fra Fee as Kazi
Florence Pugh as Yelena Belova
Tony Dalton as  Jack Duquesne
Vera Farmiga as Eleanor Bishop
Zahn McClarnon as William Lopez
The show's poster also teases a pup named Lucky, who's likely to become a fan favorite by the finale. He's no Alligator Loki, but he sure is cute in that Christmas hat.
How to watch the Marvel series when it arrives on Disney+
Like all Marvel series, Hawkeye is a Disney+ exclusive. That means anyone interested in watching it will need to cough up for a subscription in order to tune in. Fortunately, it's only six episodes long — so if you're planning to sign up for Hawkeye alone, it should prove a relatively quick watch.
Of course, after Loki's bombshell finale — and its season 2 renewal — Hawkeye could land another outing on the streamer. It may also tie into future Marvel projects. In fact, it's likely given the studio's knack for tying its projects together.
Hawkeye arrives on Disney+ on Nov. 24.