How Marvel Plans to Honor Chadwick Boseman in 'Black Panther: Wakanda Forever'
Marvel is getting fans hyped for Phase 4 with a new three-minute video that celebrates the movies. The studio is ready to bring fans back to the theaters, starting with the long-awaited Black Widow in July.
To get fans ready, Marvel has given fans a peek at some of the films set for release in the next phase. They've also revealed the official titles for Black Panther 2 and Captain Marvel 2.
The details about all of these upcoming projects are still a secret. But the one thing we do know is that Marvel will be honoring the late Chadwick Boseman in the Black Panther sequel.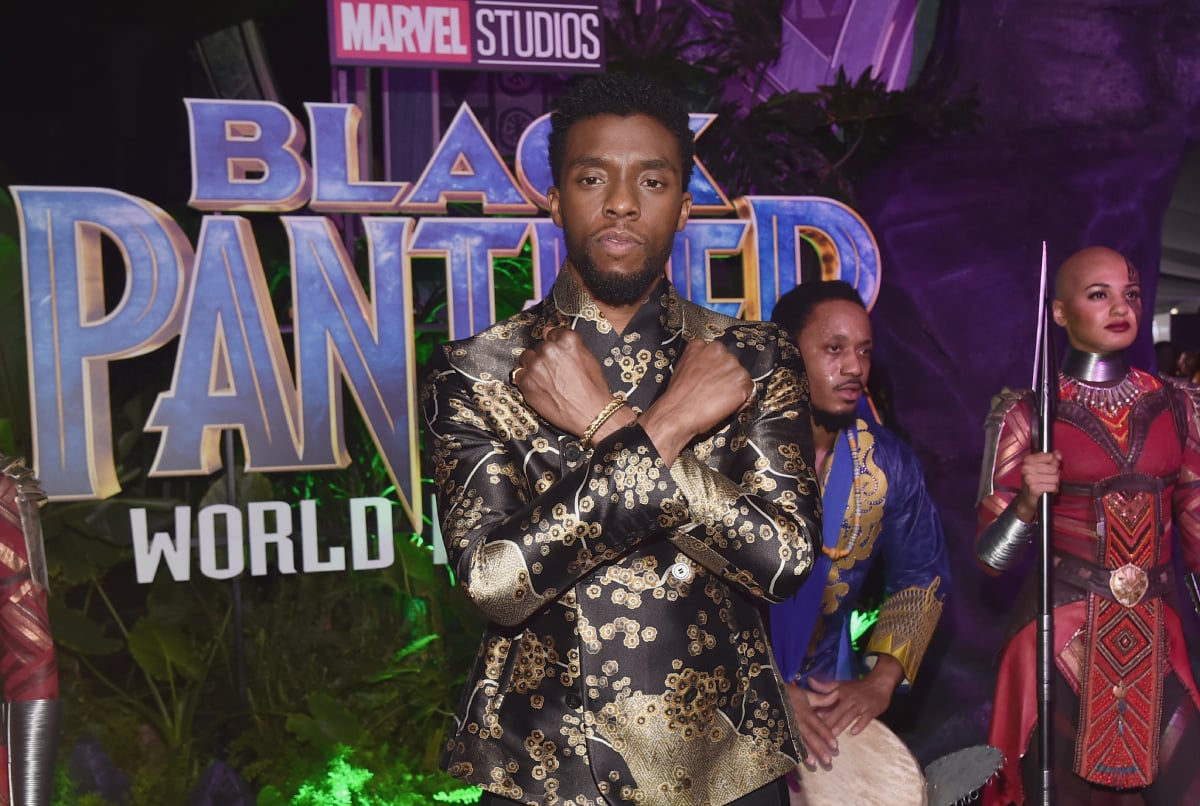 Marvel reveals the official title for the 'Black Panther' sequel
Marvel's latest video threw a ton of information at fans in a relatively short amount of time. They unleashed the first footage of Eternals, starring Angelina Jolie, Kit Harrington, and Kumail Nanjiani.
Fans also got to see clips from Black Widow and Shang-Chi: Legend of the Ten Rings.
What's more, Marvel revealed that Captain Marvel 2 will be titled The Marvels. While Black Panther 2 will have the official title of Black Panther: Wakanda Forever.
The Marvels is scheduled for release on November 11, 2022. While Black Panther: Wakanda Forever will hit theaters on July 8, 2022.
Ryan Coogler 'reshaped' the 'Black Panther' sequel in honor of Chadwick Boseman
According to star Lupita Nyong'o, the director and writer of Black Panther: Wakanda Forever — Ryan Coogler — "reshaped" the sequel in honor of the late Chadwick Boseman. The actor who played T'Challa in the first film passed away from colon cancer in August 2020 at the age of 43.
Nyong'o told Yahoo! Entertainment that Coogler reworked the sequel after Boseman's death out of respect for the actor. However, when people ask her if she's excited to return to the set for the sequel, she says that "excitement" isn't the right word.
"I feel like I'm in a very pensive and meditative state when it comes to Black Panther 2," Nyong'o explained. "His passing is still extremely raw for me. And I can't even begin to imagine what it will be like to step on set and not have him there."
Marvel will be 'respectful' of the late actor
Marvel boss Kevin Feige revealed late last year that they would not be recasting the role of T'Challa. Boseman passed away just one month before he was scheduled to go back to work for the sequel.
It's safe to assume that the original script had Boseman in the lead role, just like the original. But now that he's gone, Coogler had to make some major changes.
RELATED: Marvel Boss Kevin Feige on Chadwick Boseman's Final Performance in the MCU — 'In Hindsight, It's Very Moving'
Related post url: 
Nyong'o says that Coogler's leadership on the project has brought some comfort. She says it feels  "spiritually and emotionally correct" to do the sequel, even though Boseman won't be a part of it.
"We have a leader in Ryan, who feels very much like we do, who feels the loss in a very, very real way as well," Nyong'o said. "And his idea, the way in which he has reshaped the second movie is so respectful of the loss we've all experienced as a cast and as a world. So it feels spiritually and emotionally correct to do this."
Lupita Nyong'o says Chadwick Boseman will still be a big part of the sequel
Nyong'o added that she is looking forward to getting back together with the Black Panther cast and crew to honor what Boseman started with them. She says they will be "holding his light through it."
"Because he left us a lot of light that we're still going to be bathing in. I know that for sure," Nyong'o said.
Coogler admits that rewriting the script wasn't easy after Boseman's passing. However, he does know that the late actor wouldn't want them to stop because he was "so about the collective."
Marvel's 'Black Panther: Wakanda Forever' will explore the 'rich characters' fans met in the first film
Coogler admits that "it's difficult" returning to Black Panther after Boseman's death, but he says you have to "keep going" when you lose loved ones. He explained to The Hollywood Reporter that Black Panther was Boseman's movie, but he was always checking in on everyone else.
"Even though he was going through what he was going through, he was checking in on them, making sure they were good," Coogler said. "So it would be harder for me to stop. Truthfully. I'd feel him yelling at me, like, 'What are you doing?' So you keep going."
Marvel Studios has announced that Black Panther: Wakanda Forever will honor Boseman's "legacy and portrayal of T'Challa." The sequel will also "explore the world of Wakanda and the rich characters introduced in the first film."