Marvel Phase 5: 1 Star of 'The Boys' Wants to Replace Hugh Jackman as Wolverine in the MCU
The Marvel Cinematic Universe will reportedly finally feature the return of Wolverine, but not Hugh Jackman.
Marvel boss Kevin Feige has a plethora of decisions to make about the newly acquired characters from the Disney/Fox merger. Fans expect Deadpool, the Fantastic Four, and the X-Men to make their debut in the Marvel Cinematic Universe sooner rather than later. But when that happens, will Hugh Jackman reprise his role as Wolverine? A new report claims that a star of The Boys has his eye on taking over the role.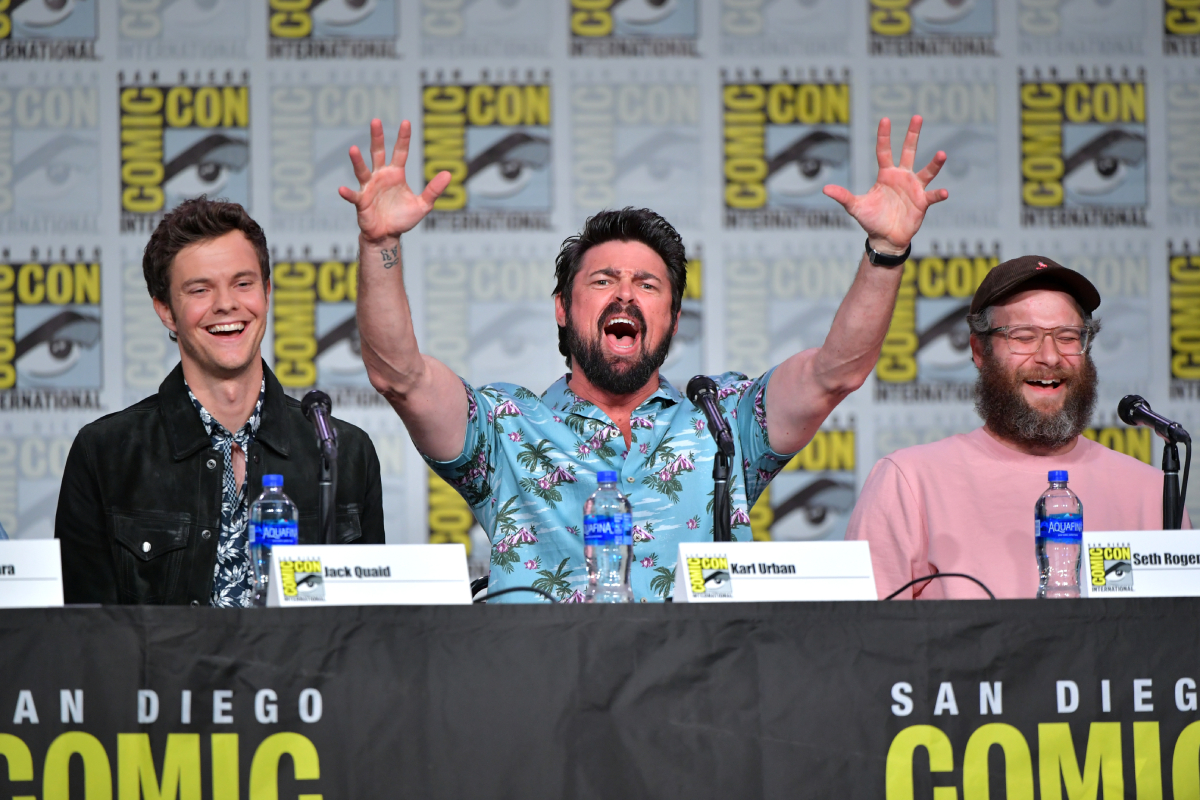 Insiders claim the Marvel boss has a star-studded wish list
There is no doubt that Marvel will recast the roles of the Fantastic Four: Mister Fantastic, Invisible Woman, Thing, and Human Torch. None of the previous attempts at a Fantastic Four film have done well at the box office. The expectation is that Marvel will start from scratch when it comes to casting those roles.
But, when it comes to the X-Men, insiders claim that Feige wants Jackman to return to the role of Wolverine. According to CosmicBook.News, YouTuber Grace Randolph claims that Feige has a star-studded wish list.
In addition to bringing back Jackman in Doctor Strange In the Multiverse of Madness, Randolph says her insiders are telling her that Feige also wants Tobey Maguire and Andrew Garfield back as Spider-Man.
"I've also heard that Feige is talking to Sony about making your dreams come true and having Tobey Maguire and Andrew Garfield come back to unite the Spider-Men, Batman-Flash style," Randolph said. "He also would like to bring back Hugh Jackman for one last round as Wolverine. Now, again, this is right now Kevin Feige's wish list. We'll see what he can actually do."
Hugh Jackman says he is done playing Wolverine, but there's an exception
Randolph also pointed out that Jackman has said he is done playing the role of Wolverine. However, there is an exception. The 52-year-old said that if he could appear alongside the Avengers, he would be interested in returning to the role.
After Logan In 2017, Jackman said it was the right time to leave the character. But he also admitted that the Avengers would be "too much to turn down." He explained that he's always loved the idea of Wolverine within that dynamic. At the time, Jackman said he'd like to see the character with Hulk and Iron Man.
That specific scenario could be difficult considering Tony Stark's death in Avengers: Endgame. But, there are a lot of possibilities with the multiverse in Doctor Strange 2. Randolph says that Feige wants Jackman in that sequel with the Avengers.
The movie will feature alternate versions of the characters, and Feige reportedly wants to "blow DC's Multiverse film (The Flash) out of the water." CosmicBook.News reports Feige does want other actors to play different versions of the Avengers. And, Tom Cruise is rumored to be close to signing on as Iron Man for the film.
A star of 'The Boys' wants to return to the MCU, this time as Wolverine
Randolph claims that if Jackman does return as Wolverine in Doctor Strange 2, he would be the only X-Men actor to reprise his role. She says that Marvel will reboot the X-Men, and Feige wants new actors.
If Jackman only returns for Doctor Strange 2 – or if he is completely done with Wolverine – there is another actor with his eye on the part. According to We Got This Covered, The Boys star Karl Urban (Billy Butcher) is chasing the role.
Urban is no stranger to comic book movies. He played the titular character in Pete Travis' Dredd. He's also part of the MCU, as he played Skurge in Thor: Ragnarok. No other details are available, but rumor has it the 48-year-old really wants to be Wolverine.
The report claims that Urban would be interested in playing the part in the main timeline. But, he would also be interested in an alternate version from a different timeline. Fans will have to stay tuned for Marvel casting announcements.
Doctor Strange in the Multiverse of Madness is scheduled to hit theaters on March 25, 2022.