Marvel's 'What If…?': Which Characters Aren't Voiced by Their MCU Actors?
Marvel Studios' first animated series, What If…?, debuted on August 11 with new episodes on Disney+ every Wednesday. The premise is that characters from the Marvel Cinematic Universe become other characters from the MCU as animations. Basically, everything is on the table. Villains can become heroes, heroes can become villains, and bit parts can play major roles.
What's especially great about What If…? is that characters who have never interacted in the past can finally share the screen for the first time. However, not all of the characters are voiced by their original MCU actors. But one of the more memorable episodes saw the return of T'Challa and the actor who portrayed him, Chadwick Boseman.
'What If…?' includes a posthumous performance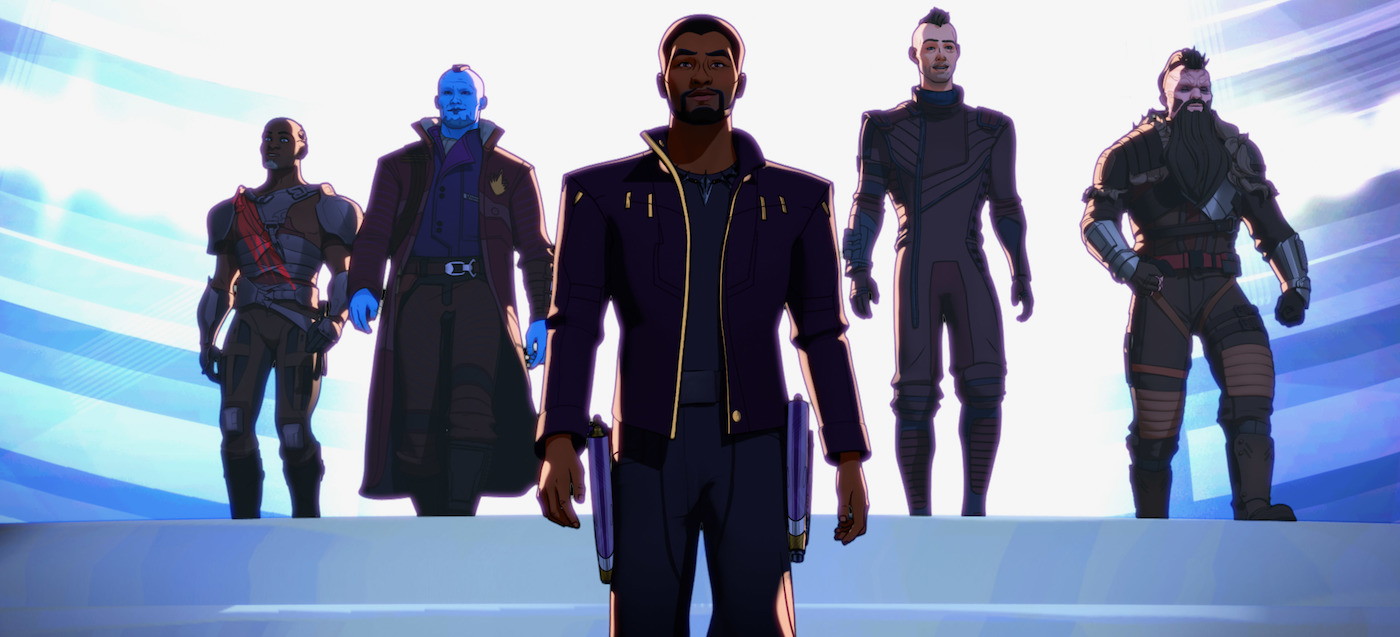 Chadwick Boseman posthumously appeared in a What If…? episode as Guardians of the Galaxy leader Star-Lord. The actor had recorded the voicework before his untimely death in 2020. In this version, T'Challa, not Peter Quill, gets taken into space.
In Guardians of the Galaxy, when Quill introduces himself to Korath under his self-imposed name, Star-Lord, Korath had never heard the name and was unimpressed.
However, when T'Challa's path leads him to this same moment in What If…?, not only does Korath almost immediately recognize him as the legendary Star-Lord, but he also falls all over himself like a star-struck groupie. Boseman's work in this episode is bittersweet because of his passing, but the memorable episode is a testament to how beloved the actor was as a person.
Marvel actors whose voices you won't hear in 'What If…?'
As it stands, Tony Stark appears in What If…? But rumors claim Robert Downey Jr. will not reprise his role in the show. His absense is most likely due to contract disputes. Steve Rogers, The Collector, Doctor Strange, and Captain Marvel are also in the series but will have different voices from the original actors.
Black Widow and Drax the Destroyer appear in the trailer, but the voice actors behind the characters have not yet been confirmed. So it's possible we might hear some new voices in those roles too.
Chris Evans might be in the same boat as Downey after having finished his contract with Marvel Studios. Benedict Cumberbatch, who plays Doctor Strange, likely can't find the time because he's busy doing Spider-Man: No Way Home. There's also speculation that Brie Larson and Benedict Cumberbatch might have stipulations in their contracts about voiceover work.
What If…? promises to be a roller coaster of surprises. Season 1 has nine episodes. There were originally supposed to be 10, but one had to be cut due to COVID-19 restrictions during production. At any rate, What If…? has limitless potential and alternate universes to explore with all the Marvel characters at its disposal.
Actors who returned to voice their characters
Some of the actors who returned for What If…? are Hayley Atwell as Captain Peggy Carter, Josh Brolin as Thanos, David Dastmalchian as Kurt, Michael Douglas as Hank Pym, Karen Gillan as Nebula, Frank Grillo as Brock Rumlow, Jeff Goldblum as Grandmaster, Chris Hemsworth as Thor, and Tom Hiddleston as Loki, Collider reports.
Also, Marvel is famous for post-credit scenes that set up future movies. However, there hasn't yet been a post-credit scene for Episodes 1 and 2. Loki had a short post-credit scene in Episode 6 just to announce there would be a Season 2. That doesn't mean there won't be a second seasond for What If…? But for now, there's no mysterious scene that sets up the next episode as Marvel has done in the past.