Marvel: What You Need to Know About Moon Knight's Comics History
In 2022, fan-favorite Oscar Isaac will be coming to Disney+ as the lead in Marvel's Moon Knight series. But who is this character? Here's everything you need to know about Moon Knight, including his history, powers, and more.
Moon Knight's origin story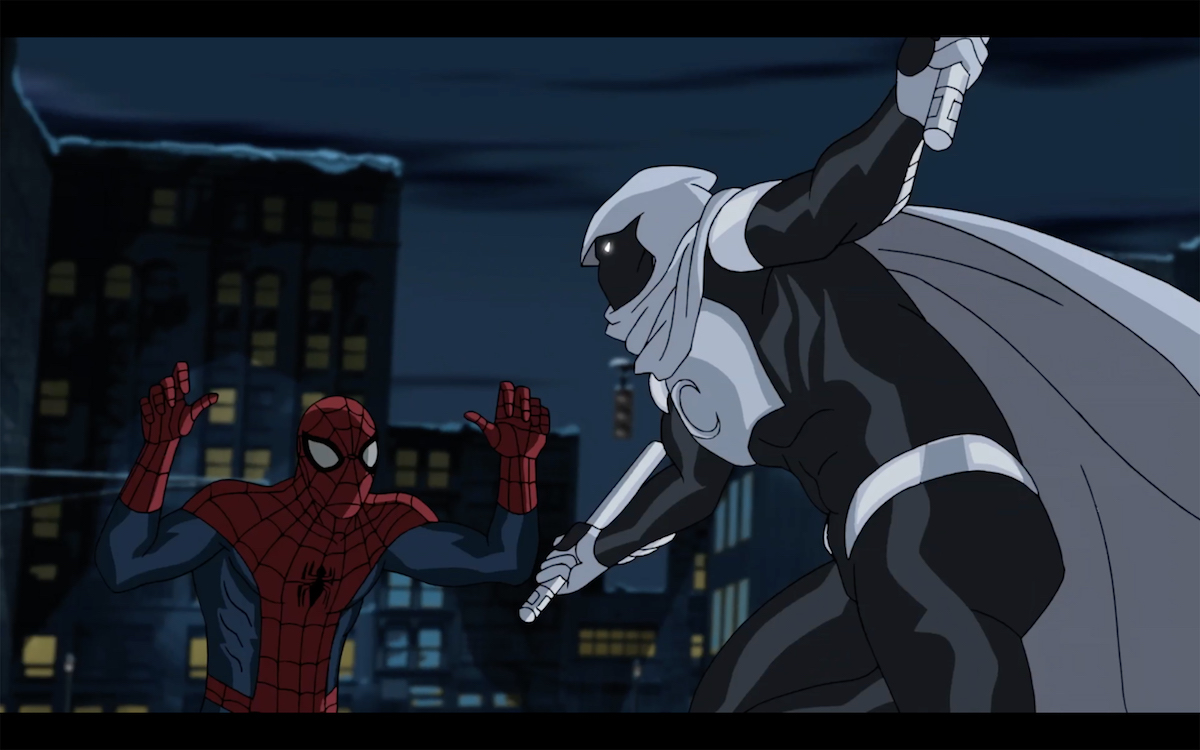 Moon Knight was originally conceived of as a villain to battle Marvel's Werewolf by Night. While his origin story has changed a bit as the years have gone by — because, you know, comics — the fundamentals of it have basically remained the same, as Marvel explains.
Marc Spector, aka Moon Knight, comes from a well-respected family but chooses to chart his own course. He becomes a boxer, a Marine, and a CIA agent, as one does. But he's betrayed by his brother and ultimately becomes disenchanted with the CIA.
In his disillusioned state, he turns to mercenary work. His new career takes him to Egypt, where he's almost killed. But in his almost-dead condition, he comes around to find a statue of an Egyptian god looming over him. The deity, Khonshu, resurrects him and endows him with superpowers in exchange for his service to the deity.
As Marvel explains, his powers include, "enhanced strength during nights with full moons, prophetic visions and dreams, and the ability to drain another person's life energies through physical contact."
Spector, now Moon Knight, goes back to New York with a renewed sense of purpose and begins fighting crime.
Moon Knight and mental health
Early on in his history, Marc learns that his friend is basically a secret fascist and serial killer. That traumatizes him and he develops a dissociative identity disorder, which causes his psyche to splinter into multiple personalities. And that later comes into play with his crime-fighting.
Accurately representing mental illness is, of course, complicated. And it's done with varying degrees of success in the Moon Knight comics. But having a character who is at least upfront about his mental health is significant.
Moon Knight is often compared to Batman, for example. And some fans argue that Bruce Wayne clearly has not processed the death of his parents, though his mental health challenges are rarely discussed. So to have Marc openly talking about his mental health can potentially be a good thing if addressed thoughtfully. Hopefully, the Disney+ series will discuss this aspect of his character in a well-thought-out way.
Additionally, it's important to note that this explanation for his mental health challenges was added at a later point in the character's publication history and has shifted at various times depending on the creators.
'Moon Knight' on Disney+
As reported by The Hollywood Reporter, the titular role will be played by Oscar Isaac. With Ethan Hawke playing the show's antagonist. May Callaway, known for her work on Hulu's Ramy, is on the show's roll call, as well.
Given the show's nature, it could be a rather dark series for Marvel. However, WandaVision, Falcon and the Winter Soldier, and Loki have certainly had their dark moments, as well. And even the animated What If…? Sees Doctor Strange going through some dark nights of the Soul.
The series is set to premiere on Disney+ in 2022.