Marvel's Dave Bautista Cried When He Got His 'Guardians of the Galaxy' Role
Many big and burly types make a great effort not to cry. People who come from the world of wrestling as Dave Bautista did are not known for wearing their heart on their sleeve. But Bautista is a different animal than most. 
Getting a Marvel movie is a giant feather in the cap of most actors. And Bautista is not at all afraid to admit he teared up when he got the role of Drax in the Guardians of the Galaxy movies. 
How did Dave Bautista get into acting?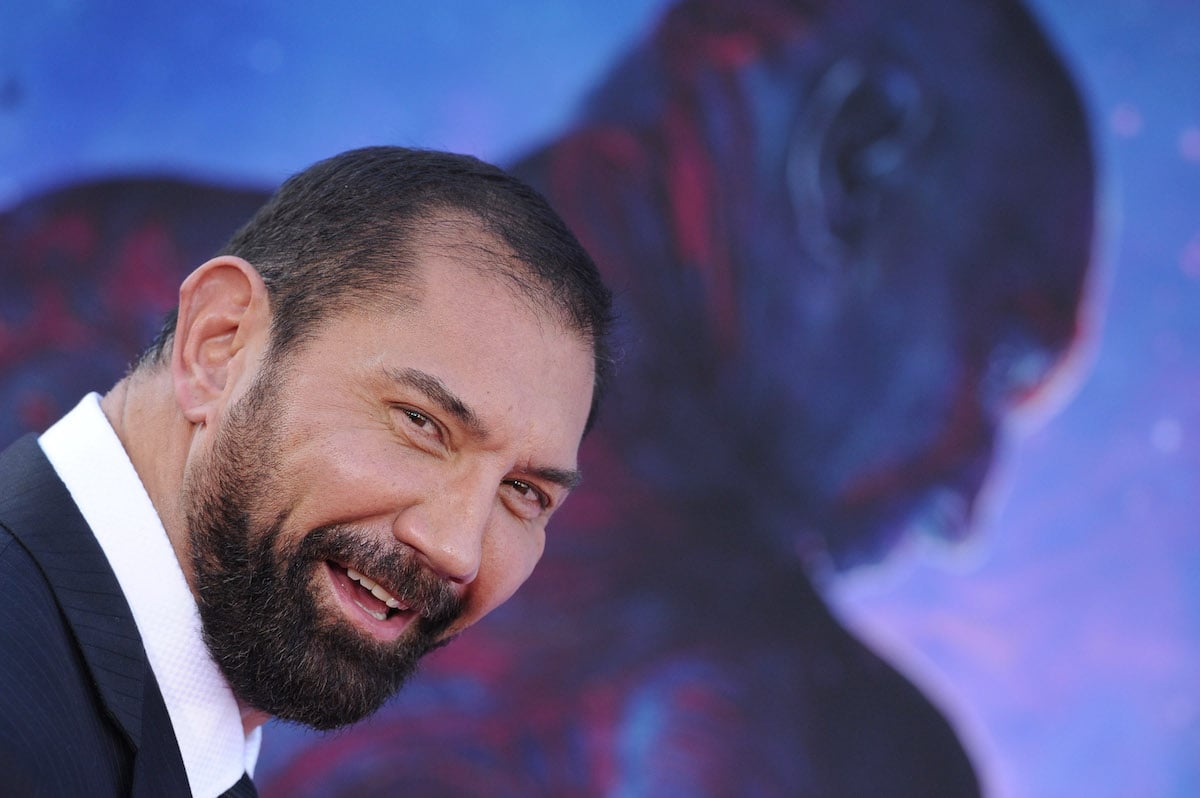 Even fans of wrestling who admit its fixed know there is a great deal of acting in the sport, and that's where Bautista got his start, in 1999. He eventually  became a six-time world champion, and holds the record for the longest reign as World Heavyweight Champion.
After a hiatus, Bautista re-signed with WWE in 2013, winning the 2014 Royal Rumble and headlining WrestleMania XXX before leaving again the next June. He finally retired for good from wrestling in April 2019, having lighted on a new gig that became even more lucrative.
Bautista transitioned to acting in the mid-2000s, with his first role being, of all things, a wrestler in the movie Relative Strangers. One of his other early roles was in The Scorpion King 3: Battle for Redemption. His fellow wrestler turned actor, Dwayne "The Rock" Johnson, moved from the ring to the screen with The Mummy Returns, where he played that particular king. If it worked for Johnson, why not Bautista? 
What happened when Dave Bautista became Marvel's Drax? 
Bautista had landed some notable credits before Marvel, including 2013's Riddick, but few would dispute that Guardians of the Galaxy was Bautista's big break. And Bautista knew very well that it could be. He needed the break badly. 
According to the Project Casting site, "I was really desperate at the time, I had hardly worked in three years, and I had gone broke, I had lost all my money from wrestling and I was desperate to get a job. I finally got an agent, like, two weeks before I got the audition for Guardians. My agent says 'You know, I really had to fight to get you this audition. It was really hard to get, they didn't really want to audition you. They didn't want to see any pro wrestlers, so I don't want to get your hopes up.'"
However, the stars ended up aligning. Per MTV UK, the wrestler turned actor said, "When they called me and I got the role… I just started  screaming, like 'noooo'. I couldn't freakin' believe it, I just broke down in tears." Even before he filmed a moment of footage, he was acting like Drax, who acts big and bad but is an emotional lunk at his core. 
What has Dave Bautista done outside of Marvel?
Bautista has been able to parlay his Guardians successes to other big movies, most notably in two other big franchises. He played the henchman Mr. Hinx in the most recent James Bond movie Spectre. He also played an emotional, hulking droid in the underrated Blade Runner 2049, where he gave Ryan Gosling a heck of a fight. 
A few of Bautista's roles have been duds – Stuber, for instance, didn't get much positive attention, but Bautista is nothing if not grateful for the various opportunities he's been given. He was one of the most vocal defenders of James Gunn after some ill-advised old tweets got him temporarily fired from Guardians of the Galaxy Vol. 3. Bautista said he would walk if Gunn wasn't rehired – and Gunn eventually was. 
That wasn't down just to Bautista, but as he has shown repeatedly, he fights forcefully for what he wants – and often gets it.