Marvel's 'Eternals': Salma Hayek Cried the First Time She Put on Her Costume, 'I Saw My Brown Face in a Superhero Suit'
No matter what the critics have to say about Eternals, there's no doubt that the Marvel film is a major stepping stone when it comes to diversity and representation in the Marvel Cinematic Universe. Many of its main cast are people of color. Plus, the film features the MCU's first gay superhero and first deaf superhero. During an interview, Eternals star Salma Hayek expressed her reaction to seeing herself in a superhero suit and detailed why representation is important.
[Spoiler alert: This article contains spoilers from Eternals.]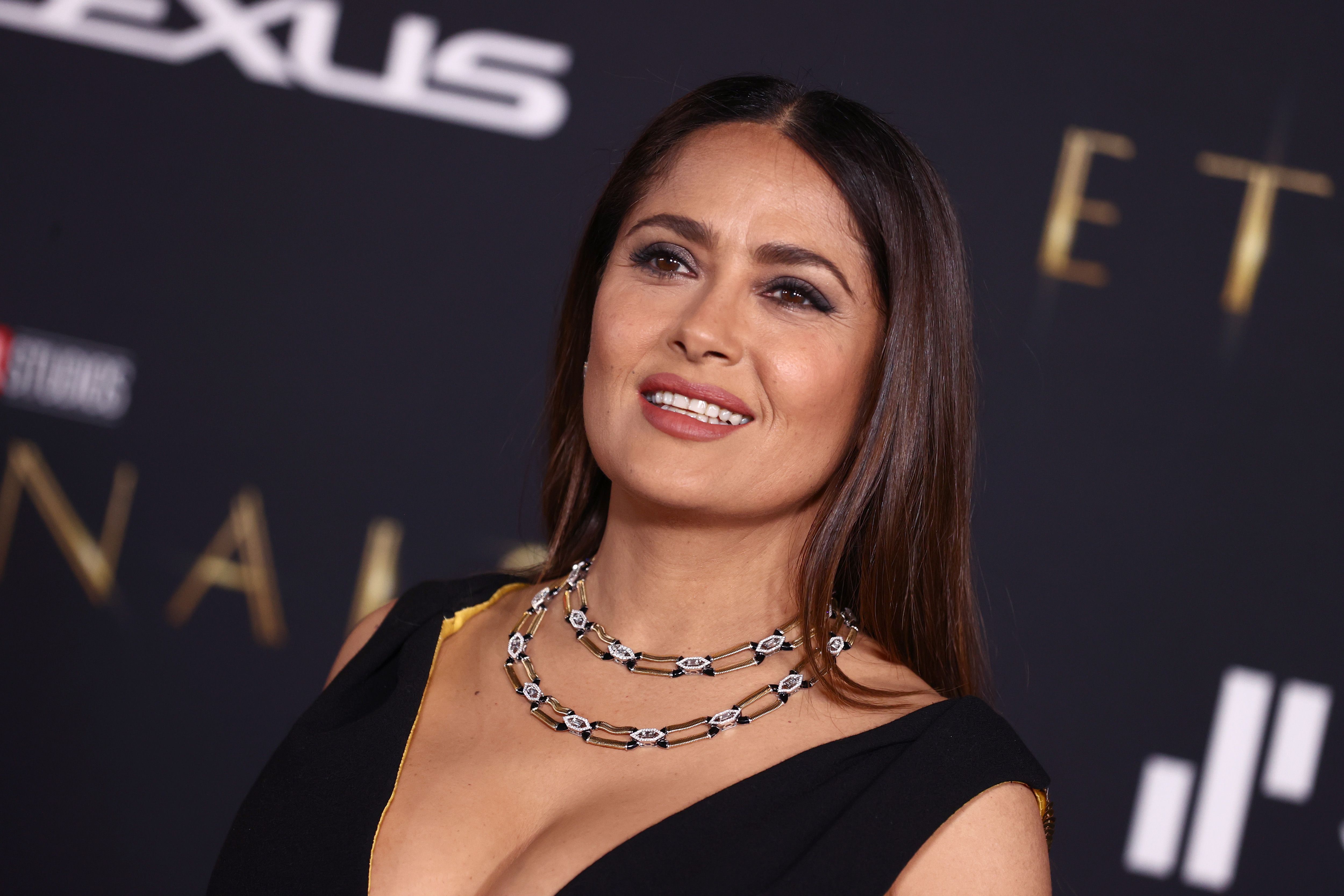 Salma Hayek burst into tears when she tried on her 'Eternals' superhero suit
Eternals star Salma Hayek and executive producer Victoria Alonso sat down to talk with Despierta America to discuss their new film. During the Spanish-speaking interview, Hayek described the first time she put on her character's superhero suit.
Hayek said, "When I put it on, I burst into tears. Not like in telenovelas, but the tears came out, and I said, 'What happened here?' The image of it did something to me, and I said, 'Why?'"
She continued, "I saw my brown face … I saw my brown face in a superhero suit. And in seeing my face, I saw your face. I saw my face as a little girl who had to have a lot of courage to dream big. I saw the face of all the little girls … and I realized that a door had opened where I didn't enter alone — but inside that suit were all the Latinos who waited so long for this moment."
The Eternals interview was quite emotional as both the interviewer and Salma Hayek shed some tears. Alonso lastly added, "This moment is so important because — don't forget, I've been at Marvel for 16 years trying — and I told her this the first time I met her … that she had no idea just how long I've waited for this moment … The moment I saw her in that suit was a moment that changed everything in my head. Because if that's possible, many other things are possible."
Salma Hayek plays Ajak in 'Eternals'
In Eternals, Salma Hayek portrays the leader of the Eternals, Ajak. Her character has the power to heal and communicate with the Prime Celestial, Arishem. The Celestials sent her and the rest of the Eternals to Earth to protect humanity from the Deviants.
In the comic books, Ajak is male, but as Marvel Studios did with other characters, they changed Ajak to female for the film.
After the superheroes defeat the last of the Deviants and disband in Eternals, Ajak heads to South Dakota and lives on a remote farm. Five hundred years later, the Deviants return and kill Ajak, who posthumously chooses Sersi to be her successor. The film later reveals that fellow Eternal Ikaris killed Ajak when he learned that she wanted to stop the Emergence, an event that would decimate humanity.
Although Ajak died in Eternals, Salma Hayek claims that she might not be done making Marvel films.
Will the actor appear in more Marvel films?
Per IGN, Eternals star Salma Hayek revealed during Smallzy's Celebrity Talk Podcast that she signed a deal to star in multiple Marvel films.
Hayek said, "I did sign multiple movie deals. It was kind of fun being part of this … secret society that you have to protect so fearlessly."
Perhaps not one character is ever truly dead in the MCU. Or maybe Ajak will appear in flashbacks in future Marvel movies. Whatever the case may be, it will be interesting to see how Ajak's story continues in the MCU.
Eternals is playing exclusively in theaters now.