Marvel's 'What If…?' Will Be Chadwick Boseman's Final Performance in the MCU, Not 'Black Panther: Wakanda Forever'
Marvel's What If…? — the first animated series in the Marvel Cinematic Universe — is now playing on Disney+. It's an anthology based on the Marvel comic book of the same name. And it explores all of the different branched realities of the multiverse, the different superheroes inside them, and how the MCU would be altered if certain events had occurred differently.
A recent episode featured the voice of the late Chadwick Boseman as T'Challa/Star-Lord. Which marks his final performance in the MCU instead of the upcoming Black Panther: Wakanda Forever.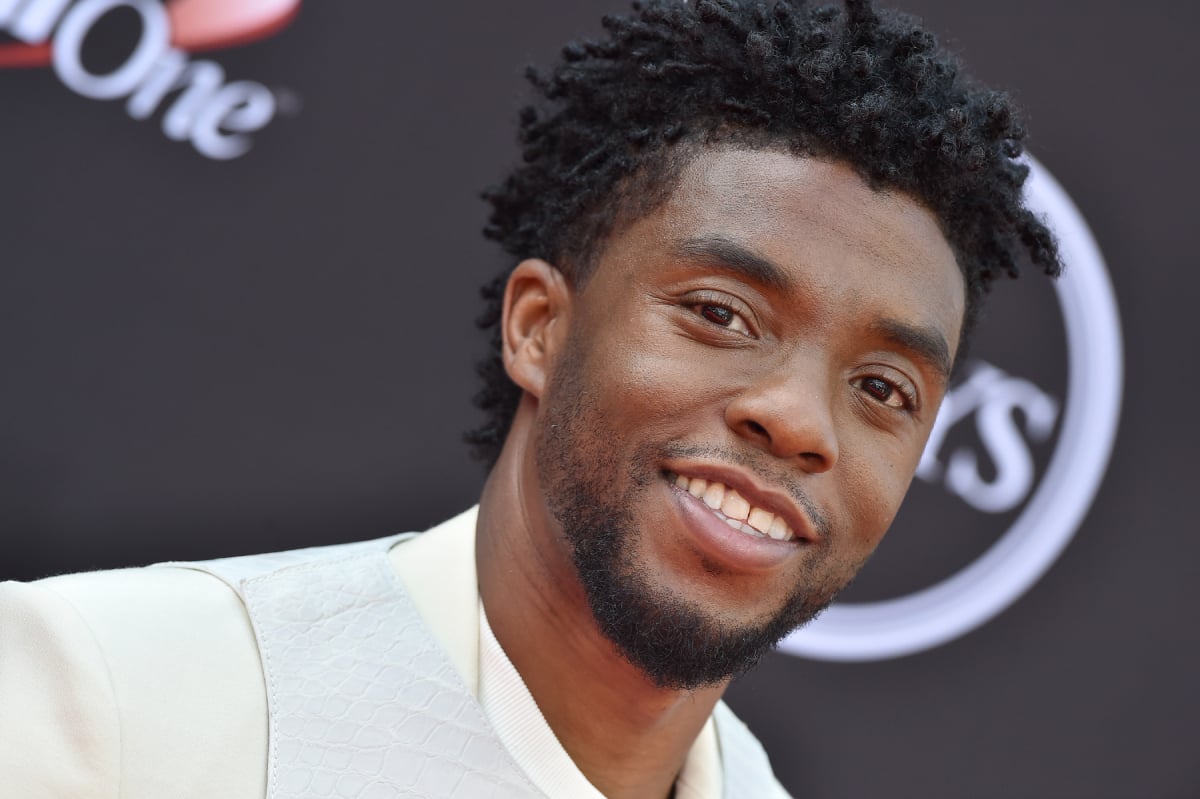 Chadwick Boseman recorded his lines for Marvel's 'What If…?' just before his death
According to Esquire, Boseman recorded his lines for What If…? across four different sessions last year, just weeks before his death from colon cancer in August 2020. Boseman kept his cancer battle extremely private, and many of his colleagues didn't know he was sick.
Marvel boss Kevin Feige admits that in hindsight, Boseman's performance is "very moving."
In his episode, Boseman voiced the character of T'Challa with a huge twist.
The episode was a re-telling of Guardians of the Galaxy. When Yondu comes to Earth to get Peter Quill, he instead takes Wakanda's Prince T'Challa. That's how he becomes the alternate reality's version of "T'Challa Star-Lord."
The episode captured a bit of Boseman's 'mysticism,' says Jeffrey Wright
As The Watcher in Marvel's What If…?, Jeffrey Wright says it was special for him to hear Boseman voice T'Challa one last time. He explained that with Black Panther, there was a "mysticism about that film" and the story it told, which captured everyone's attention.
"There is now a greater mysticism about Chadwick's life that overlaps with the heroism of that character that he played in a really very special way," Wright explained to Entertainment Tonight ahead of the series premiere.
"We capture a bit of that in his episode of What If, so I look forward to that being shared with fans of his and fans of Marvel."
Marvel's 'What If…?' is Chadwick Boseman's final MCU performance
Boseman passed away just one month before he was scheduled to start his prep for the Black Panther sequel. He didn't get a chance to film any part of it before his death. Director Ryan Coogler ended up re-writing the script to explain the character's absence.
RELATED: Chadwick Boseman's 'Heroism' Is Captured in Marvel's 'What If…?' Says Jeffrey Wright
Instead of using CGI to digitally recreate T'Challa or re-casting the groundbreaking role, Marvel opted to retire the character in the MCU and honor Boseman's legacy and portrayal. Since Boseman was not able to film anything for Black Panther: Wakanda Forever, his last role in the MCU is officially Marvel's What If…?.
'Black Panther: Wakanda Forever' will explore different characters
Now that Boseman is no longer the star of the upcoming Black Panther sequel, Feige says they have a strategy for avoiding a "CG Chadwick." Because so much of the first movie was the "world of Wakanda," Feige says the mythical country is the perfect setting for the sequel to "further explore with characters and different subcultures."
"This was always and initially the primary focus of the next story. We're not going to have a CG Chadwick and we're not recasting T'Challa," Feige told Deadline in January 2021. "Ryan Coogler is working very hard right now on the script with all the respect and love and genius that he has, which gives us great solace, so it was always about furthering the mythology and the inspiration of Wakanda."
Feige added that Marvel is also mindful of "honoring and respecting the ongoing learnings and teachings from Chad as well."
Marvel's 'What If…?" included a dedication to Chadwick Boseman
To mark Boseman's final performance in the MCU, Marvel included a touching dedication to the later actor in the end credits.
"Dedicated to our friend, our inspiration, and our hero Chadwick Boseman."
Michael Rooker — who reprises his role of Yondu in Boseman's What If… episode — told Entertainment Weekly that he had no idea it would end up being Boseman's last performance. Over several recording sessions, Rooker said "it was really a blast."
RELATED: 'Black Panther' Chadwick Boseman Originally Auditioned For a Different Role in the Marvel Cinematic Universe
"Boy oh boy, what a shame. What a loss. It was terrible. But the work, the legacy of the work is there for everyone to see," Rooker said.
Marvel's What If…? is currently airing on Disney+. Black Panther: Wakanda Forever is scheduled to hit theaters on July 8, 2022.