Mary J. Blige Admits She's Pretty Nervous About Performing at the Super Bowl
Even the Queen of R&B can get nervous about performing. Here's what Mary J. Blige said about singing at the Super Bowl LVI halftime show.
The stage is set for Super Bowl LVI as the Cincinnati Bengals will take on the Los Angeles Rams at SoFi Stadium in Inglewood, California. But many non-sports fans will be tuning into the big game to catch the highly anticipated Super Bowl halftime show.
Performing this year are hip-hop giants Dr. Dre, Snoop Dogg, Eminem, and Kendrick Lamar. They will take the stage on Feb. 13 along with the Queen of R&B Mary J. Blige. In a new interview, the "Family Affair" artist revealed that she's pretty "nervous" about the upcoming performance even though this won't be her first time taking the stage for a Super Bowl halftime show. Here's what she said about that and not getting paid for performing.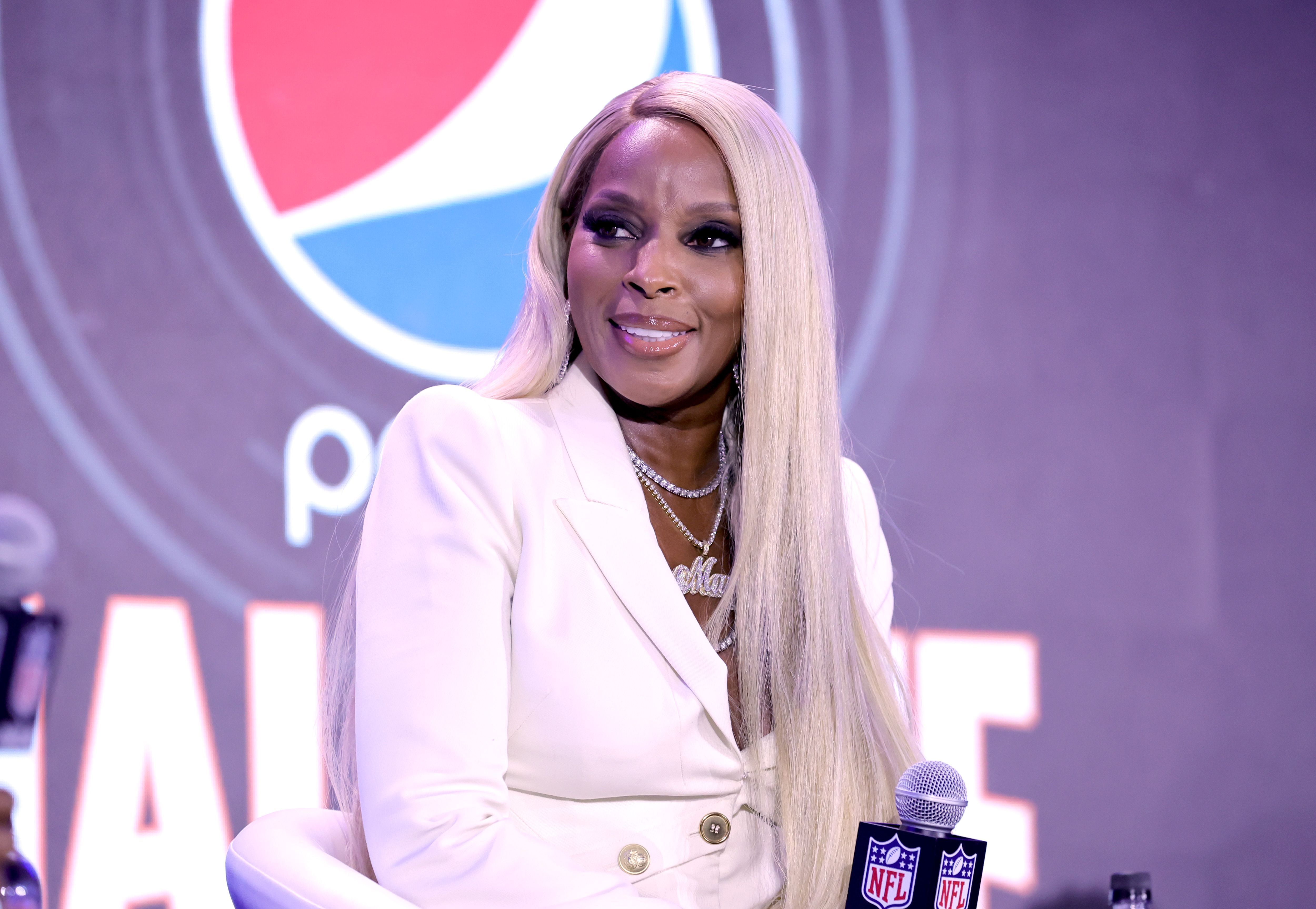 What Blige said about performers not getting paid to sing in the Super Bowl halftime show
In case you weren't aware, entertainers do not get paid to headline the Super Bowl halftime show. The NFL does cover the costs of producing the show as well as a few other expenses for the musical acts but it does not give them an actual check after it's all said and done. 
Because an average of 100 million people tune in for the game, the artists enjoy other major perks like a boost in album sales and streams. That's why in an interview with The Cruz Show, Blige said it was an "opportunity of a lifetime" despite not getting paid.
"Listen, you're gonna be paid for the rest of your life off of this," she stated. "People are gonna be knocking at your doors. They don't have to pay me."
Blige admits she's 'nervous' about performing at the Super Bowl
This isn't the first time the "Real Love" artist has taken the stage during the halftime show. In case you're trying to remember when it was during Super Bowl XXXV back in 2001.
"The first time I did it, I was in the background with like Aerosmith, Britney Spears, Justin Timberlake, and I was just in the background," she said during an appearance on Watch What Happens Live with Andy Cohen. "But now I'm in the forefront like I'm gonna be in the front with all my peers."
On Audacy Check In, the songbird opened more about how "nervous" she is ahead of the big game.
"I'm excited. I've never been this nervous," Blige admitted, adding, "This is about to be the party of the century. The world is going to be there, it's going to be crazy." 
She also spoke about her collaborations on her new album
Prior to the Super Bowl, Blige released her new album. Good Morning Gorgeous is the star's 14th studio album and it's packed with collaborations from some huge names in music.
"They're all amazing artists," Blige told Big Tigger. "If you affect me in some kind of way, or make me love you as an artist, then you can work with me. I've always loved Anderson .Paak. I found out about Anderson .Paak when I was on tour with Maxwell, and Maxwell was playing this dude every single night after the show, and I went over there and was like, 'Yo, who is that?' I've been playing Anderson ever since."
She continued: "I've been listening to Dave [East] for a while, and he's always saying something thought-provoking. Like dope rappers do. He moved me, and I was like let's have him on this record. I did a song with him because I love what he's talked about … Usher's been family since day one, I already have a duet with Usher, and Fabio Foreign, same thing. He's always one to get me on the drill beat. All these guys are amazing. They're a lot of fun, and they're my friends now. We're family." 
So what's next from the R&B superstar?
"Maybe a jazz album. Something with Robert Glasper. Maybe a Gospel album. I don't know," Blige said. "Something positive, though."