Mask, but Make It Fashion: Lady Gaga Gets Post-Apocalyptic at the MTV VMAs
Many stars who are used to their faces being a draw for attention will need to get creative. Lady Gaga has it covered, turning pandemic fashion into trend.
Leave it to celebrities to turn a pandemic into a platform for cultural influence. While stars may not be exactly like us, the realities of an international health crisis can't be stopped by glitz, fame, or fortune. Celebrities are finding their lives disrupted by the requirements of social distancing just like the rest of us.
One thing that has perhaps impacted stars even more than the general population is the new focus on wearing masks in public. While they might make it easier for stars who want to stay under the radar to slip past fans unnoticed, masks mandates also mean that many stars who are used to their faces being a draw for attention will need to get creative. 
Lady Gaga has it covered, and she's poised to turn pandemic fashion into a trendy statement. 
Lady Gaga is no stranger to the strange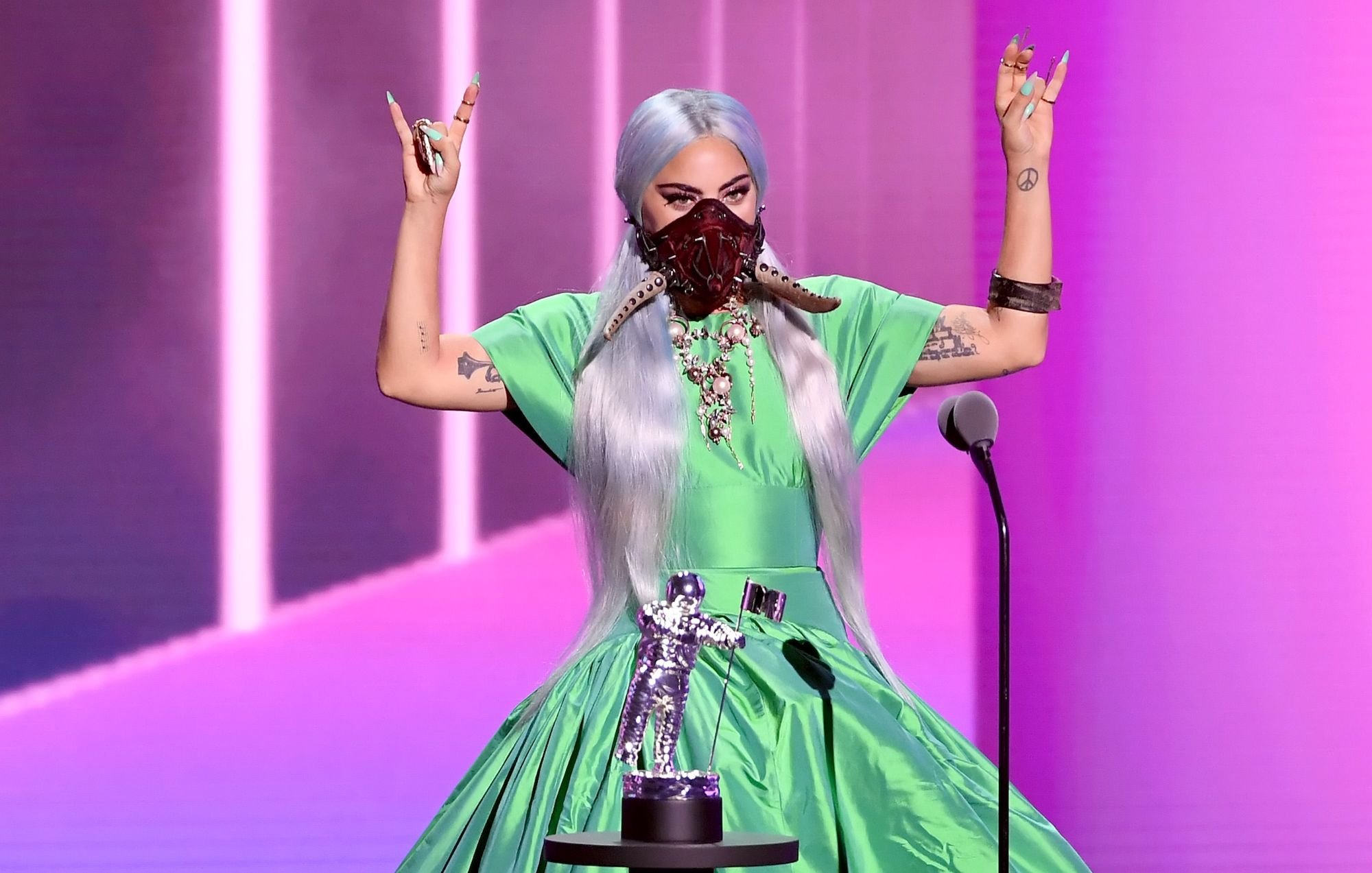 Now known the world over as Lady Gaga, the star's given name is Stefani Joanne Angelina Germanotta. In 2008, the singer released her first album, The Fame, and it would help launch her into stardom. The popular debut included hits like "Poker Face" and "Just Dance," helping to define Lady Gaga's unique place in pop music.
In addition to her catchy lyrics and energetic beats, the star became well known for her over-the-top performative antics including wearing a dress made of meat. 
As Lady Gaga made the crossover from music to acting, she took more than a touch of her weird persona with her. Her role in American Horror Story leans heavily on the macabre and the gothic, helping to solidify the public image of Lady Gaga as bold with a touch of darkness.
It wasn't until her critically acclaimed performance in A Star is Born alongside Bradley Cooper that fans really got a chance to see her pared-down look. Combined with the raw vocals and bare emotion of the film, this performance helped people see beyond the costumes and pizzazz to the woman underneath. 
Lady Gaga had a ghostly encounter
It seems that the fascination with the strange is not just an on-stage persona for Lady Gaga — at least if her own tales are to be believed. The star once spent $50,000 on a state-of-the-art ghost detection machine when she feared she was being haunted.
Describing her haunt as "annoying," Lady Gaga went so far as to shell out for a professional paranormal detective team to investigate each of her concert venues before performances. One can never be too careful! 
Lady Gaga's appreciation for the paranormal runs deep. In fact, it's rumored that she thinks she is the reincarnation of her dead aunt. She also has a true respect for all things scientific, however.
This is evidenced by her hiring a NASA chemist at the cost of $50,000 to help her develop a substance that would release steam without the heat in order to pour out of her teacup shaped dress while she was on stage. 
Will Lady Gaga make masks fashionable?
Now it looks like Lady Gaga is bringing her famed persona into the new era with masks like no others. On Sunday, August 30, the star appeared at the MTV Video Music Awards. During her time there, she donned several other-worldly masks.
According to US Weekly, the eye-catching looks served the dual purpose of COVID-19 protection and unique fashion statements. 
Some fans have compared her face coverings to a fishbowl while others think she looks like an astronaut. One was a neon pink contraption that left her looking like an alien — or perhaps a giant insect.
Still another seemed to echo metal music and featured a dark leather-looking face cover with two gigantic horns protruding. Lady Gaga is certainly doing her part to take safety standards seriously, and she's making sure to do it with style.