'Matilda' Star Mara Wilson's Net Worth and What the Retired Actress is Doing These Days
Find out 'Matilda' and 'Mrs. Doubtfire' star Mara Wilson's net worth and what she's been up to lately.
It's been almost 24 years since the movie, Matilda, premiered to let anyone know, who had not yet read the classic Roald Dahl children's novel the movie is based on, that you can be small and still make a difference, no matter what anyone says.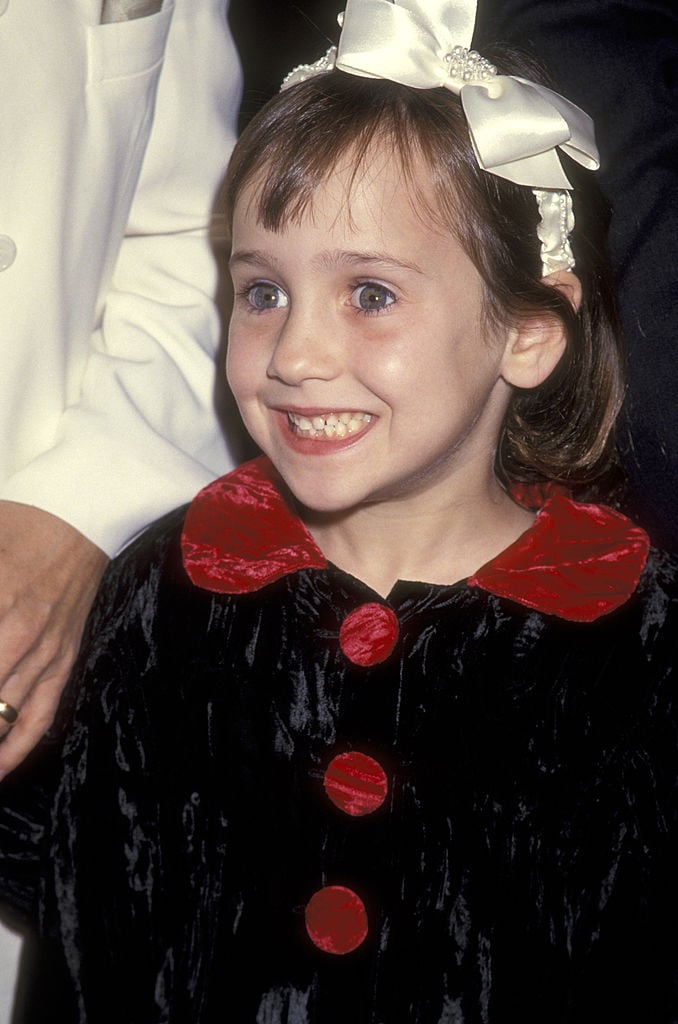 Actress Mara Wilson will forever be imprinted on our minds when we hear the name Matilda, but she's accomplished a great deal more.
How Wilson became a child star
As a child, Wilson wanted to try acting once she saw her older sibling, Danny, in television commercials. After first making several commercials, she landed the role of Natalie Hillard in the 1993 Robin Williams and Sally Field film, Mrs. Doubtfire. After that, Wilson only gained steam, playing little Susan Walker in the 1994 remake of Miracle on 34th Street.
The actress then caught director Danny DeVito's attention in 1996, and was cast in the lead role of his film, Matilda.
In her 2018 essay for Vanity Fair titled "Matilda and Me at 30," the actress muses on how the book Matilda was "born" a year after she was and how her life has been on a similar track as the fictional child's.
"I wonder if, like me, Matilda ever felt trapped by her past," Wilson wrote. "I wonder if she ever felt like she was lost or floundering, like I did in my teens and early 20s. . . I don't like to think of her in despair; she had enough of that in her life as a child. I would like to think . . .that she didn't let her past heroism define the rest of her life. She knew what mattered was not the labels, but the learning."
Wilson on the painful end of acting
Saying goodbye to acting was distressing for the now-32-year-old. It had been her identity for so long but she soon read the writing on the wall that her career had come to an end.
"I was on the set of a movie called Thomas and the Magic Railroad," she told NPR in 2016. "I came to set one day after a few months away, and people were kind of giving each other worried looks. … And I had to have the director come and sit with me and explain to me that my body was changing."
"There wasn't like one big moment where I knew I was done. … The rejection hurt because [acting] had been just such a prominent part of my life for so long. It had been the thing that defined me. . .There's a saying … 'If you can live without it, you should,' and I found that I could."
Mara Wilson writes
Now a full-time writer, Wilson's work can be found in Jezebel, The Toast, McSweeney's, the Daily Beast, and Cracked.com, and on her blog, MaraWilsonWritesStuff.com.
Her net worth is $500,000, according to Celebrity Net Worth.
The New York City resident knew writing was the natural progression for her as a career. In 2016, Wilson published Where Am I Now?: True Stories of Girlhood and Accidental Fame, her collection of essays on growing up famous and cute.
"Writing I'd always loved," she continued in her conversation with NPR. "Even on the sets of various movies, I would always be in my trailer writing stories — usually very similar to whatever Judy Blume or Beverly Cleary or Bruce Coville book I was reading at the time — but I loved to write."
"I started writing dialogue, and I started doing performance pieces — like 10-minute solo performance pieces — and eventually I did a one-woman show, and that felt so much more real than being on a set every day."