'Matlock' Reunion Don Knotts Was Andy Griffith's 'Happiest Days'
Andy Griffith and his 'The Andy Griffith Show' co-star were reunited on 'Matlock.'
Andy Griffith might be best known for his iconic television series The Andy Griffith Show, where he played down-home lawman Sheriff Andy Taylor. The versatile star received acclaim in his lifetime for playing multiple characters. Years after The Andy Griffith Show went off the air, Griffith went on to star in the legal drama Matlock, a show that not only brought him a slew of new fans but reunited him with one of his favorite costars from The Andy Griffith Show. 
Andy Griffith and Don Knotts worked together on 'The Andy Griffith Show'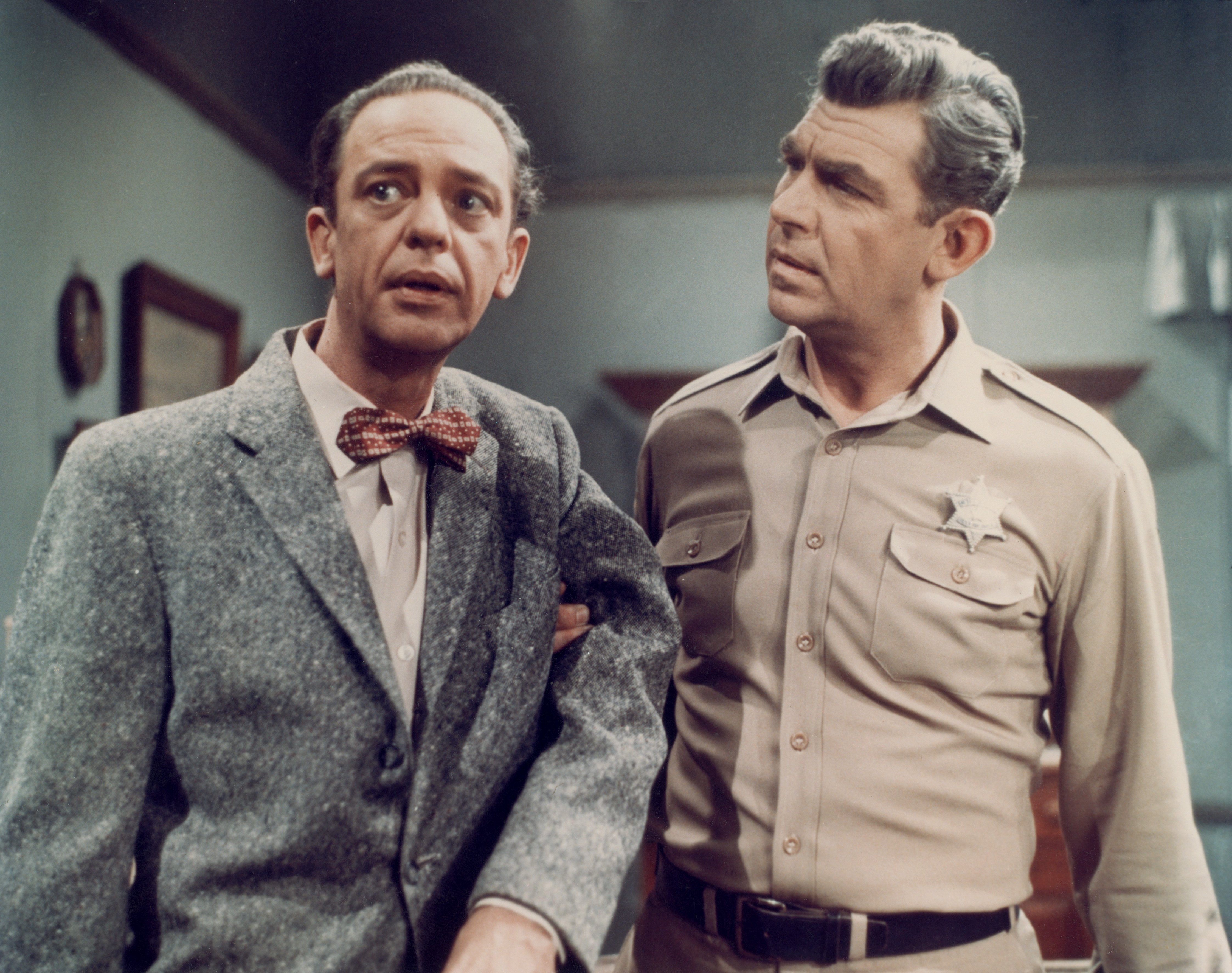 The Andy Griffith Show started running on television in 1960. It featured Griffith as Sheriff Andy Taylor, a laid-back man who never needed a gun in order to enforce law and order in his hometown of Mayberry.
While Taylor, and his young son, Opie Taylor, were the emotional centers of the series, The Andy Griffith Show featured a slew of popular characters, including Don Knotts as Deputy Barney Fife. Knotts was a popular comedian by the time he was cast in The Andy Griffith Show, but as Barney Fife, his star rose further than ever before.
Throughout the '60s, Knotts acted in a variety of big-budget comedies, including The Ghost and Mr. Chicken, The Incredible Mr. Limpet, and The Reluctant Astronaut. In 1965, Knotts left The Andy Griffith Show, but he remained good friends with Griffith, and the two would go on to work together multiple times over the years. 
Andy Griffith went on to further fame in the TV show 'Matlock'
In 1967, Griffith left The Andy Griffith Show, going on to pursue other opportunities in television and film. Although he would ultimately return to Mayberry on several occasions, including in a 1986 reunion movie, Griffith worked hard to introduce new characters to audiences throughout the '70s and '80s. 
In 1986, Griffith began starring in a brand-new series called Matlock, a mystery legal drama series that featured Griffith as a popular, cantankerous attorney named Ben Matlock. Although Matlock had his quirks, he's shown to have a brilliant legal mind and is always able to expose the guilty party at the end of each episode.
Matlock became a wildly popular television series, running on NBC until 1992 and then on ABC until 1995. Griffith worked with many talented actors during his time on Matlock — but none were more loved by the veteran performer than Knotts, his former co-star from The Andy Griffith Show. 
Don Knotts had a guest-starring role in 'Matlock'
In 1988, Knotts began appearing in episodes of Matlock, acting in a recurring role as the nosy neighbor Les Calhoun. Not only did Knotts and Griffith pick right up where they left off, but according to reports, the two got along better than ever before.
According to Matlock actor Nancy Stafford, reports Closer Weekly: "It was like they never skipped a beat. They fell into this routine of singing, laughing and telling jokes." Stafford claimed that the days when Knotts visited the set to play Les were some of Griffith's "happiest days."
Knotts and Griffith remained close until Knotts passed away in 2006. In fact, Griffith flew to his friend's side when the legendary comedian was in his final hours.
As Griffith told Larry King, "he died at eleven o'clock. I believe that's right. I was with him until 6:00 or 6:30 I guess and he couldn't respond but I did — I was able to tell him I loved him and I asked him to 'Breathe, breathe, keep breathing Jess.' His name was Jesse and he never liked that name but he let me know it one time and I always called him Jess."
Ultimately, their on-screen friendship was not only one of the shining points of The Andy Griffith Show, but of Matlock as well.