Matt Damon and Ben Affleck's Adorable BFF Throwback Photo Booth Pic Has 1 Hilarious Detail
Matt Damon and Ben Affleck have been friends for a long time and a small detail in an adorable throwback photo proves they were besties. During an Oct. 13 appearance on The Tonight Show Starring Jimmy Fallon, the host showed a photo booth pic of the two before they were famous and Damon pointed out they were wearing matching necklaces.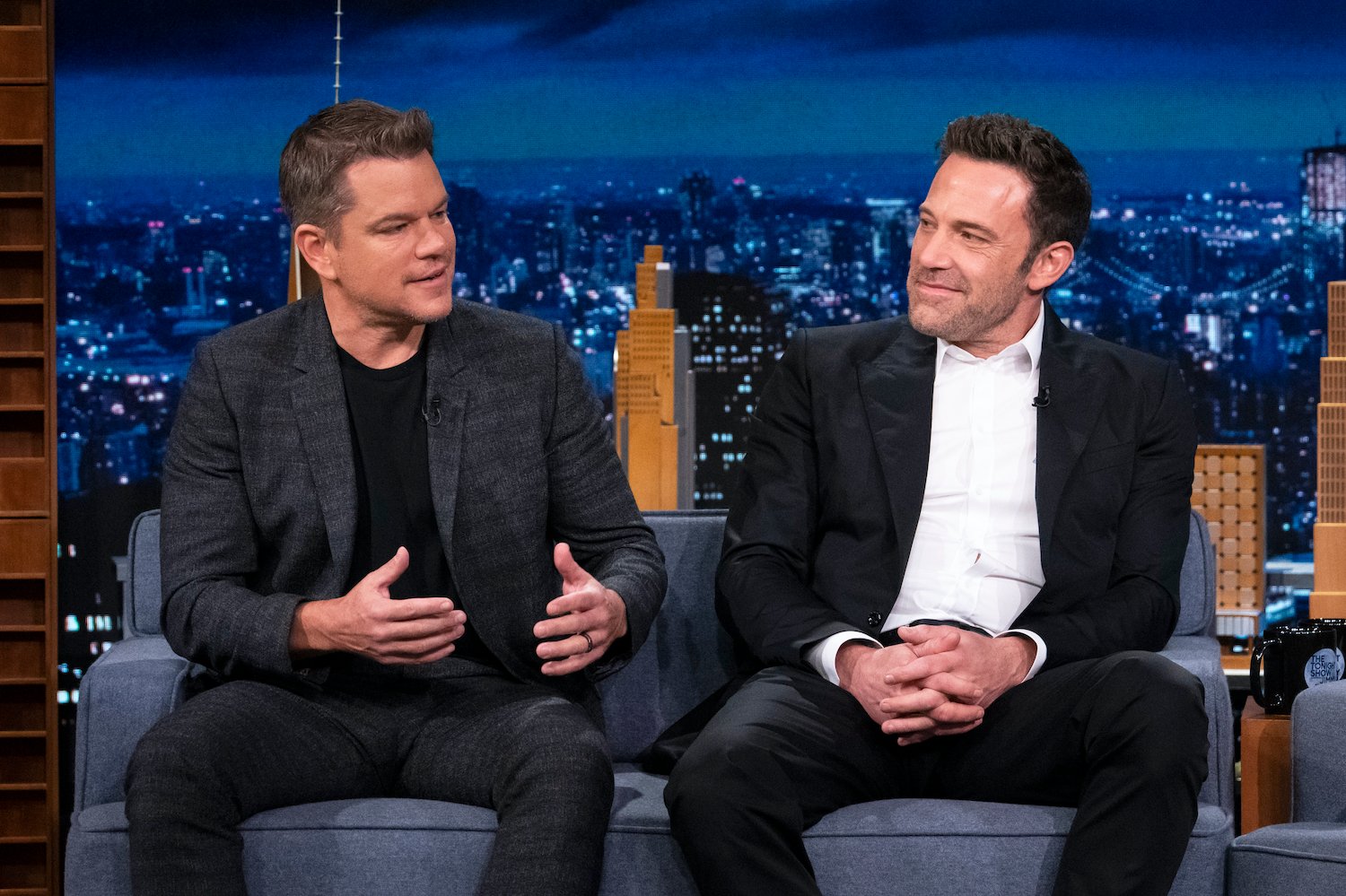 Jimmy Fallon shared Matt Damon and Ben Affleck's hilarious photo booth pic
While Damon and Affleck were on the late-night talk show to discuss their new film The Last Duel, the conversation turned to the pair working together on Good Will Hunting. Fallon shared a photo of the two of them at the premiere, which was quite a throwback, but then he pulled out a late '80s photo of the friends, pre-fame, posing in a photo booth.
Damon and Affleck were just teenagers in the photos, grinning and mugging for the camera. There was one hilarious detail that Damon pointed out — their matching necklaces.
"Hard not to see that those guys are going to make it," Affleck said. Then Damon joked, "Yeah, those guys, clearly have star written all over them. I think it's the matching puka necklaces that give it away."
Affleck and Damon joked about a 'Good Will Hunting' premiere pic
When Fallon showed a photo of Affleck and Damon at the Good Will Hunting premiere in 1997, Affleck noted, "You wouldn't imagine that those two idiots would still be around… not sure what was going through my head there, looks a little like a Zoolander…"
Their success writing and starring in the movie came as a bit of a surprise to them, Affleck revealed, as he shared the inspiration behind making the movie. "I think we were just shocked that it all happened and wouldn't have imagined getting another job," he admitted.
"The whole thing of Good Will Hunting was really just to make — at the time — a video cassette that was like an acting reel," the actor explained. "Like, we can't get the job to show that we can do interesting stuff, so the whole thing was have a reel and show casting directors, and so we'll write these parts for ourselves … that was our ambition so I think we were shocked that it even got released."
They explained why they didn't write anything together for so long
Despite the success of Good Will Hunting, however, it's been 25 years since Damon and Affleck have written together. Damon explained how they were clueless about the process so writing Good Will Hunting took a long time.
"We were like unemployed broke guys. It took us forever to write that screenplay," Damon explained. "I think that kind of put us off writing again because we never thought we'd have the time."
The two have obviously learned a thing or two over the years that made this go-around at writing a much tighter process. "And I think we found writing this that we actually kind of picked up structure over the last 25 years of kind of making movies, and so it went a lot faster…," he shared. "Then we also made the really good decision of getting a great writer [Nicole Holofcener] to come with us."