Matt Damon Bought Champagne for Stunt Men He 'Accidentally Punched' in 'Bourne' Movies
Matt Damon bought a lot of champagne making the Bourne movies. The now-50-year-old actor, who first played Jason Bourne in 2002, handed out bottles of champagne to people he "accidentally punched" while filming the action movie's fight scenes. 
Matt Damon trained for the action movie with a mix of martial arts and boxing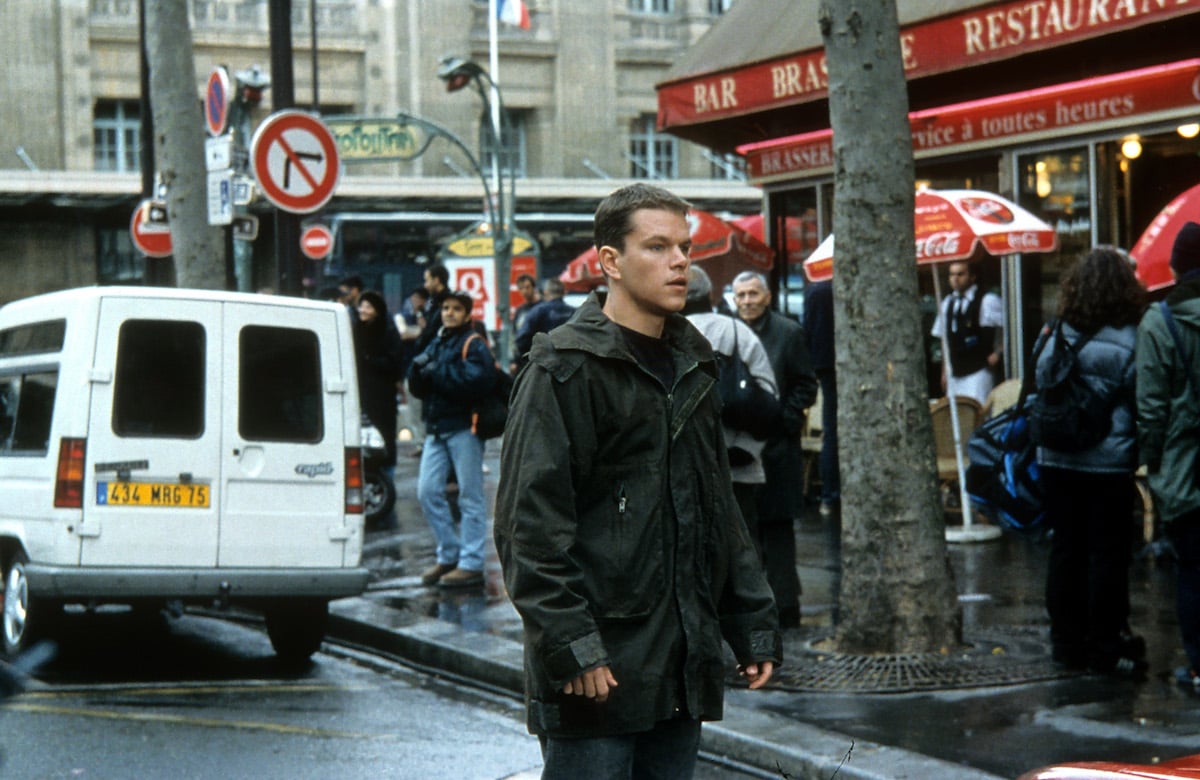 Damon spent months preparing for the intensely physical role of playing a trained killer. Reportedly not the first actor to get an offer to play Bourne, Damon told Diane Sawyer during a June 2002 ABC News interview he and director Doug Liman had a conversation about Bourne's physique before filming began. It involved Liman lifting up Damon's shirt and telling him to hit the gym.
"We were trying to figure out what the guy should look like and all the work that would go into it. And we decided on this pretty serious regimen of martial arts and boxing and weapons training and all this stuff, and we kind of talking about it, theorizing kind of you know, six months out or something. And he [Liman] came over and just picked the shirt up and looked at me and it was just enough, 'OK, enough — you know, enough talk.'"

Matt Damon, speaking to Diane Sawyer about The Bourne Identity for ABC News.
So Damon began training. He hit the gym for six months leading up to filming. This wasn't the first time the actor went through a physical transformation for a role. Years earlier he dropped 50 pounds for Courage Under Fire.
The 'Bourne' star bought champagne when accidents happened on set
Filming the first Bourne movie is when Damon began handing out bottles of champagne. As he told Sawyer in 2002, he wanted to do as many of the action sequences himself. 
"The more I can do and carry off, the more credible the whole performance is and the more fun the audience is going to have watching it," he said. 
Damon spent six weeks rehearsing and choreographing a scene with a kickboxer-turned actor. Even with all of the preparation accidents happened. 
"I knew I was going to accidentally punch him, so I told him, 'Look, man, I'm going to accidentally hit you, so I'll give you a bottle of champagne for every time I accidentally punch you in the face,'" Damon recalled. "He said, 'Oh, this is very good for me.''
"By the end of it, I owed him a case of champagne," he added. 
Damon continued his practice of handing out a bottle of champagne for every accidental punch, including 2016's Jason Bourne. 
"I have a deal with all the people I do this with," he said during SiriusXM Town Hall interview with Entertainment Weekly in 2016. "The stunt guys, every time I accidentally punched them, I buy them a bottle of champagne, which they love because it's a good deal for them."
The only one of his co-stars who didn't accept a bottle of bubbly? Vincent Cassel. "Vincent's like, 'I will buy my own champagne,'" Damon said. 
Will Damon reprise his role in the 'Bourne' franchise? 
Damon hadn't been involved with the franchise since 2007 prior to Jason Bourne. He didn't sign on for 2012's The Bourne Legacy — Jeremy Renner played the lead — and returned to the franchise nearly a decade later. Is he done playing Bourne for good? 
Asked if Jason Bourne marked the end of his participation in the franchise, the actor told BBC News he's not sure. 
"I mean, I feel like I did after the last one," he told the outlet in 2016. "If Paul [director Paul Greengrass) wanted to one in a few years … maybe we'll wake up and there will be a new story there." 
So never say never. Damon might play Bourne again.