Matt Damon Got Really Jealous When Ben Affleck Landed a Role While They Were Kids
Ben Affleck and Matt Damon have one of the most entertaining bromances in Hollywood. The star actors met when they were kids and went on to work on a number of films together, most notably the Oscar-winning drama Good Will Hunting. 
And while the two haven't collaborated on screen in several years, Affleck and Damon still maintain a close relationship. They constantly take jabs at each other in the media, revealing embarrassing stories about each other every chance they get.
Affleck continued the trend when he revealed that Damon became furious after he found out that Affleck got a role on a TV show when he was just a little kid.  
Ben Affleck and Matt Damon have known each other since they were kids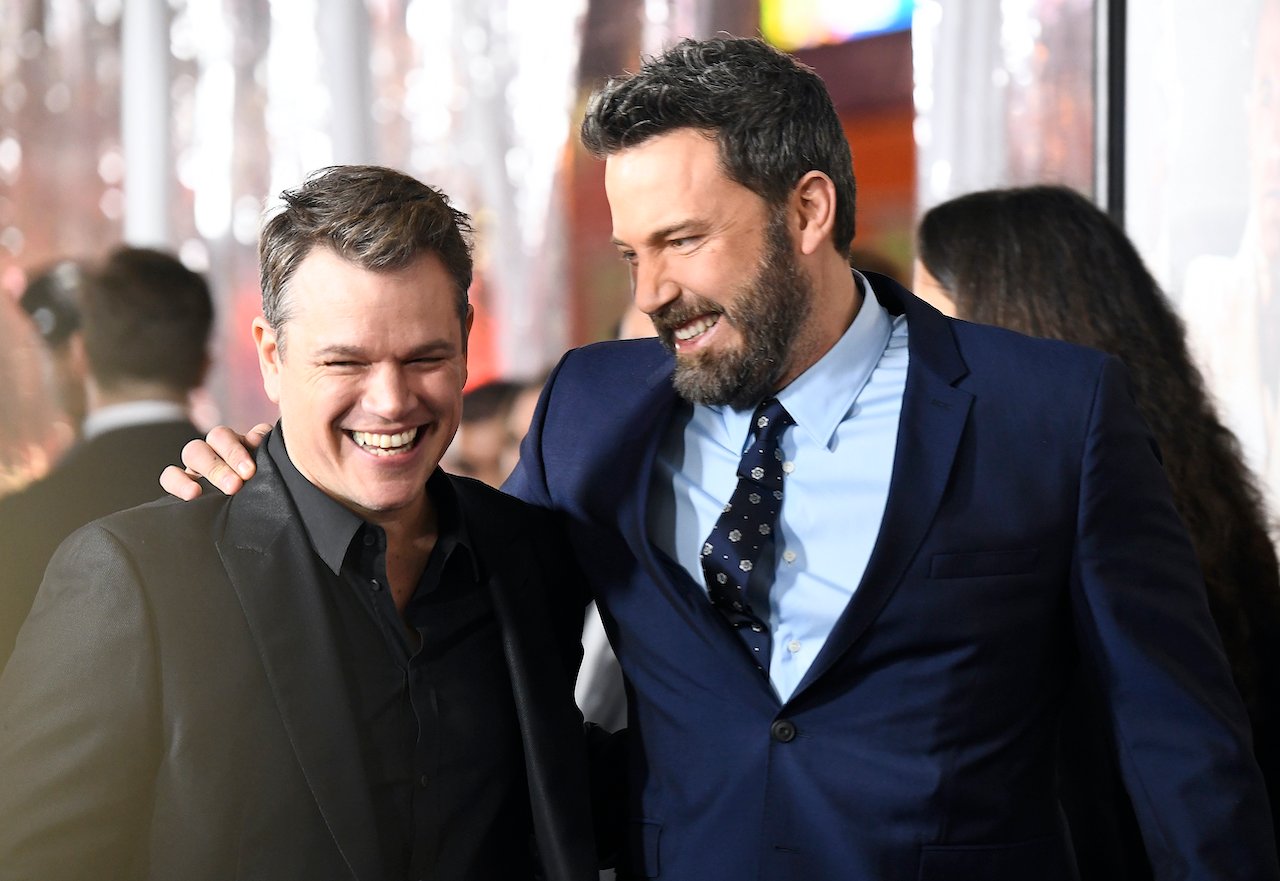 Affleck shared the story behind how he and Damon met during an interview with Jimmy Kimmel. 
"I met him when I was eight, he was 10, so he was a little older, he was a lot bigger than me," Affleck said. "He was always quite a bit bigger than me, 'cause, you know, two years is a big deal when you're eight and 10. We lived down the street from each other and we'd see each other at the park, and stuff. He was kind of the older, bigger kids."
Matt Damon got jealous when young Ben Affleck got a role
For the most part, Affleck and Damon's relationship was copacetic when they were kids. However, one day Damon became furious when he found out Affleck had gotten an acting role before him. 
"But then I got this job," Affleck said. "I got a job on TV. Like a PBS, cheesy educational show for kids, which I thought was kind of lame, but it was enough to make Matt boil with envy. Just like, burn with rage."
Damon knew he wanted to be a professional actor, so Affleck's accomplishment understandably upset him. 
"He wanted to be an actor very much," Affleck said. "He took it very seriously." 
He tried to patronize Ben Affleck during auditions for the school play
Years later, when Affleck decided to audition for their high school play, Damon was on edge. 
"And then when we went to high school, we went to a public high school in Cambridge, and I went out for the fall play," Affleck said. "I wanted to audition for the play, and I saw Matt there. And he kind of eyed me, 'Yeah, uh-huh.'"
Still bitter about Affleck's prior accomplishment, Damon gave Affleck a bit of backhanded advice. 
"And he—I swear to God this is a true story—he walked up to me, he said, 'Let me give you a little advice.' I said, 'Ok, great, thanks. What's up?' He goes, 'This isn't TV, where you get by on your looks and your haircut. This is about talent. This is the theater.' Turned around and walked away. Stone cold." 
Thankfully, both actors ended up becoming extremely successful in their own right.