Matt Damon Once Joked That if He Won an Oscar, It Would Be 'All Drugs and Prostitutes From There on Out'
Matt Damon is one of the most respected actors in Hollywood, but it wasn't always that way. In the early 1990s, he and best friend Ben Affleck were struggling college students from Boston, hoping to make it big one day.
The duo hit gold with their award-winning Good Will Hunting screenplay, launching careers in the entertainment industry beyond their wildest dreams.
Before The Stillwater actor became a household name, he joked about what his life would look like if he won an Academy Award, saying he would live a hedonistic lifestyle from there on out.
'Good Will Hunting'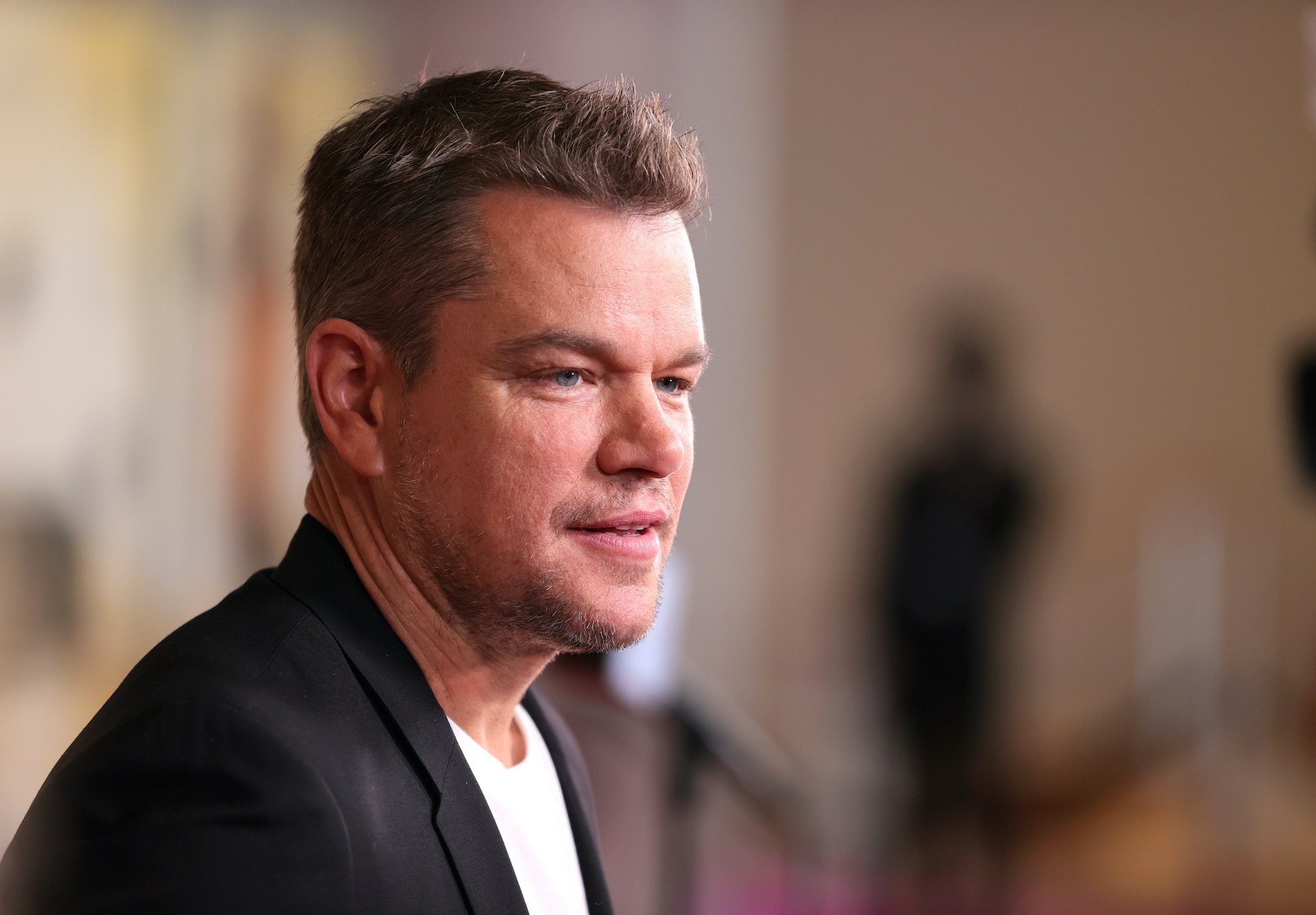 Damon and Affleck seemed to come out of nowhere, bringing to the big screen one of the greatest movies of the '90s. The film catapulted the pair to unimaginable fame and fortune.
The story focuses on Will Hunting, played by Damon, a 20-year-old genius working as a janitor at MIT. When he anonymously solves an intricate mathematical problem on the chalkboard, faculty and students alike are determined to find out who is behind the solution. The film starred comedian Robin Williams as a psychology professor that helps Hunting find his way. Together they battle past demons to find love and success waiting for him.
With a budget of only $10 million, box office sales unexpectedly topped $225 million. Good Will Hunting, which also starred Affleck,went on to win the 1998 Academy Award for Best Screenplay, and Williams won an Oscar for Best Supporting Actor.
The Hollywood A-listers have teamed up again to write The Last Duel, a film directed by Ridley Scott, scheduled to premiere on October 15, 2021.
In a recent interview with Wion, Damon discussed how writing the new script compared to his former experiences with writing Good Will Hunting. He explained, "Back in the day, we didn't have deadlines because nobody cared what we were doing, no one was waiting for the script, we were unemployed, so we literally had nothing else to do."
Matt Damon never thought he would win an Oscar
The Departed star never imagined the lavish celebrity lifestyle that he currently enjoys. Before winning his first Academy Award for Best Screenplay, Damon jestfully predicted what his future would look like if he was handed the Oscar.
In a 1998 interview with Screen Slam, when asked what would happen next if Good Will Hunting won an Oscar, The Last Duel executive producer responded, "I think it's all downhill. I think it's drugs and prostitutes from there on out."
The 50-year-old actor was obviously joking and was shocked when he and Affleck went on to win the Academy Award. According to People, after the ceremony, a beaming Damon "offered to share the win with his friends back home celebrating in Boston." The Jason Bourne actor said, "This round is on me. Send me the bill."
Damon definitely didn't choose a life of drugs and prostitutes
The Talented Mr. Ripley star met his wife in 2003 in Miami when he was working on the film Stuck on You. He went into a bar where Luciana "Lucy" Barroso was bartending. According to Parade, the two instantly hit it off and two years later were engaged.
The Argentina-born beauty was a single mother to a 4-year-old daughter when she met the Ford v Ferrari actor. In 2005, the couple married in a private ceremony in New York City, and they have been together ever since.
Instead of allowing his life to be taken over by drugs and prostitutes, Damon chose the path of a family man. Together, he shares three daughters with his wife and is a stepfather to Barroso's daughter.
The Good Will Hunting star, who has his wife and daughter's names tattooed on his arm, told Today, "I never expected to be surrounded by girls, but it's great." He explained, "You never know which way life's going to take you."