Matt Damon's Wife Luciana Barroso Shares the Story of How They Met: 'We Had A Connection Right Away'
Mega celeb Matt Damon is currently quarantining with his family in Ireland, staying in the idyllic coastal Dublin suburb of Dalkey with his three young children. The actor recently revealed that his oldest daughter just recovered from the coronavirus while at college in New York City.
Married to Luciana Barroso since 2005, Damon and his wife keep a very low profile when it comes to their private life together. Since Barroso isn't in the film industry, many have wondered how the two initially crossed paths.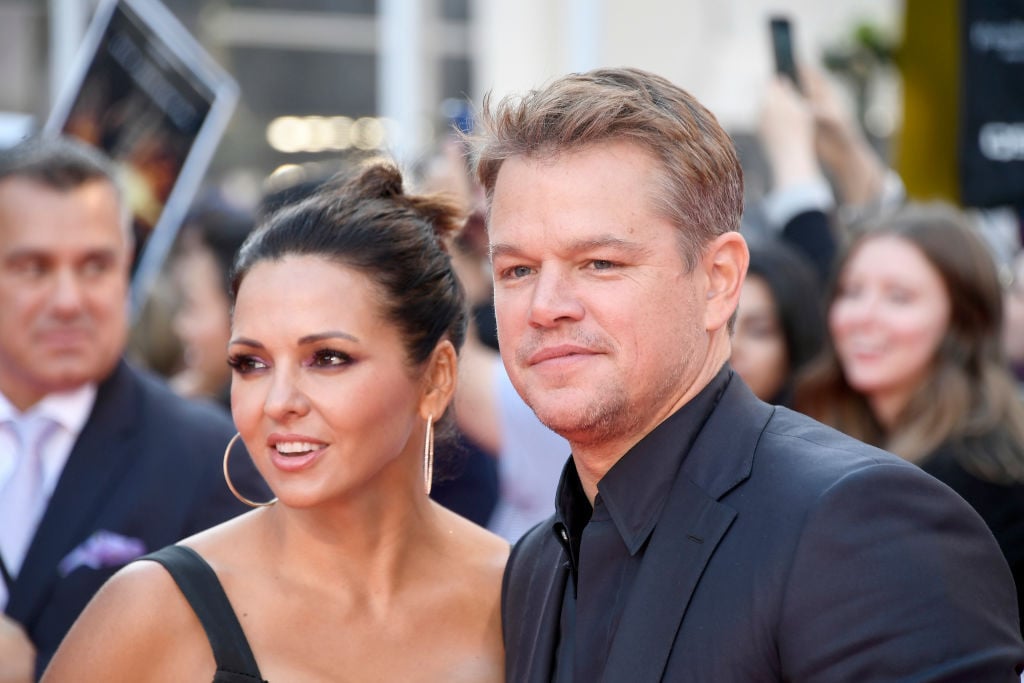 'Bourne Identity' star needed a place to hide
Damon has previously spoken on spotting Barroso for the first time in a Miami bar when he was filming the comedy Stuck On You in 2003. Though the Argentinian-born mother of four tends to avoid any sort of publicity, she spoke with Vogue Australia in 2018 about meeting the superstar for the first time.
"I was working as a bartender in South Beach (Miami) and he was shooting a movie there and the crew ended up in the bar one Saturday night," Barroso recalled, adding that her husband's version of the story tends to be a bit more romantic. "Matt's story is that he saw me across the room and there was a light on me. And I'm like: 'yeah it was a nightclub – there were lights everywhere!' "
Barroso, who was a single mother at the time, revealed that Damon approached her to supposedly hide from adoring fans. "He had started getting recognized and asked for pictures and autographs, and then it got kind of aggressive because people are drinking and stuff, and so he came and hid behind my bar … [wanting to] just hang out back there and have a drink," she explained. "He says 'oh I saw you and I really wanted to talk to you.' "
Matt Damon helps behind the bar
Despite his fame, Barroso had no problem making Damon earn his keep while in hiding. "I put him to work with me! I said: 'you know, if you're going to be back here, you can't just be standing there!' " she remembered. "He had trained as a bartender for a film years before, so he started making drinks."
Her idea of having him pitch in paid off in more ways than one. "He made me a ton of money in tips that night, because of course everyone wanted to go and see him," Barroso said. "So it turned into a really fun night and then 15 years later here we are!"
'Oceans 11' actor was a natural at parenting
Barroso agreed with her husband's comment on their meeting being kismet. "We definitely had a connection right away, it was so easy to talk to each other, we were very comfortable [with each other]," she revealed.
When the evening at the bar was winding down, Damon wanted her to accompany him out with some pals, not realizing she had a young daughter at home.
"By the end of the night he invited me to go out with his friends. But I was like: 'I can't, I have a four-year-old daughter [Alexia], I'm not going anywhere,' " Barroso recalled, adding that the actor found her placing a priority on her parenting responsibilities incredibly attractive. "That was one of the things he loved, that I had a daughter. He said: 'I love that you're a mum and that's your priority.' Some guys might have been different, they might think it's complicated, but for him it wasn't."
Barroso shared that their bond surpasses any challenges that fame and the scrutiny the spotlight can bring their way. "When you meet somebody that you have a connection with, that's just the person that you have a connection with, all the other stuff— the movie-star part—wasn't really a factor," she said. "It was just Matt, to me he's just Matt."
Now in addition to Alexia, the couple shares daughters Gia, Isabella, and Stella. Damon and Barroso are considered one of Hollywood's happiest couples.