Matthew McConaughey Donates Over $1.5 Million to School Charities
In the early days of his career, Matthew McConaughey was known as a super-chill California surfer dude, a laid-back presence who frequently appeared in romantic comedies and stoner films. However, as time went on, McConaughey got involved in more serious projects, showing critics and fans alike that he is actually an incredibly talented actor. Beyond his work in films, McConaughey is a devoted family man and has spent a great deal of time and money on various charitable efforts. In fact, he is considered to be one of the most generous actors in the business.
How did Matthew McConaughey get into acting?
Matthew McConaughey was born in 1969 in Uvalde, Texas. McConaughey was raised in a large, rambunctious family with two older brothers. His mother, Mary McConaughey, worked as a kindergarten teacher, while his father operated an oil pipe supply business. McConaughey moved frequently as a child, spending part of his young adulthood in Longview, Texas, before spending a year in Australia as an exchange student. In 1989, McConaughey started attending the University of Texas in Austin, graduating in 1993 with a Bachelor of Science in Radio-Television-Film Studies.
During his time in college, McConaughey began acting, working in student films and television commercials. He even appeared in a music video, Trisha Yearwood's "Walkaway Joe" in 1992. A few of McConaughey's early roles included appearances in Dazed and Confused, Angels in the Outfield, A Time to Kill, and Contact. By the early 2000s, McConaughey was a familiar presence to viewers everywhere and began expanding his range by appearing in films such as We Are Marshall and Dallas Buyer's Club.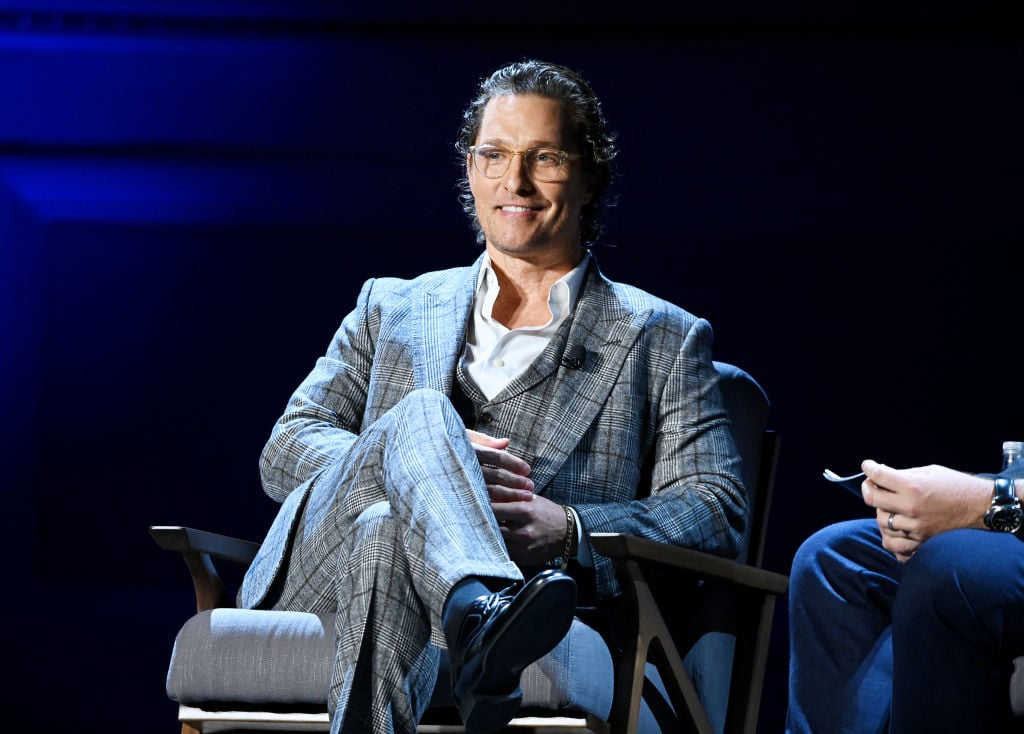 Matthew McConaughey's philanthropic efforts
In 2011, Matthew McConaughey married Camila Alves. The two have three children together. It was during the early years of his marriage to Alves that McConaughey began to explore other opportunities in his life, including adopting several rescue pets after the devastating Hurricane Katrina flood. He also established his very own foundation, called "just keep livin." The foundation, according to the website, was inspired partially by the passing of McConaughey's father and is "based on the idea that part of living is about giving back. In addition to creating things you love with the people you love, Matthew firmly believes in helping others and in being a good neighbor."
The just keep livin' Foundation focuses on helping young people learn to foster a mind-body connection through fitness, good nutritional choices, overall wellness, and acts of service. McConaughey's program works with schools to establish these programs and hopefully, set up young adults for happier, more well-rounded lives. The foundation is a non-profit and works with volunteers and educators all over the United States.
How much does Matthew McConaughey donate to charity?
These days, Matthew McConaughey continues to act in films that interest him. However, a good portion of his time is spent with his family, and working on projects for his charitable foundation. McConaughey is considered to be one of the most generous actors in Hollywood, due to the time and money that he has invested in the just keep living Foundation. In fact, according to a 2012 report, McConaughey has donated more than $1.5 million since establishing his foundation. 
McConaughey is in prestigious company indeed – a few of the other big names on the list of most generous celebrities include George Lucas, who has donated over $4 million to educational efforts, and Meryl Streep, who has given more than $2 million to arts programs. Certainly, McConaughey understands the value of education as well as community enrichment, and that will likely continue to influence his life as he moves forward.