Max Minghella of 'The Handmaid's Tale' Is a Huge Fan of BTS
Max Minghella is mostly known for playing Commander Nick Blaine in 'The Handmaid's Tale.' He also made his directorial debut with the 2018 film 'Teen Spirit.' Over the years, Minghella has made his love of BTS known, and he once joked that his obsession with the band affected his work on 'Teen Spirit.'
Max Minghella currently stars in The Handmaid's Tale as Commander Nick Blaine. He also made his directorial debut with the 2018 movie Teen Spirit. Outside of acting and filmmaking, Minghella has another huge passion, being a fan of the popular Korean band BTS.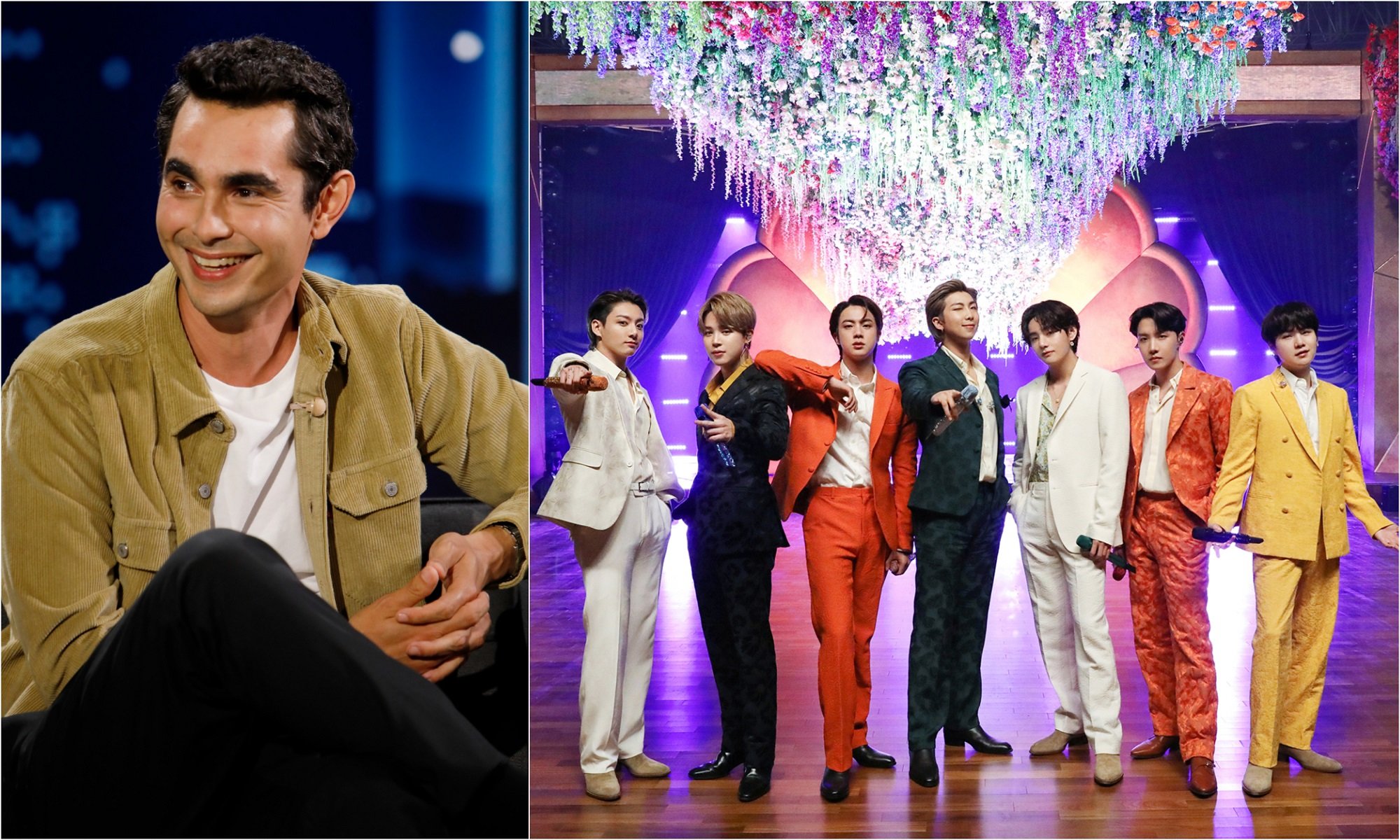 How Max Minghella became a fan of BTS
In 2018, Minghella, Elle Fanning, and Zlatko Buric sat down for an interview with Josh Horowitz of MTV News to promote Teen Spirit. During the interview, Fanning revealed that Minghella introduced BTS to her. When asked who was the bigger fan, Fanning confirmed Minghella is.
"He loves V, he loves V," Fanning told Horowitz.
When Horowitz asked Minghella about how he became a fan of the K-pop group, Minghella said, "I blame Dylan O'Brien for this. Dylan O'Brien is the person who introduced me to BTS… It's not been a good thing for anybody in my life. I'm deeply obsessed, it has been my main focus."
Fanning teased, "Learning the dance moves to 'DNA.'"
Minghella continued, "It was detrimental to the editorial of this film, to be honest, I was very distracted."
Max Minghella would love to film a documentary about the band
After Minghella gushed about his obsession with BTS, Horowitz asked him if he would ever want to direct a movie about Jin, Suga, J-Hope, RM, Jimin, V, and Jungkook.
"So you're doing a boy band film next? Or are you opting for a concert film?" Horowitz asked Minghella. "You want to do the doc about BTS?"
"Oh, I'd love that. I'd love to do, like, a John Chu-esque, tour life, yeah, that would be great," Minghella enthusiastically agreed.
Max Minghella attended a BTS concert with Dylan O'Brien
In 2019, Minghella was a guest on The Late Late Show with James Corden. BTS have appeared on The Late Show with James Corden multiple times, and Corden also happens to be a huge fan of the septet. While on the late-night talk show, Corden asked Minghella about his experience being a fan of BTS.
"You even went to a concert to see them. What was that like?" Corden asked.
"It was amazing," Minghella said. "Have you seen them live?"
Corden answered that while he had seen Jin, Suga, J-Hope, RM, Jimin, V, and Jungkook perform on The Late Late Show and at different industry events, he had never seen a full-fledged BTS concert.
"It's astonishing," Minghella said of his BTS concert experience. "I don't know how they do it. They are amazing performers."
Minghella went on to explain that he attended the BTS concert with O'Brien. To keep from being recognized, the two actors wore face masks and BT21 merchandise.
"I went with my best friend Dylan O'Brien, who is a bit of a teen heartthrob," Minghella said. "We were very worried honestly that he was gonna get recognized, so we had to wear fairly elaborate costumes."
Corden then showed the audience a picture of O'Brien and Minghella attending the BTS concert. On The Late Late Show, Minghella confirmed his biases in BTS are Jungkook and V.