MCU Actors Who Can Carry a Tune: Avengers the Musical?
Some of the biggest MCU stars can carry a tune. How about an Avengers musical? Who would lead the way (vocally)?
Movie musicals are currently all the rage. From Renée Zellweger's Oscar-winning turn in Judy to Rami Malek's Oscar-winning portrayal of Freddie Mercury and the recent remake of Stephen Sondheim's Into the Woods, Andrew Lloyd Webber's Cats (a misguided vision), and more, movie musicals have been popping up in silver screens in masses. So, how about an Avengers musical?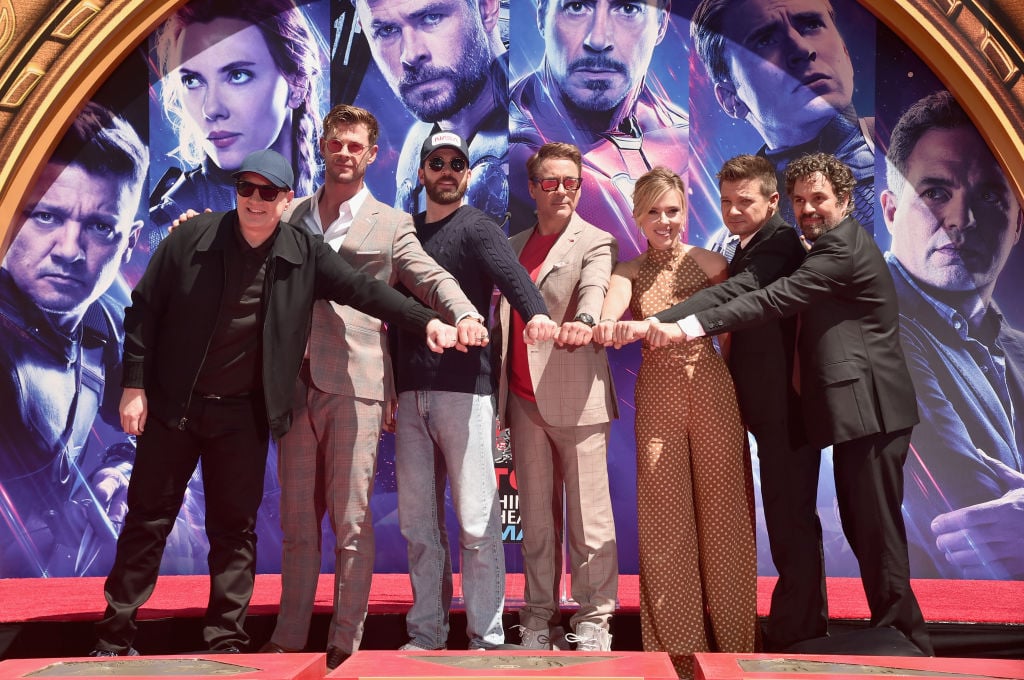 While a cinematic spectacle of this sort may not suit the Marvel Cinematic Universe's shtick, a handful of your favorite MCU stars could carry a tune (if a parody musical was ever suggested). So, which Avengers can sing? Let's highlight the main MCU actors capable of holding a note. 
1. Robert Downey Jr. / Iron Man 
While Robert Downey Jr. recently departed the MCU, bidding the franchise farewell with an awe-inspiring moment of self-sacrifice, would he return for a musical makeover? Considering he tends to bury his previous musical outings in the past, he may be one who would turn away, despite his obvious talents. 
Back in 2004, when Robert Downey Jr. was on the rise again — following stints in rehab and jail — he decided to venture into the music industry, and he released an album titled The Futurist.
The Futurist remains the first and final studio album by RDJ. You can hear RDJ serenade the audience through songs titled "Man Like Me," "Broken," "Little Clownz," and more. The album consists of 8 pop songs written by Downey himself, as well as two cover songs: "Smile" (a Charlie Chaplin composition) and "Your Move" by Yes.
2. Chris Evans / Captain America 
While Chris Evans has also bid the MCU farewell, he seems a bit more likely than RDJ to return to the franchise for a musical endeavor, as he is slated to star as The Dentist in the Little Shop of Horrors remake.
Evans has also explained that he has always wanted to do a musical. And, he has one very iconic number to perform in the upcoming reboot. He also sang in musicals growing up, as part of his mother's theater group. 
3. Scarlett Johansson / Black Widow 
Scarlett Johansson has one set of pipes, as she does all of her character's vocals in Sing, performing both a cover of Carly Rae Jepsen's "Call Me Maybe" and an original number titled "Set It All Free." The actress has also released two studio albums, four extended plays, and four singles. 
This actress, like RDJ, has a decent amount of experience when it comes to the recording studio. While she may not be the next great vocalist, as her acting talent supersedes her vocal chops, she can definitely hold her own in a movie musical. 
4. Jeremy Renner / Hawkeye 
Jeremy Renner — though known for a successful acting career in Hollywood — is also a working musician and songwriter. The MCU actor has released three original songs and two covers, and he recently recorded an album. Be sure to check out the actor singing "Main Attraction" below to get a feel for his pipes. When it comes down to it, several of the most pivotal avengers on the team know how to hold a tune; thus, a musical take isn't all too preposterous.